Above, former Edison, NJ homeboy, Mike Vallely – must be something in the Edison Water!
As soon as I moved to Edison, NJ, I built some tight friends in my neighborhood, now we're more like brothers. That was 1980, some 31 years ago! We fell in love with BMX and Freestyle and we lived for getting up early on our bikes and meeting up to tear up the streets and BMX tracks all through the day and night.
We read the BMX magazines, bought the BMX & freestyle VHS tapes and even attended the pro competitions to be inspired. If it was raining we still rode, snow never stopped us either.
I have MANY vivid memories, such as getting my first new bike stolen in front of my face at the age of 9. I poured every weekend allowance and every dollar I made from my paper routes into that bike, a chrome and blue Schwinn Predator! A crew of high school kids rolled up and tore the bike away during a Football game. I'll never forget that moment and how it felt to be weak AND helpless.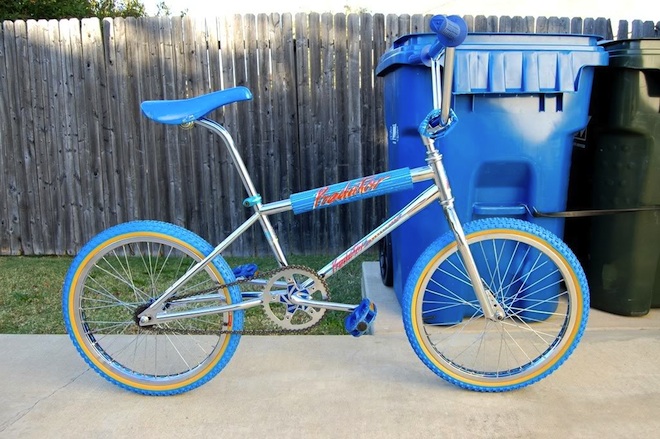 Before I bought my Predator, I would jog to the Ford's bike shop every weekend and SIT on the bike, grip the handle bars and pretend it was mine. I put the bike on lay away and deposited money every weekend after collecting from my paper routes. I can only imagine what the owner thought of me. Every weekend got me closer to making enough money from my paper route to pay that bike off in full!
I now guard my bike with a deep rooted attachment that brings me back to the days of having my bike stolen. If anyone tried to steal it again, I would probably bring them close to death and have no remorse about it. It ain't easy to let go of a few select things in life, my bike memories are certainly ONE of those things.
I was also an avid skateboarder. Not as die hard as my bike though, I felt FREE on my bike, able to travel anywhere I wanted with NO boundaries. Through backyards, trails, streets, down flights of stairs…..My skateboard was able to travel with me on family vacations, which kept me sane if I was bored.
If we were at the beach my parents would always take me to a surf and skate shop where I could buy some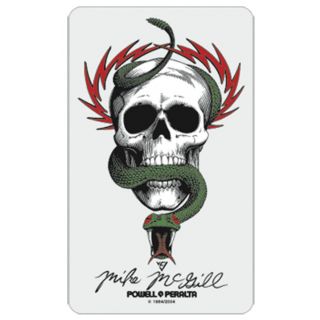 cool skate shirts and check the surfboards, which I always dreamed of doing. My first shirt was a Mike McGill shirt from Powell & Peralta. I owned that bad boy through college, that shirt was to tough to let go of

Then, early in 8th grade it seems like the passion for BMX, Freestyle and skateboarding disappeared somewhere, somehow. Bikes became less and less about self expression and more about a mode of travel. My skateboard collected dust in the garage.
Not sure what spurred on this removal but man, the itch came back and even when no one else was out there on a bike or board I would here and there take my Dyno out for a ride.
Enter my early 20s and I picked up my first ever Mountain Bike and began riding with friends at Cheesequake State Park.
Life got busier and there went my bike riding days.
It angered me as I looked back, time was lost and time is the ONLY thing you can't get back. Lose money, no sweat, you can earn it back. Lose time or waste time, it's gone…. forever.
I decided those days of passion were not to be lost ever again. I began bike riding again, I now have 3 different skateboards, 2 mountain bikes and 2 surf boards which I will learn to ride.
Just because you get older doesn't mean you need to let go of childhood dreams and passion. I ALWAYS have immense respect for the coaches who attend my USC Cert AFTER being in a career for 20 years or more and STILL want to get after their passion of being a Strength Coach. They don't need the money, they just wanna do what they love.
It sounds cliche to tell you that it doesn't matter what anyone thinks about you but it's the truth. At least it's the truth in my world.
I do what feels right for me and my family, same goes for my business. Integrity is # 1. If you give me a headache or don't meet my standards I cut you loose. Every day is about doing what I love with those most important to me and my family and friends.
I don't follow the proper or most perfect business methods nor do I care to. I am happiest when I take care of my fans and clients knowing I am giving the best I got to make them happy and make their lives better.
I don't feel comfortable amongst the norm in this industry and sometimes (actually often times) this "industry" seems like a bunch of con artists and bull shitters. The far and few left with integrity and quality info earn my respect, the back stabbers and bull shitters have been crossed from my list.
Passion. Time & Integrity.
With my love for the action sports and being outdoors I had dreams of living in California. I took a 2 week trip to Cali in my early 20s. I was CLOSE to having my parents send socks and underwear and starting over. I had an amazing job in NJ and LOVED it.
I thought I would NEVER be fully happy living in NJ, I felt Cali was IT.
Years and years later my wife took me to the Manasquan Beaches and town. I LOVED it. I saw kids AND adults riding beach cruiser bikes and skateboards, surf boards were on top of countless cars and the town was chill and non pretentious.
After every beach trip I would drive around and check the homes for sale. We put our home in Edison for sale in the down market when the recession was hitting us hardest, it was TIME to stop losing TIME and focus on passion and doing what would be best for the family.
We made it happen during a time of imperfection and uncertainty.
I don't wanna ever look back and wish I did this or that. Instead, I just do it, I'm suggesting the same for you but then again, it's your life, not mine

Now my kids can grow up in a place where it's OK to be a kid no matter what your age, where the air is clean and the people have manners. I can look back on all my mistakes and know I did at least ONE right thing in my life.
Question for YOU: What passion have you let go of that you plan to reignite? Perhaps it's not a hobby, perhaps it was a friend or someone you loved. Drop a comment, let's see some action HERE. I'd love to see 100 comments, yep, 100 comments.
Peace
–Z–
Passion for becoming a Strength Coach? Time to stop dreaming and start doing, click HERE for a life changing weekend with me.
Share this:
Category: Articles, Kick Ass Business, Kick Ass Life, Monday Motivation, Success, Videos Tags: bmx, edison, integrity, manasquan, mike vallely, nj, passion, soul lifter, soul lifting, surfing, time, underground strength coach certification.
29 Responses to Passion, Time & Integrity