"The Principal Food for Man is Pure Air"
- George Hackenschmidt, The Russian Lion
Z: Nate - Dog! Thanks for hooking up The Underground Strength Nation with your time. I love what you're doing and wanna spread some of your ass kickin' nutrition knowledge.
We're all about minimalist training here at Underground Strength -- You have a similar approach with nutrition. For those who have not heard of you, please give us a lil' insight.

Nate: Zach, I'm The People's Nutrition Educator. Who hasn't heard of me? Totally kidding, my mom still doesn't quite know what I do for a living.

Yeah man, I can tell we've both been heavily influenced by the great Bruce Lee, who once said, " Gung fu is based on simplicity; all techniques are stripped down to their essential purpose without wastage or ornamentation, and everything becomes the straightest, most logical simplicity of common sense."
Here's the truth. A large percentage of the health & fitness industry purposely over-complicates things in order to sell you a bunch of bullsh*t you don't really need. As a result, many advanced athletes are just as information overloaded, and suffering from paralysis by analysis, as the complete beginner looking for an efficient way to get started. I can't stand for such uselessness.
Getting results is simple in theory (not easy in application). Over-complication comes from refusing to put consistent effort into the basics that produce results; instead searching for an easier way, a quick fix, or a miracle cure to compensate.
I don't know. I've always been more of a grinder than a magician. Tricks are for kids, right?

So I'm with you man. My mission is to cut through the fluff so people can start getting results.

Z: Right on. Simple is the way. I never want to go back to my days of eating as a slave to the clock, getting in 6 meals every day. It made me nuts when I came to the realization that eating won't fit my lifestyle after living the easy college life and Mom did my laundry!
Can you give us a simple summary of your nutrition approach?
Nate: I've always looked at the fat slashing, muscle building, health-enhancing processes in terms of a hierarchy of importance. All topics fall under 3 broad categories.
Step #1 - Optimize Food Choices

Serge Nubret once said, "every sickness comes from food." I believe that man. A lot of our most debilitating diseases -- including advanced muffin-top syndrome -- are a direct result of poor food choices.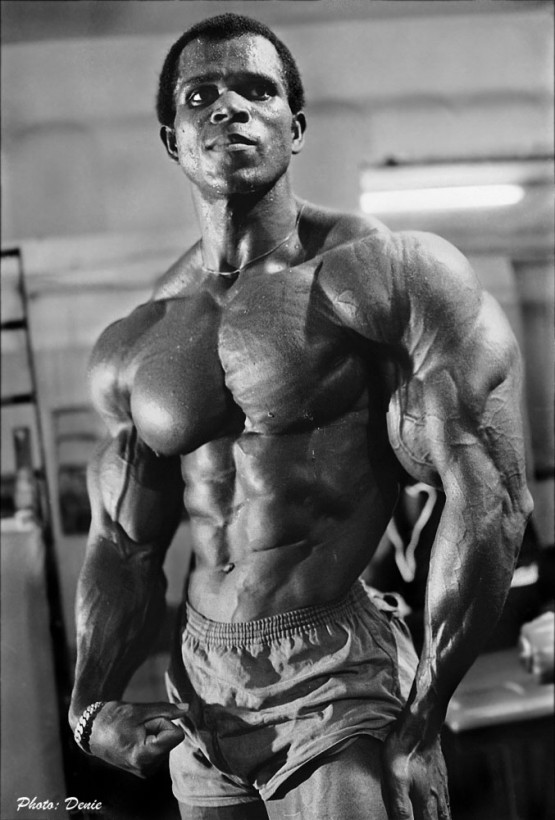 Moving away from modern Y2K eating by cutting out processed, man-made foods; and returning to our evolutionary or cultural pasts by eating more real, natural foods (wild animals and plants) will take you
80% of the way in achieving your goals, automatically, without all of the over-complication, confusion, and misinformation in the health & fitness industry.

"Cut da crap and get results. It really is that simple."

I like templates for simplification here.
So we use the Paleo/caveman-style diet for certain demographics.
I also use The Traditional Japanese Village Diet for more athletic demographics. Now, I'm not trying to get everyone to sing, "I think I'm turning Japanese". It is just an easy educational template to remember. It is basically a Paleo-style diet with the addition of a select few starch foods (root vegetables and white rice) to support the unique demands of anaerobic training.

That's about it in a nut sack. Mine is 100% Paleo-friendly by the way, and although small, it's potent.
Z: What's the next step towards dialing in your nutrition approach?

Nate: Step #2 -- Find a Sustainable Diet Structure

Choosing the appropriate meal frequency and food distribution pattern — FOR YOU — is about making
your plan as realistic and functional as possible. Enough research has come out now to prove there is no
one Right Way.
The "best" structure is simply the one that allows you to most consistently stick with your plan.

Modern fitness approaches (eat 6 small meals every 2 hours, starve at night, wanting to gnaw off your
significant other's arm, etc.) can work great, as many professional bodybuilders and fitness competitors
have proven, and often write about in the magazines. Most competitive bodybuilders still eat this way. I
have followed such plans myself with great results. I have pictures with a fake tan and a dong thong to
prove it.

But my main problem with these plans is that they are completely impractical for most trying to make a living in the real world -- managing a career outside of fitness, taking care of a family, not wanting to live like a social hermit, etc. -- and are based more on spandex tradition rather than scientific necessity. That's why so many competitors yo-yo, and the majority of the rest of the population never get started.
There are equally effective alternatives. I believe our hunter-gatherer evolutionary past again provides us with clues.

Human beings evolved on a fasting and feeding cycle.
We spent the majority of our existence fasting or eating lighter during the day while actively tracking, hunting, and gathering our food. We spent the evening relaxing and feasting on the majority, if not all, of our daily food intake.
You should do the exact same thing if you want to make your diet as easy as possible.
"Go with, not against, your nature."
_______________

Part II Will be Added Soon....
Any questions or comments for Nate, please drop em' below and if we have enough questions we will crank a Part III!
You can also check out Nate's 'Intermittent FEAST' Nutrition Guide HERE
(Visited 306 times, 3 visits today)