Ancient Training Methods for
Modern Day Gladiators
It was 2003 or 2004 when I first created the DVD, 'Ancient Training Methods for Modern Day Gladiators'.
I wanted to share some of the training that we were doing at the time, which was NOT the norm for the early 2000s. I was training athletes from my garage, the backyard and local parks. I would also go to the tire yard in town and flip tires. The guys would pull down 2 tractor tires and I'd bring them bagels and coffee. It was a great deal.
In 2003, flipping tires, pushing trucks, carrying tree logs, throwing sandbags, etc was NOT the norm. It was NOT a fad or gimmick. I was training these athletes like "Gladiators". Hence, where the title of this Video course was created.
I knew that in order to build BadA** athletes that I would need to blend odd objects / strongman training with barbells, Kettlebells, Calisthenics and more. Ancient Training Methods brings you the inside look as to how The Underground began without anything fancy. The focus back then was and always will be, RESULTS.
I didn't do this training because it looked cool. In fact, we scared people away with this training.
Of course, today, we see much differently. We see this training used because it boosts video likes for the "influencer". Not us. There was NO YouTube in 2003. It was training to kick a** and take names. End of story.
I didn't care who liked us or hated us. And trust me, plenty of people hated us as the early 2000s was all about training on one leg, standing on a balance board and doing half kneeling cable chops to "train your core".
I didn't want to be a follower. I simply wanted what was best for the athletes and I KNEW they needed TOUGH training if they were going to WIN at the highest levels of competition.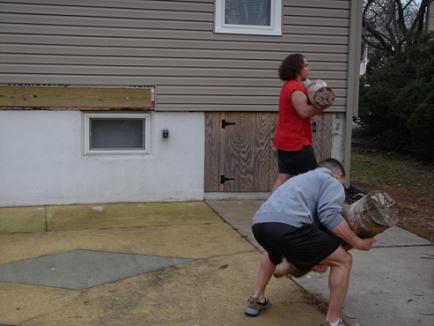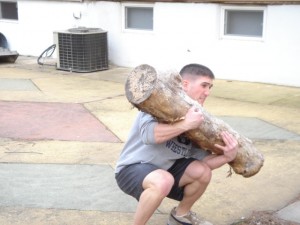 These Videos break down exactly how we use the Odd Objects & Strongman training. You'll see all the different exercise we use with tire sleds, large tires for flipping, truck / car pushing, log training and then a video with a live workout from the old playground we used to train at.

If you train in a garage gym, outdoors, etc., this course will give you the tools to train for what we call "Functional Strength" - another buzz word that gets thrown around too much. The truth is, this style of training when blended with free weights, kettlebells and calisthenics as outlined in the BONUS PDF is exactly what you need if you want to be DANGEROUS.
Here is the breakdown of the Videos:
Part 1 - Tire Sled Training
Sled training is a must have for the development of greater overall fitness, aka GPP (General Physical Preparation).
This Video covers various sled drags along with upper body strength and power exercises to be performed with a tire sled. I tell all Coaches & athletes, sleds are a must have training tool in any program.
By Implementing the tire sled training, you will:
Develop Greater GPP & Overall Fitness Levels
Build Upper Body Strength & Power
Add Size & Strength to your Lower Body
Develop Rotational Power with these Unique Sled Exercises
Increase Your Grip Strength
Develop Full Body Conditioning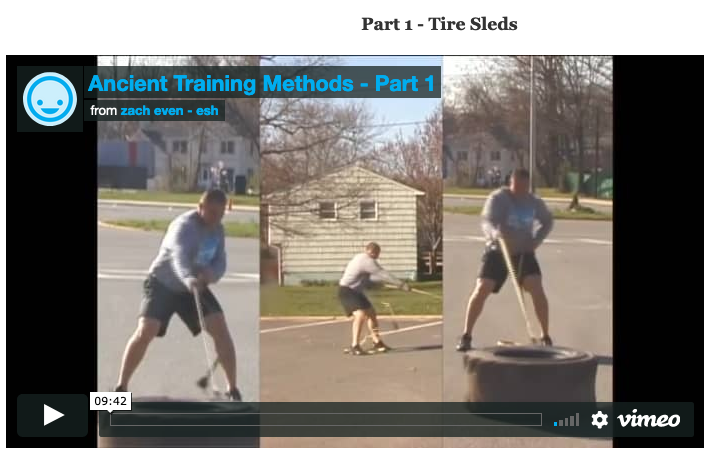 Part 2 - Sandbag Training & Truck Pushing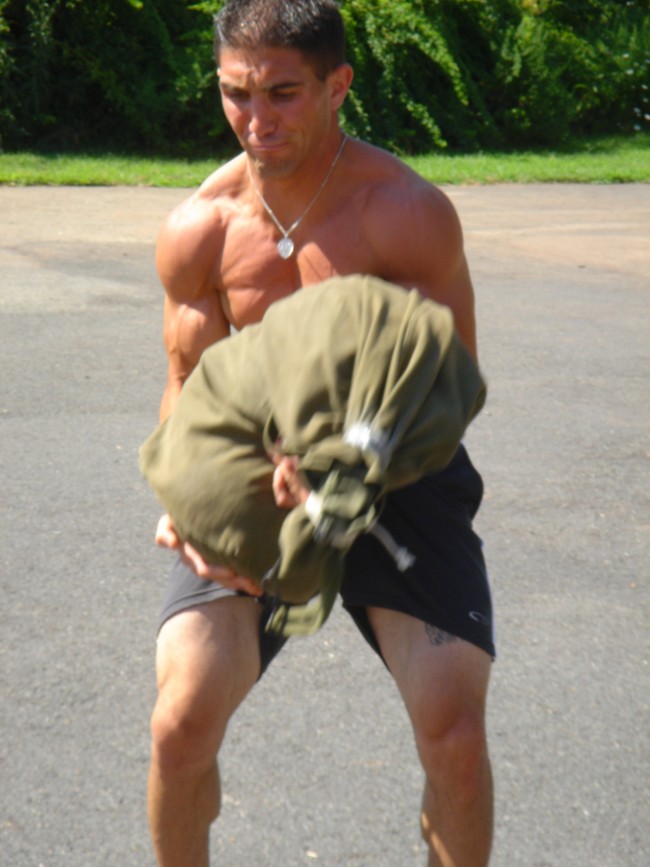 Before the COVID-19 quarantine forced people to train at home and make their own equipment, we were doing this style of training because it was effective. We did this style of training out of necessity, NOT because we were forced into this training.
Lifting and wrestling sandbags coupled with pushing cars / trucks is 1 of the simplest and most effective ways to develop full body strength and power.
While everyone is scrambling to figure out training without a gym, the sandbag is your all in 1 gym.
The benefits of Sandbag Training are endless:
You'll have an All in One Gym
Develop Rotational Strength & Power
Develop the "In Between Muscles" that Free Weights simply do NOT work
Develop Full Body Stamina and Toughness
Lear how to Organize Sandbag Circuits for Special Strengths Development: Strength Endurance & Power Endurance
Increase Your Leg, Hip and Back Strength. A MUST Have for Athletes, Military, LEO & First Responders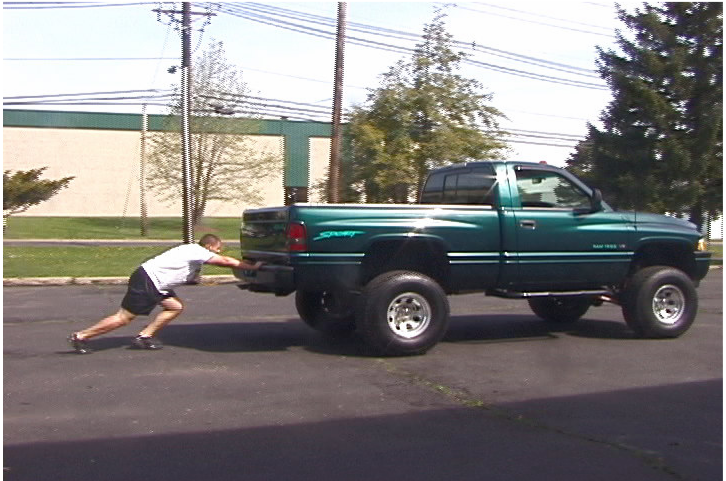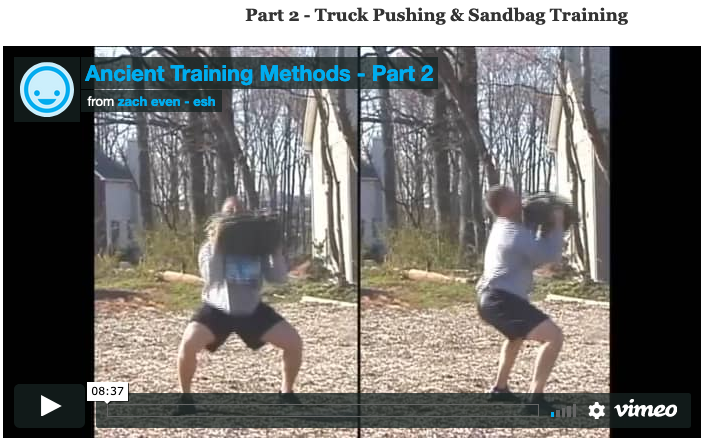 Part 3 - Logs, Tire Flips & Sledge Hammer Training
Training with tree logs started when we had to cut down an old cherry tree that was dying in the backyard of the first home we bought.
We saved 2 of the logs and it was the first time I found myself believing in "core training" which I despise that word. It's another fad or gimmick but in 2003, when people were making "core training" all types of fancy BS, my athletes and I were carrying logs, swinging sledge hammers and flipping tires.
Our whole body was being pushed from angles in a way that free weights were simply NOT working us.
FREE & Inexpensive Equipment:
When I first released The Ancient Training Methods DVDs, a Coach in Ct. went to the local tire yard and got all the tires for tire flips and sleds. He went to a local tree company and they dropped off the tree logs.
He immediately began blending the weight room with Ancient Training Methods. His Football Team went from 1-9 to 10-1 the next season.
It was a sign that the ONLY thing that counts is RESULTS. Here was a Coach who took action and refused excuses. He was fired up and knew his team needed a Physical AND Mental edge.
Ancient Training Methods did exactly that for his team.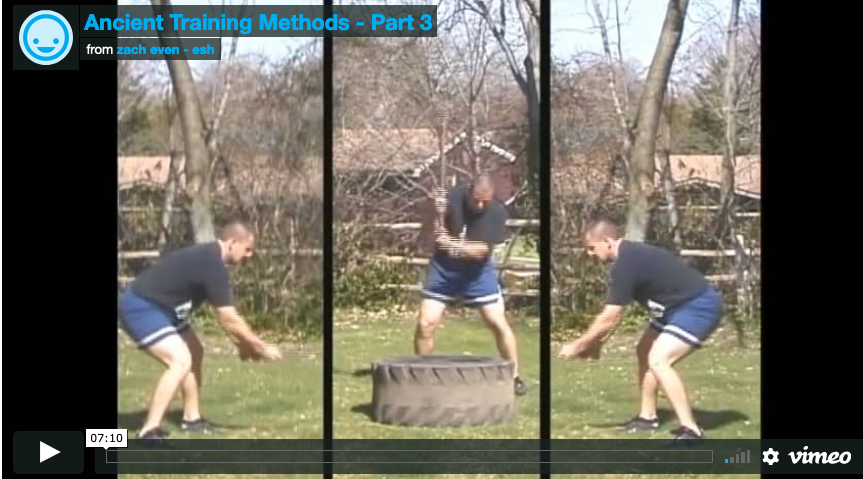 Part 4 BONUS - LIVE Sandbag Strength & Conditioning Training
In this Video you'll see a live training session with an athlete as we go through sandbags, calisthenics, sprints and hill work at the local park that we trained at.
These were from the early garage days and people were in shock that the athletes were coming from a "garage gym" and kicking a-- & taking names.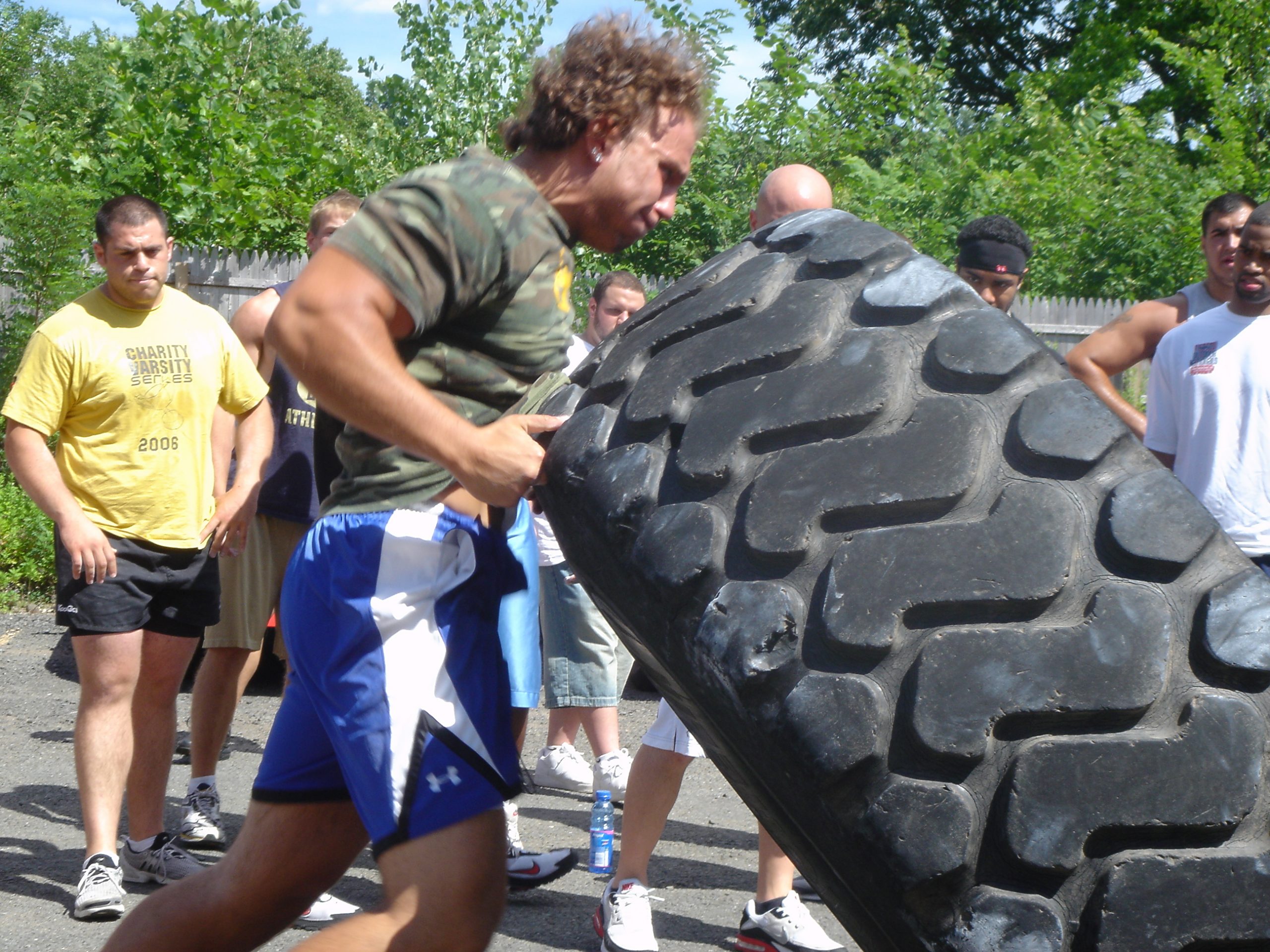 To recap, you will get 4 Videos along with a BONUS PDF with Workouts you can follow, direct from The Underground Strength Gym. That means you'll have a training program that we have tested and has proven to deliver results.
BONUS PDF:
12 Week SST Training Course ($47 Value)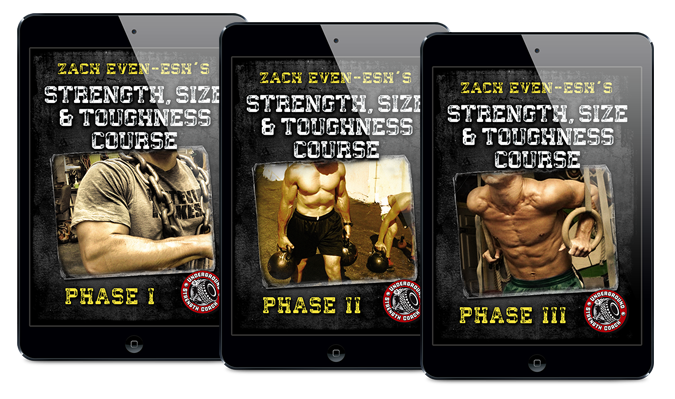 NOTE: Ancient Training Methods Video Course is NOT a Physical product.
After ordering, you will receive an e mail to download your 12 Week Training Program PDF along with access to a secure page to View Your Ancient Training Methods Videos.
NO Physical Product will be sent to you. Check Junk Folder if you don't see an e mail from us within 10 minutes after your purchase.

Ancient Training Methods $47 $27