The USC Cert is Open Again!
-59
Days
-1
Hours
-7
Minutes
-53
Seconds
ATTN Serious Strength Coaches:

​
"​Get the Number One Strength & Conditioning Certification That Gives You THE Blueprint for Building BEAST Athletes AND Skyrockets The Success of Your Business."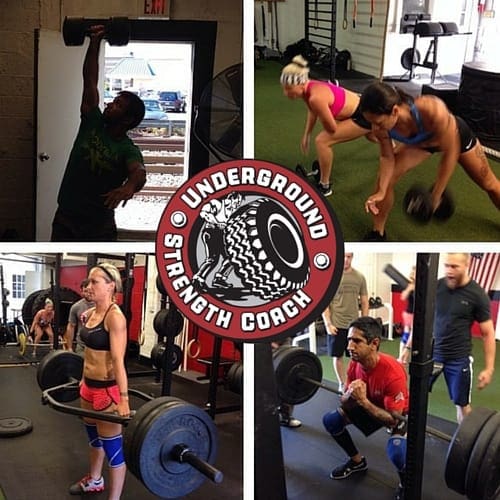 ​The USC Cert is for Coaches Who LIVE for Excellence & Want to Grow Their Business Into a Full Time Income (Even if You're Only Open Part Time Hours).
Since the Underground Strength Coach Certification began in 2008, over 800 Certified Underground Strength Coaches from all around the world have gone through the live training certification & over 1,000 Coaches have gone through our online training course.
Now it's Your Turn to Upgrade Your Training Knowledge & Skyrocket the Success of Your Business. 
Since 2008, Coaches have traveled from as far away as Australia and Ireland to learn exactly what happens behind the walls of The Underground Strength Gym in NJ.

Zach's proven training system has been implemented around the world by these coaches, and now it's your opportunity to join this elite group of coaches to change the lives of others through strength!

​The Underground Strength & Sports Performance Course is a 100% online training course.

It is the first step in your journey towards getting certified by Zach Even - Esh at The Underground Strength Gym in NJ.

You are about to gain access to a proven training system that has transformed countless athletes from average to dominant since 2002.

Here's what we've got for you.....

We've recorded a LIVE 2 Day, Underground Strength Coach Certification, Live Training Sessions from multiple Underground Strength Gym Locations, Business & Training Webinars, Program Design Videos & Much More for you so you can learn from anywhere in the world.

​Here's a short list of who has used The Underground Strength System to gain the physical and mental edge over the competition:

Youth Athletes to High School Athletes
College Athletes, College Coaches & Universities from D3 to D1 programs.
Adults from their 20s through 60s
Naval Special Warfare
FBI & Border Patrol
Special Forces Soldiers
Law Enforcement, Fire & Military

​You can "plug and play" this training system into your current program model to deliver greater results at a much faster & more powerful rate. People want results fast and The Underground Strength system will deliver so you can stand apart from the crowd.

Your Instructor: Zach Even-Esh is the founder of The Underground Strength Gym and Creator of The Underground Strength Coach Certification. Zach has trained thousands upon thousands of athletes through The Underground Strength Gym, D1 Universities and tens of thousands of athletes online, ranging from youth athletes to Adults, LEO, SF Military and Olympians. Zach authored the best-selling book, The Encyclopedia of Underground Strength & Conditioning and serves as a consultant and speaker for athletes, Military, Division 1 Coaches / Universities and Corporations who want to learn Zach's system for developing dominant strength that gives you the edge in sports, career and LIFE.

"The USC Certification & Membership have Prepared Me for my New Role as a Strength Coach with The Army's H2F Program"

The Underground Strength Coach ​Online Certification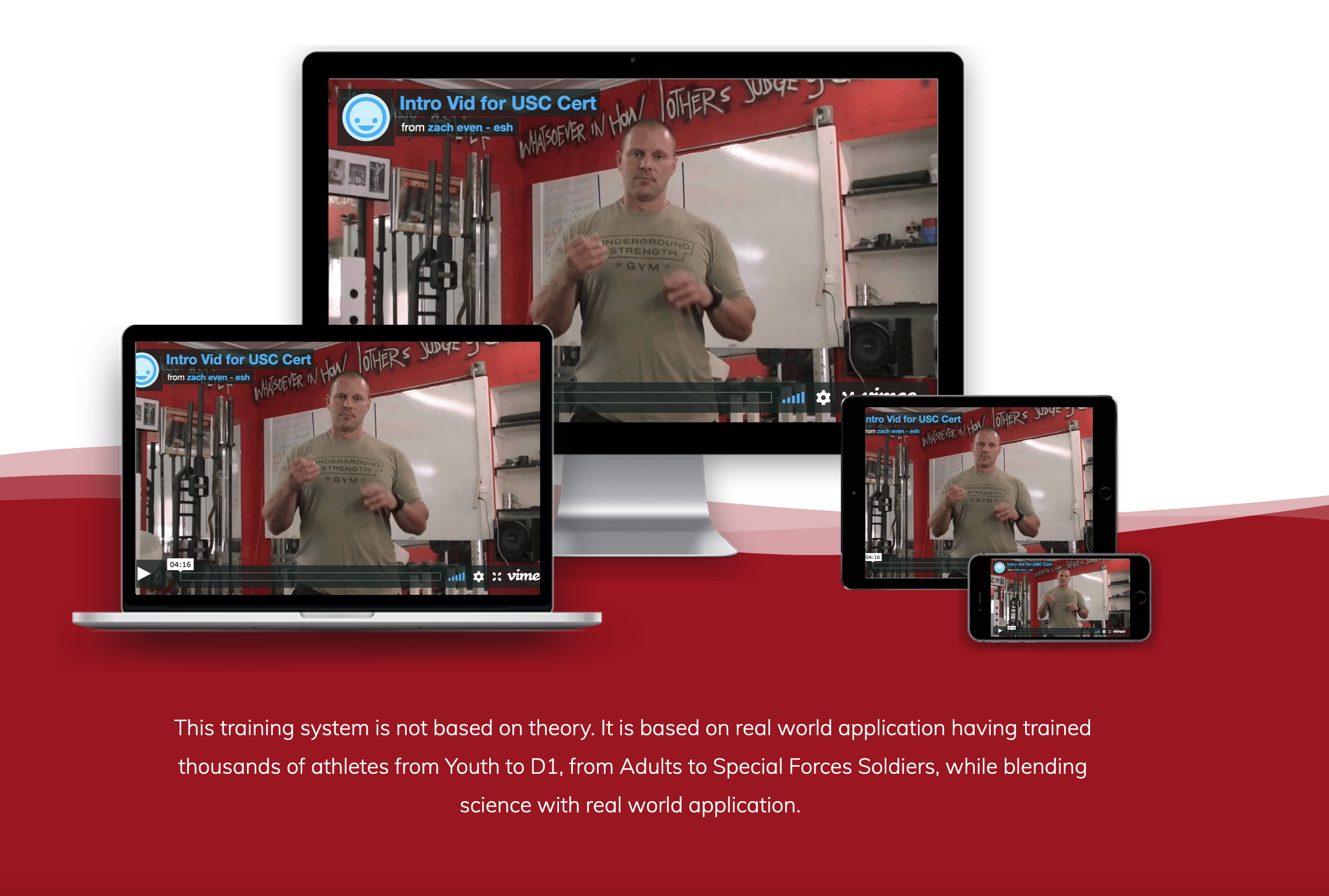 ​Inside The Underground Strength Coach ​Online Certification Course....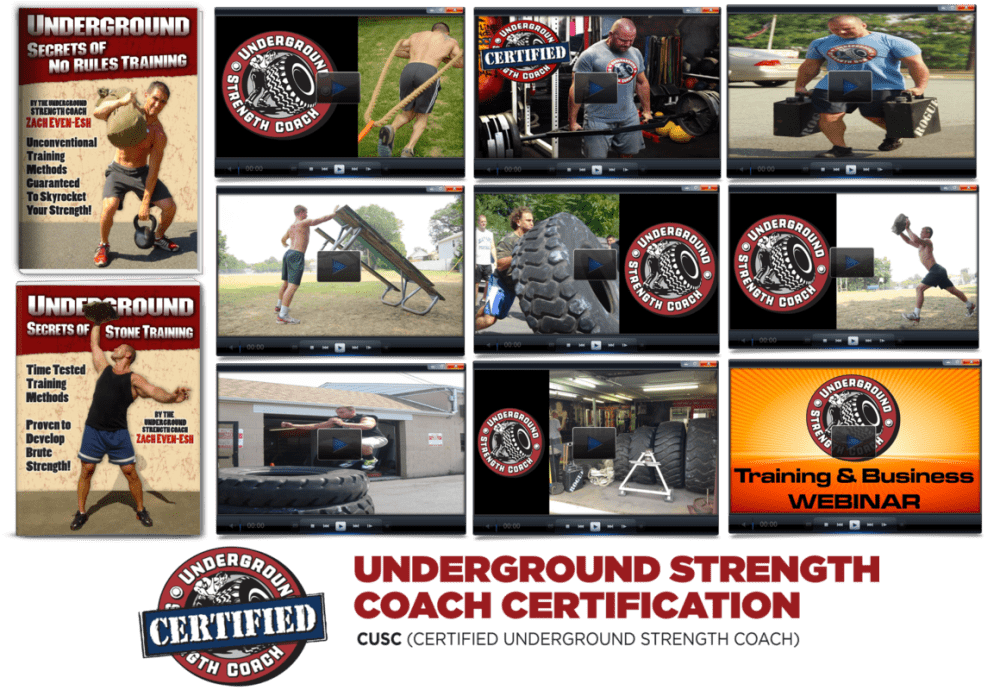 "Throughout The USC Cert, I began Seeing Everything I had from a Different Perspective towards Getting People Incredibly Strong & Healthy."
Brad David / Athens, Ga
---
Module 1: ​Introduction to The Underground Strength Coach Cert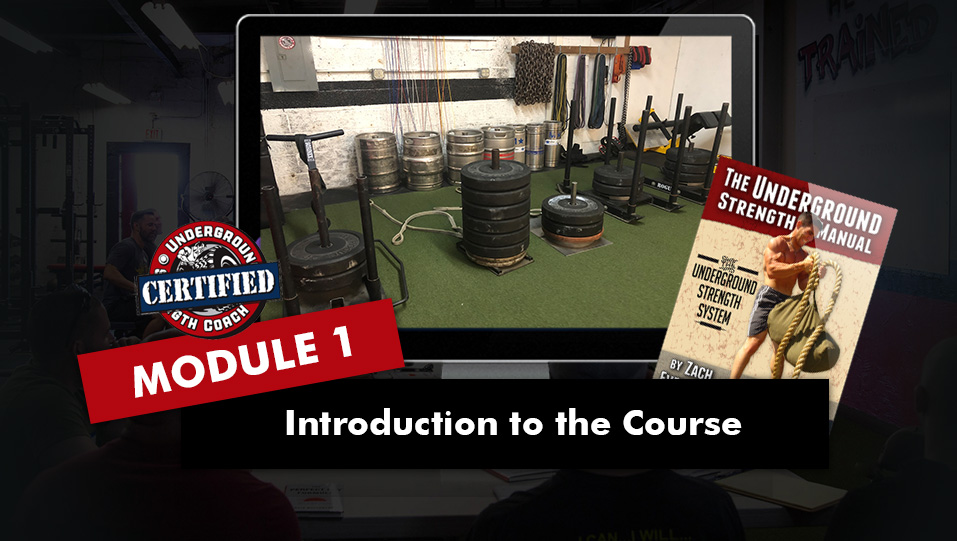 This module contains the OFFICIAL Underground Strength Coach Manual and the Introduction Video.
Contains the 500+ page Underground Strength Training manual download with dozens of photos, 2+ years of training programs, training programs for various sports, training programs for various levels of physical preparedness and much more.
Includes special welcome video from Zach Even - Esh, detailing how to best go through this online course for maximum success.
Module 2: ​​​Introduction: The Underground Strength Gym Intro Workouts & Assessment
​1 hour 19 min video on Warm Ups & Assessments plus the Introductory (Baseline) Workout that we use for new & beginner athletes at The Underground Strength Gym as well as D1 University sport programs.
Module 3: ​​​Dumbbell Training, Quick Lifts and Program Design Methods
​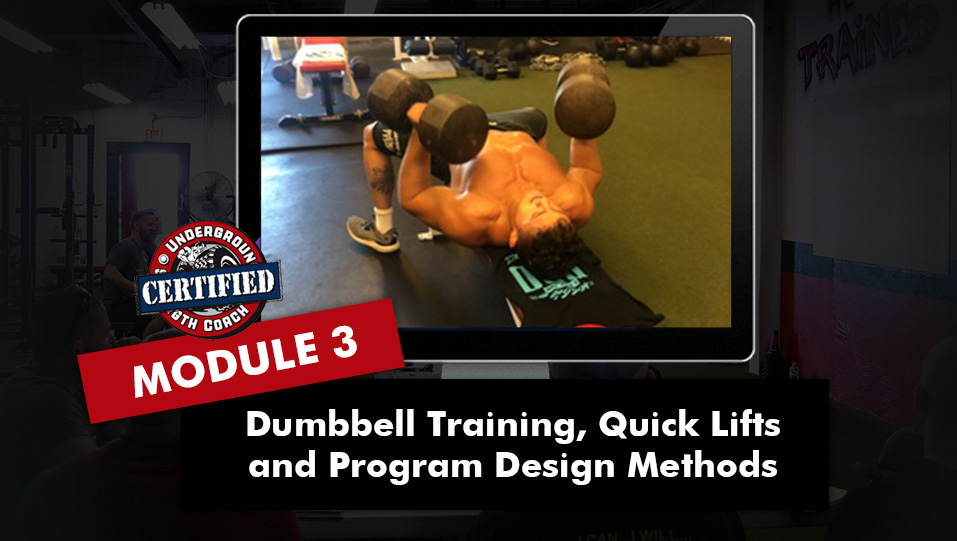 ​​1 hour 18 min video on Dumbbell Training (Speed, Power, Strength, Muscle Building) including how we implement Speed and Power Training.
How we use Dumbbell Quick Lifts as a precursor to Olympic Weightlifting.
How to train large groups with quick lifts that are easy to teach and easy to learn, a crucial aspect when training athletes.
Module ​4: ​​​​Bodyweight Training & Explosive Calisthenics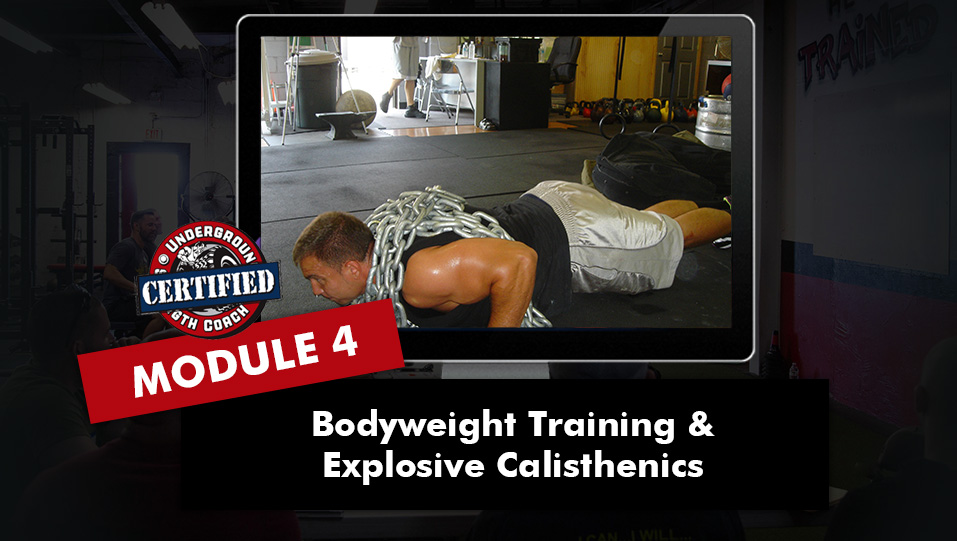 ​90 min video on Bodyweight Training: Bodyweight Workouts and Program Design from beginner to advanced athletes.
How to use progressions and regressions of bodyweight exercises / calisthenics from beginners (youth athletes) all the way to D1 athletes, Special Forces soldiers and more.
Module 5:  Barbell Training
1 hour 28 min video on Barbell Training including Trap Bar Deadlift, Zercher Squats, Bench Press and Floor Press.
Details how to coach these lifts, spotting / safety techniques, how to fix technique flaws and more.
Learn the common mistakes and weak points found in these exercises and how to fix them.
Learn the appropriate age to incorporate barbell lifts safely & effectively with athletes.
Module ​6: ​​​​StrongMan Workouts / Odd Object Training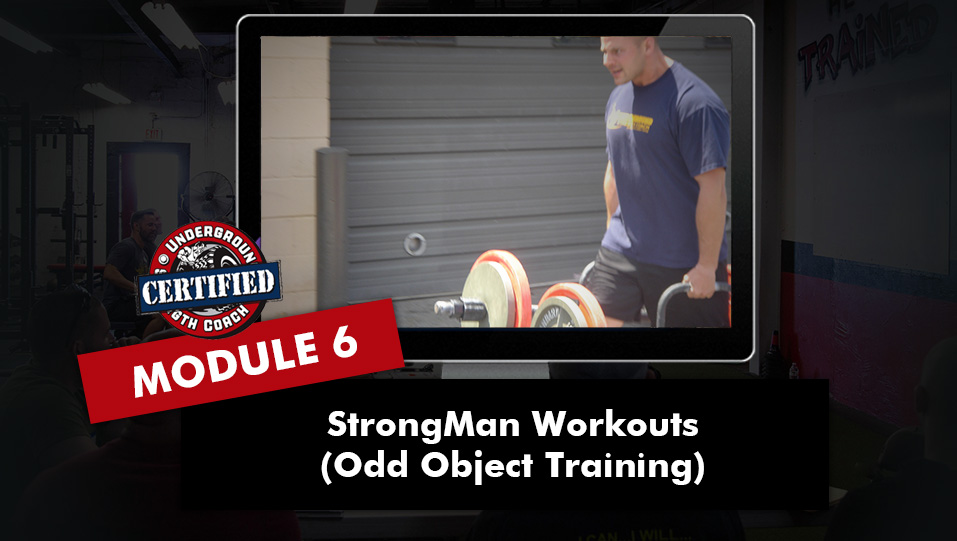 ​36 min video on StrongMan Training with Program Design tips & strategies.
Includes tire flip techniques, safety tips and drills.
Learn the exercises needed to safely prepare athletes for strongman lifts.
​Avoid the common mistakes that cause injury to athletes when strongman training is incorrectly used in strength training programs.
Module ​7: ​​​​Underground Strength Coach Program Design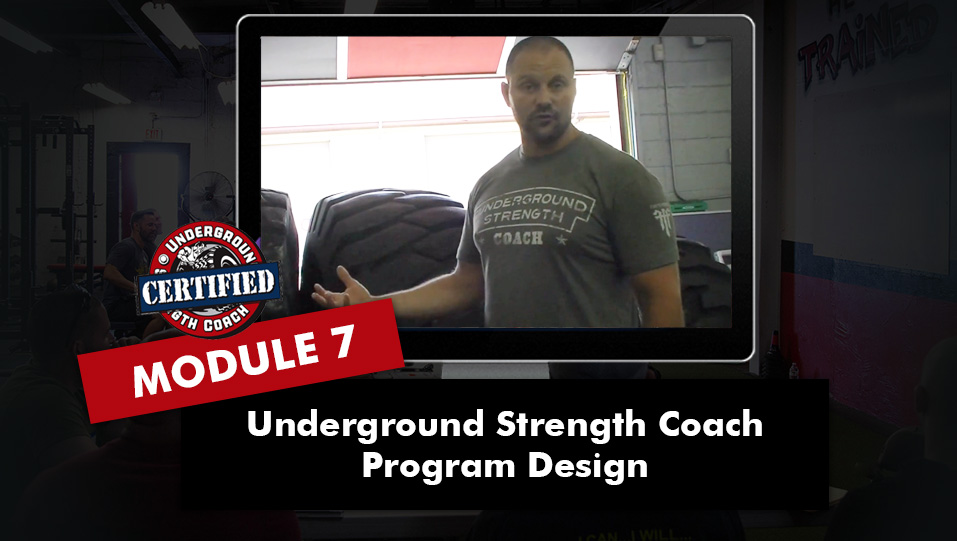 23 Min video overview of the basics of Underground Strength Training and implementing "Mini Training Cycles" for athletes / adults.
This is the exact program design method used at The Underground Strength Gym and for The D1 Universities we consult with.
Conjugate and Concurrent training methods.
Module ​​8: ​​​​Athlete Training Sessions (Filmed LIVE)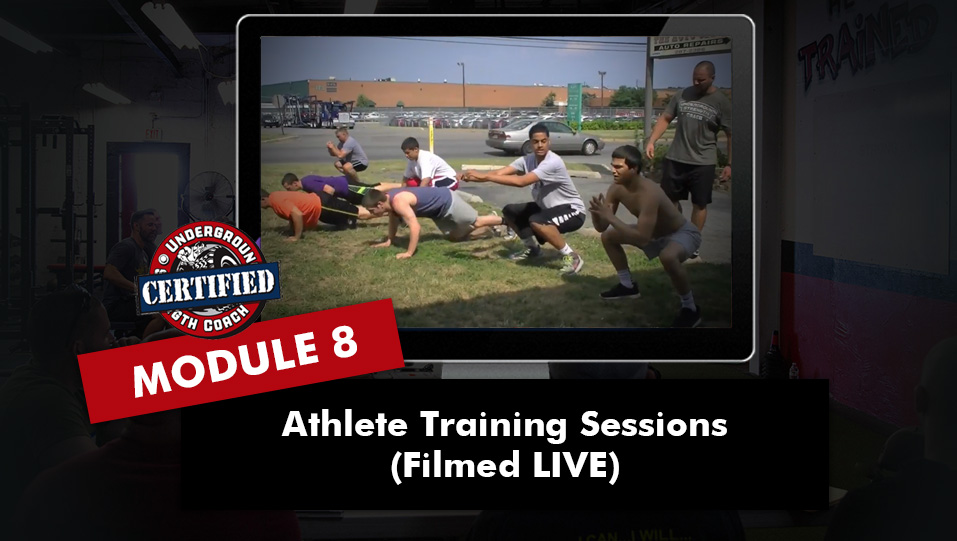 2 videos (49 min and 24 min) showing actual workouts (including warmups) in action.
Videos were taken at 2 different Underground Strength Gym locations to give you insight as to how to organize effectively and efficiently regardless of how big or small your training facility is.
Each training session is filmed from start to finish; from the warm up all the way through the end of each training session, including mobility and recovery methods. You'll see sprint training, jump training and live training sessions coached by Zach Even - Esh.
Module ​​9: ​​​​Organizing Your Gym for Maximum Success and Safety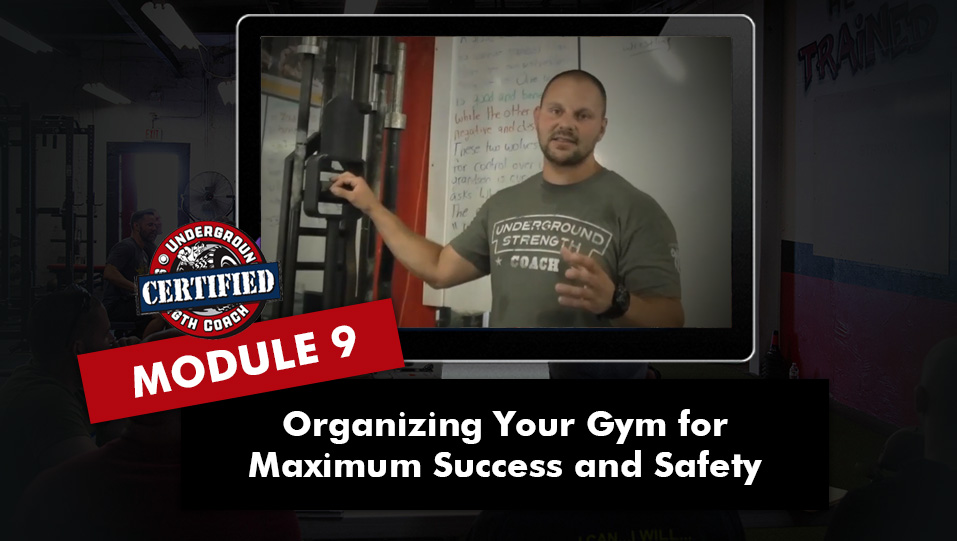 14 min video as Zach tours 1 of his Underground Strength Gym facilities detailing how to organize the equipment and layout of your training facility for maximum results, safety and efficiency.
See exactly how Zach organized The Underground Strength Gym as well as the weight rooms of D1 Universities.
Module ​​10: ​​​​Program Design for the Bench Press / Pressing Movements
​
3 videos (approx. 22 min total) covering basic, intermediate and advanced program design for the bench press.
How to progress / regress athletes from beginner to advanced.
How can you train athletes in 1 group that have varied levels of physical & mental readiness? This is exactly how we use safe & effective progressions & regressions of pressing exercises.
Module ​​11: ​​​​Program Design for the Deadlift (Trap Bar, Conventional & Sumo Deadlift)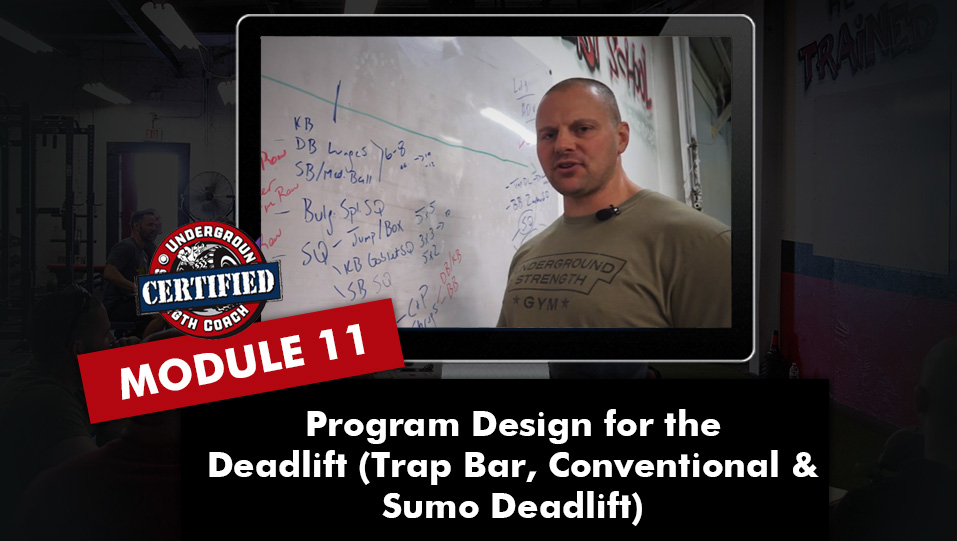 ​3 videos (approx. 18 min total) covering basic, intermediate and advanced program design for the deadlift.
This video breaks down how to assess the athlete in the deadlift and which exercises should be used for specific age groups and specific levels of physical preparation.
Module ​​12: ​​​​Program Design for the Squat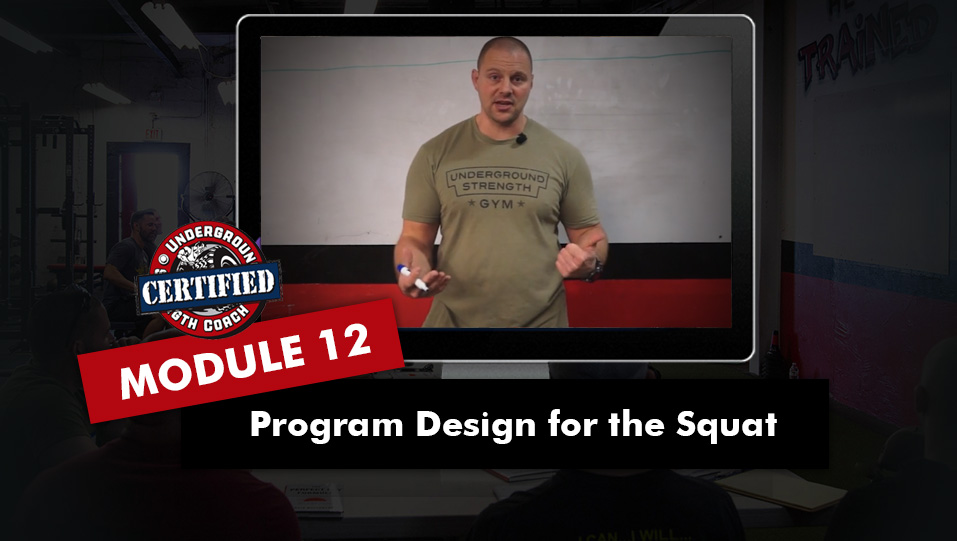 4 videos (approx. 36 min total) covering basic, intermediate and advanced program design for the squat.
This video series breaks down how to take a new athlete and develop their squat into advanced levels.
This video series also covers age appropriate exercises for the youth population all the way up to D1 athletes and beyond.
Module ​​13: ​​​​Overall Underground Strength Coach Program Design System
​​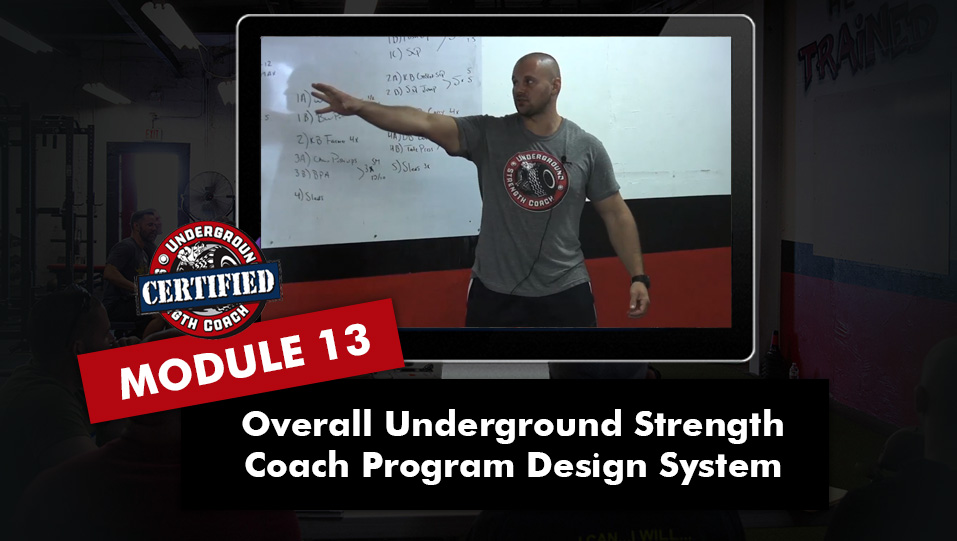 6 videos (approx. 1 hour 45 min total) covering detailed principles of Underground Strength Training program design.
Methods and Topics covered include the conjugate system, concurrent training model and how / when to implement training from various times of the year.
In Season vs Off Season Training.
Pre Season vs Post Season Training.
When is it appropriate to be implement bodybuilding methods to build muscle / tendon & ligament strength
Samples of specific training sessions from The Underground Strength Gym broken down into detail as to why / how to implement these training methods.
Module 14:  Underground Strength Exam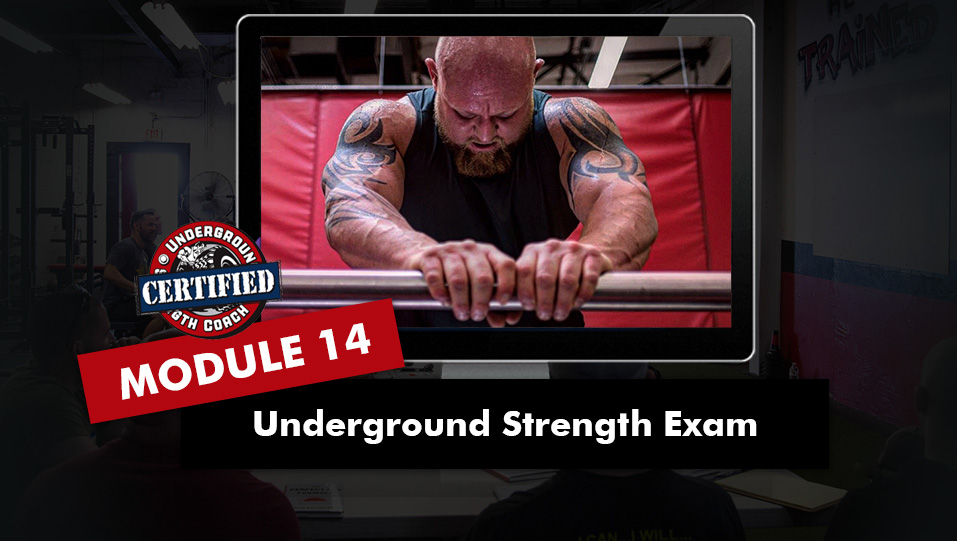 60 question Multiple Choice Exam
Then.......
The USC Cert Practical Exam:In the Practical portion of the exam you will record yourself coaching others through a list of specific exercises along with a video on program design.
This practical portion is what will truly test your ability to demonstrate and apply the methods from The Underground Strength Coach Cert. In addition, successfully passing the practical portion makes The USC Cert a Legitimate test of your ability to APPLY this knowledge.
This practical portion sets us apart from other online certifications and not only will it challenge you, it allows you to take pride in EARNING The USC Cert in a manner that is far more challenging than other certification courses.
Here's what Coaches are saying about The Underground Strength Coach Cert
"The ideas and knowledge gained will last you a lifetime, well worth the investment. "Meat and potatoes" from a guy who has been getting his hands dirty in this game for three decades."
Robert Kurzinsky
Director of Athletic Development, Harding Academy
Memphis, Tn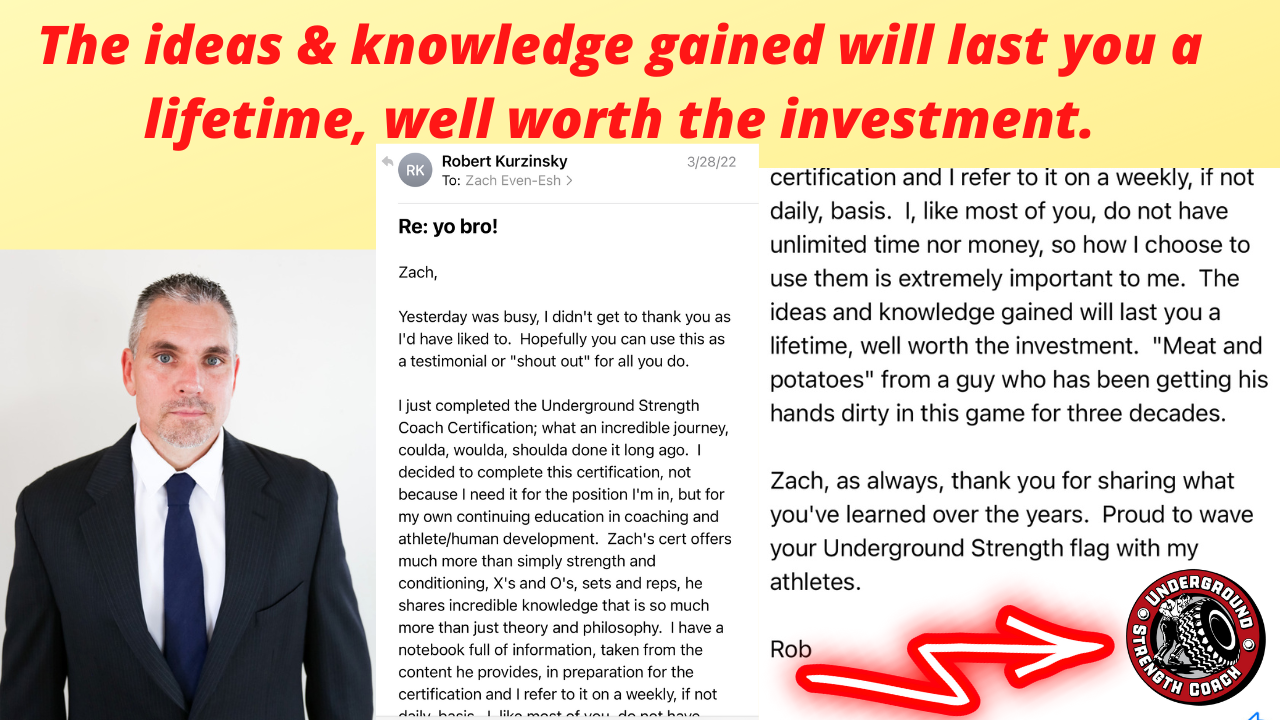 "My Knowledge as a Coach, Competitor & Business Person Increased Tenfold...."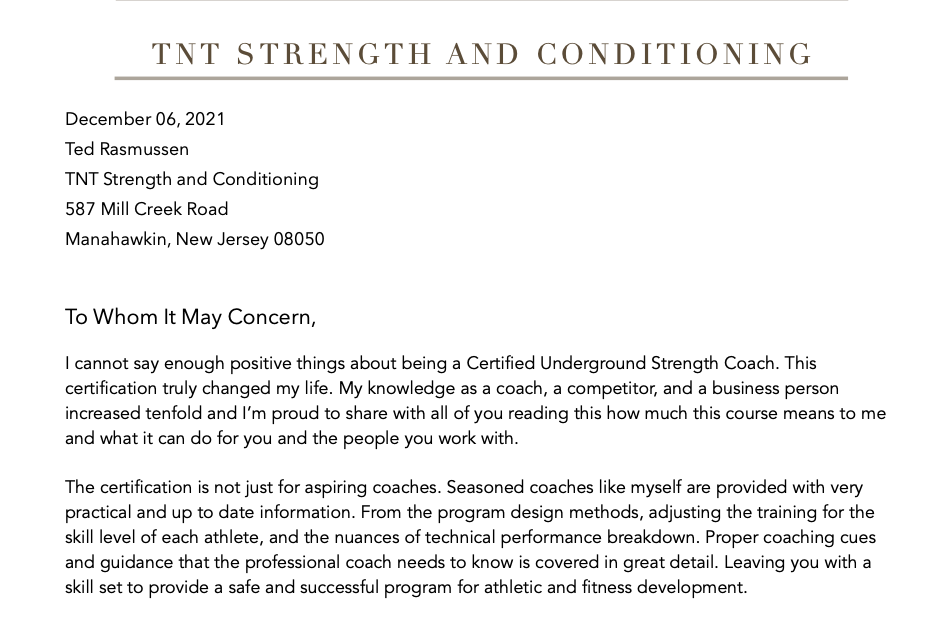 "The Athletes I work with are able to see Continued Success thanks to what I have learned from The Underground Strength Coach Certification."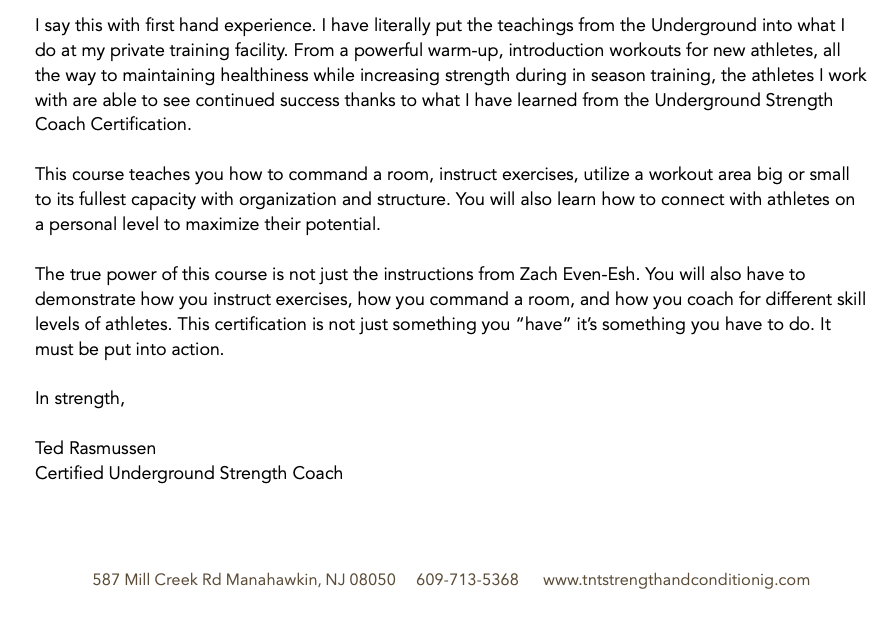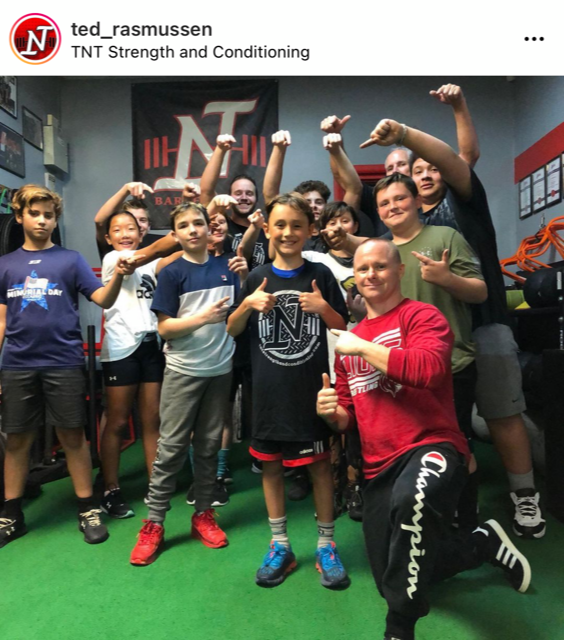 Best Career Move I've Ever Made

​​​"I've successfully completed the online Underground Strength Training Certification, and it has been the best career move I've ever made.

The course was well-written and easy to follow. It has enriched my life in many ways. I used to struggle with programming training sessions for young athletes, as well as my adult clients. I tried to use the razzle-dazzle approach to get that "WOW" factor, however what I learned most is that simple, basic training with hard work and motivation yields greater results. I've see tremendous improvements in my client's progress.

If there's one message I can convey to trainers/coaches: Sign up for this course and get certified. The knowledge that Zach shares is immeasurable. It will change your life, your client's lives, and enhance your business.

Thank you Zach Even-Esh. Keep motivating and inspiring us!"

​Ralph Barbato
Breakthrough Fitness
Certified Underground Strength Coach
Team Barbarian Head Strength Coach

Well Worth The Investment In Your Own Career

​"Zach has been a great friend for many years, but I first knew him as a mentor from afar. Zach is one of the first coaches to start sharing his information online. For nearly three decades Zach has been coaching, operating and teaching at a high level. He has coached novice and elite athletes, owned and operated a successful gym business, and contributed a tremendous amount of S&C knowledge through speaking and writing. His certification is a collection of his life's work, and no doubt will be extremely insightful. Any opportunity to learn from someone that has been successful for as long as he has in this game is well worth the investment in your own career"

​Ron McKeefery, M.A, MSCC, RSCC*E
2x College Strength & Conditioning Coach of the Year
Vice President of Performance & Education
PLAE

​Turning Point In My Career

​​"Going to the Underground Strength Coach Certification was a turning point in my career as both a coach and a business owner. Zach's knowledge, passion, humility and authenticity blew me away and showed me what kind of coach and leader I wanted to be."

​​Andrea Smith
Co-owner -Trident CrossFit
4 time Masters Weightlifting World Champion

When It Comes To Old School Training... Zach Has A Lock On It

​"I am excited for the next generation of athletes knowing that Zach has rebooted the Underground Strength Certification online course. When it comes to old school training and old methods, Zach has a lock on it because he comes from the oldest school on earth - hard work. And that has been around longer than Oxford - and that is pretty damn old."

​John Welbourn
9 Yr NFL Veteran
Founder, Power Athlete

Lots of Practical, Immediately Implementable Material

​​"I've been following Zach for about 6 years. The first year I followed him his material was so impressive I decided to take his Underground Strength Coach Certification course. The certification was more than I hoped it would be. Very hands on, with lots of practical, immediately implementable material for both the coaching and business side of running your own strength and conditioning studio.

The only thing that matters is RESULTS and Zach's USC Cert will deliver. Take the certification and build your business while "building Hammers" as Zach says. I've been using what Zach taught for the last 5 years and my clients are the benefactors. I highly recommend the Underground Strength Coach Certification."

​Curt Brownlee
ViableStrength.com

​You Won't Regret Becoming One Of Us

​"Having Zach as a mentor has helped me beyond words. The Underground Strength Coach certification is a life changing experience. It's not just about the gym. I've become a better business owner, coach, mentor, even a better husband and father. All because of my time with Zach & the Underground. You won't regret becoming one of us."

​Jared Mielke

​You & Your Business Will Grow Exponentially

​"You'd be a fool not to take the opportunity to attend the Underground Strength Coach Certification. Zach delivers a ton of information in a way that is easily understood and can be executed on immediately. You and Your business will grow exponentially."

Chriss Smith
Navy SEAL
Co Owner - Trident CrossFit
Mentor - Leader - Motivator

My Future Path Shifted Drastically

​"When I attended the Underground Strength Certification program, my future path shifted drastically as my new truth became clear. Immediately, I knew that I didn't need to spend thousands of dollars on or fret about expensive online certification tests in order to become an excellent coach.

Instead, I learned that I needed a hands-on training environment and access to a challenging atmosphere to push my own boundaries and learn how to take charge of a group. I learned how to create a safe place for my athletes to test their own boundaries.

Zach has taught me many lessons about the fitness industry. Highlights include coaching groups, standards of movement, how to go about athlete attitude adjustments, coaching cues and more, all while having fun doing it.

For me, the most important lessons have been personal.

He pushed me to stay true to myself and my beliefs no matter what. When tested, I believe in myself and have the knowledge to back up my actions.
Nothing in the fitness industry is ever new. He taught me to take charge and package it in a way that I believed in. If I believe in myself and what I do, others will believe too.
As long as you stick with the programming, results are achievable. Skipping around, not following anything leads to failure. "

Jen Shaw
Founder, LIFT For Women
"Anyone who wants to Know how to train high school and college kids to get Strong AF, who do they go to? They check out Zach Even - Esh & The Underground Strength Gym.."
Mark "Smelly" Bell aka The People's Coach
Inventor of The Sling Shot, Super Training Gym & Meathead Millionaire

Bonus Content (Valued Over $3,000)
Bonus #1:

Business QnA Webinar ($197 Value)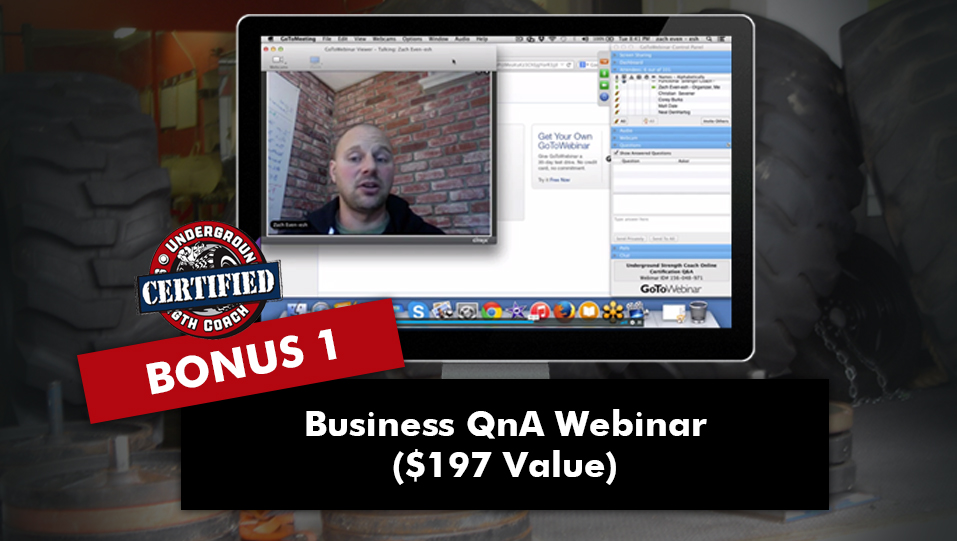 This is a webinar that was recorded from Coaches who sent in powerful training & business questions. Zach answer all of these questions thoroughly to give you a deeper understanding of both training AND business. You'll want to listen to this recording many times as it GOLD!
Bonus #2:

​Lifetime Access to Private Facebook Group ($2,500 Value)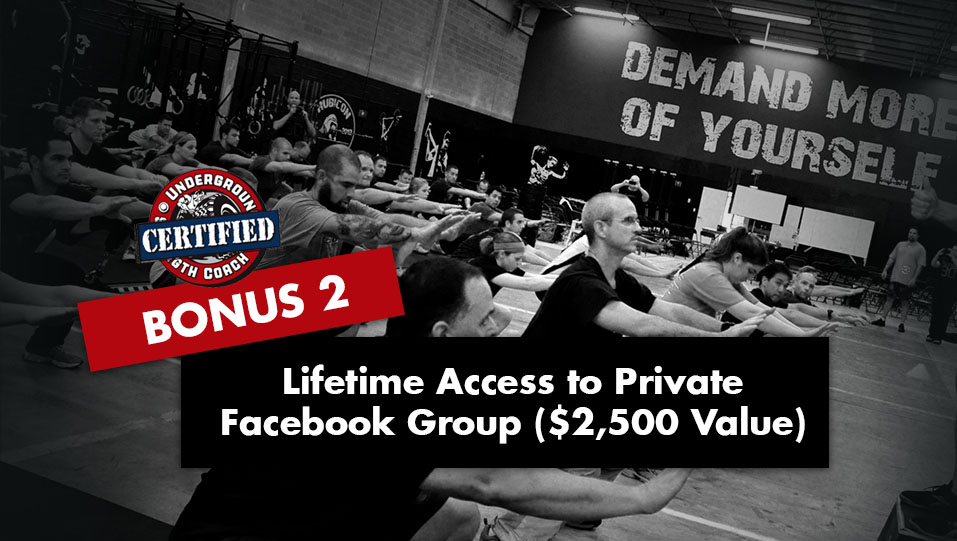 You will be invited to our private facebook group for Underground Strength Coaches. You'll be able to connect with Coaches from all around the world, connect with Zach and be part of a support group unlike any other. Question on business, training or anything else? Ask in the group and you'll have the support you need!
Bonus #3:

​​1 Year Access to The Underground Strength Academy ($197 Value)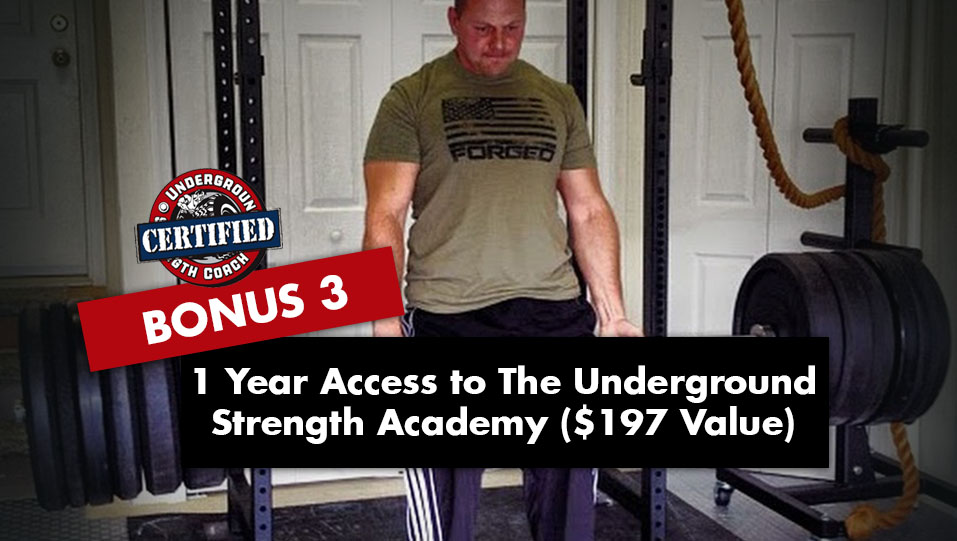 The Underground Strength Academy has been going STRONG since 2005. With seminars and DVD converted to streaming videos, hundreds of behind the scenes videos, hundreds upon hundreds of training courses, e books, special reports, audios on training, business and more, this is your 1 stop shop for skyrocketing your knowledge and success as a Coach.
Bonus #4 ($500 Value):


The Matt Wenning & Zach Even - Esh
Sports Performance Seminar Recording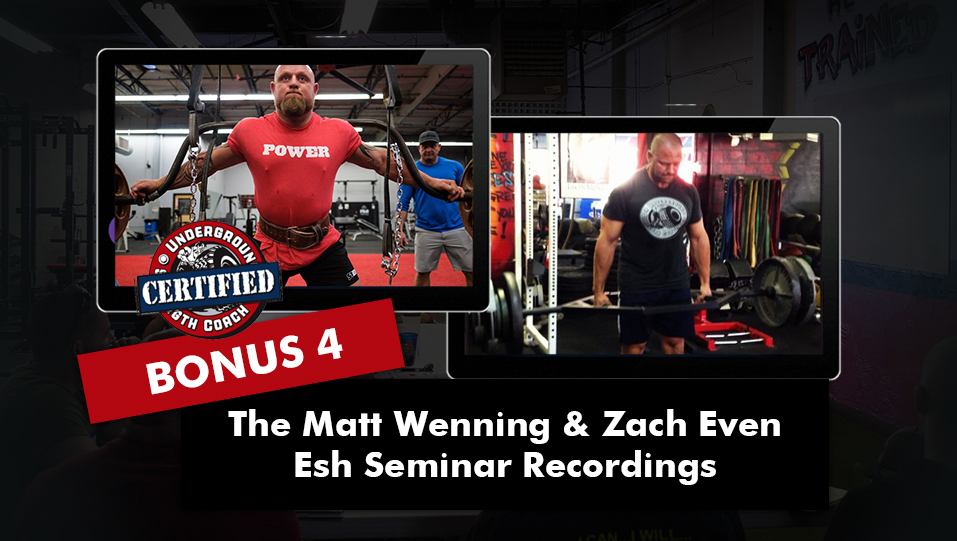 This 3.5 hour seminar was filmed live at the Underground Strength Gym in Manasquan, NJ.
Zach & Matt Wenning teach you how to train all levels of athletes, from beginners in middle and high school, all the way to college and pros. They discuss the key differences in approach to athletes of different ages and skill levels, and how you can best approach clients whether you're a gym own, strength coach, or the coach of any other team or individual sport.
Program design is heavily discussed and instructed in this seminar along with age appropriate exercise selection, training weak areas, developing special strengths, understanding the psychology of different athletes / various age groups and how this should affect your program design.
This Video alone will dramatically boost your training knowledge as a Coach.
BONUS #5 ($500 Value): Business of Strength Seminar Recording | 6 Figure Strength Coach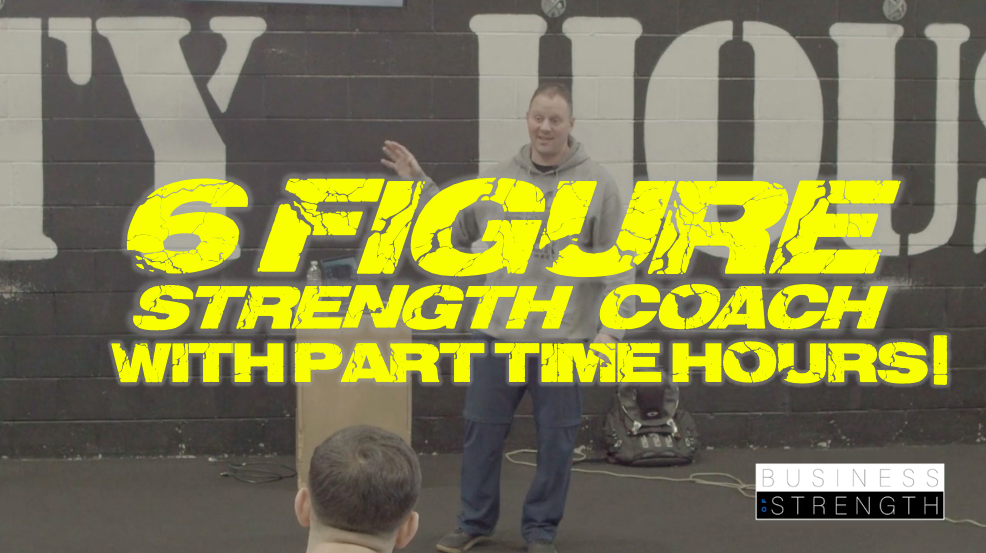 This seminar was recorded at Varsity House Gym during their 'Business of Strength' conference. In this presentation, you'll get the blueprint for how to create a long term business that produces a 6 figure income, even if you work part time hours.
For example, The Underground Strength Gym is open 3 hours a day, and since 2007, has produced a 6 figure income. This is yet another Powerful Bonus that will help take your knowledge and business to new heights. It is great to see Strength Coaches earning a income that does not destroy their health and provides a greater quality of life.
This is Your Opportunity to Invest in a Certification that Will Pay You Back for a Lifetime as a Coach. The Knowledge and Business Growth You're about to Gain Will Take Your Career and Business to New Heights. 
And Most of All, as a Coach, We are Always Encouraging our Athletes to Strive to be their Best. You Must Live The Code & do the Same if You Expect them to Step Up & Push for Excellence!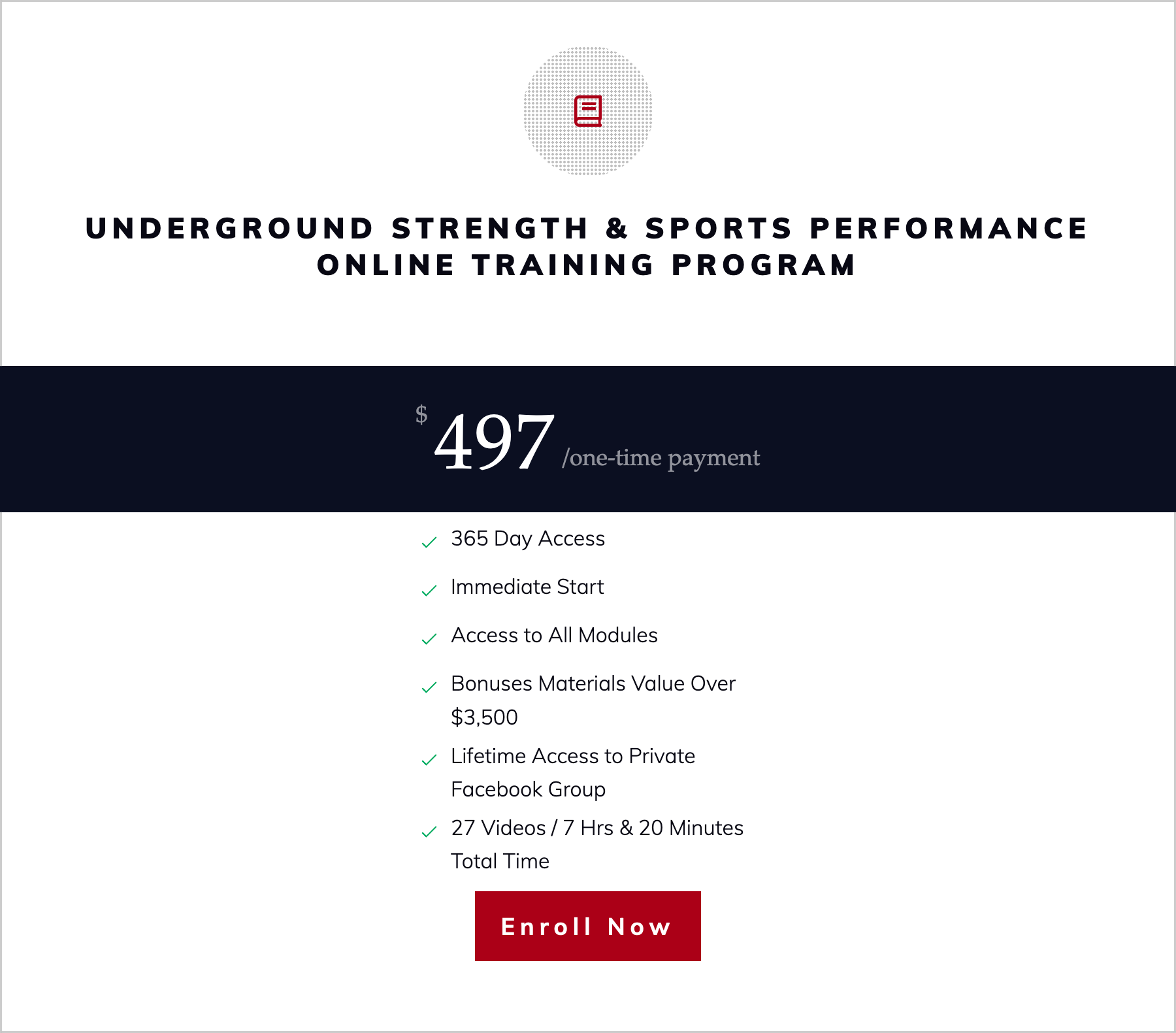 -248
Days
-1
Hours
-11
Minutes
-53
Seconds
Frequently Asked Questions
When does the​ course start and finish?
​Sessions will be unlocked for students immediately. Students will have access to the course content for 12 months.
​How long will it take me to complete the course?
​This course is designed for you to complete at your own pace, and total time depends on your learning style and availability. You will be signing up for ​7 hours & 20 minutes of video lecture and a ​60 question final exam. It is also highly recommended you watch the 3.5 hour seminar with myself & Matt Wenning before taking the exam at the end. Each video lecture ranges from ​10 min to ​90 min​. If you study for​ 1 hour​ a ​night you are looking at a​ 2 week commitment. Take notes for every video. Success requires commitment and discipline.
​Is there a final test?
​Yes, ​the course concludes with a multiple choice final exam. For those looking to apply to be a Certified Underground Strength Coach, you must score a 80% or better overall grade for the course to be eligible. ​
After the final exam, there is a practical portion where you will need to record yourself coaching specific exercises along with designing a training cycle. This is submitted to Zach through an unlisted YouTube or Vimeo video.
​I didn't pass, can I get a do over?
​You will be allowed to retake the final test a total of two times. If you are unable to pass on the second attempt, please contact your instructor to further discuss retesting.
​Is the course mobile and tablet friendly?
​Yes. All Underground Strength Coach courses are fully responsive and can be accessed on any devices that you own.
Can I share my login info with another coach?
No. Absolutely not cool. Log in information and course content is restricted to one user per account. If you are found sharing, you will be blacklisted from all future ​Underground Strength Coach courses and events, and will be denied current and future application as a Certified Underground Strength Coach.

​​​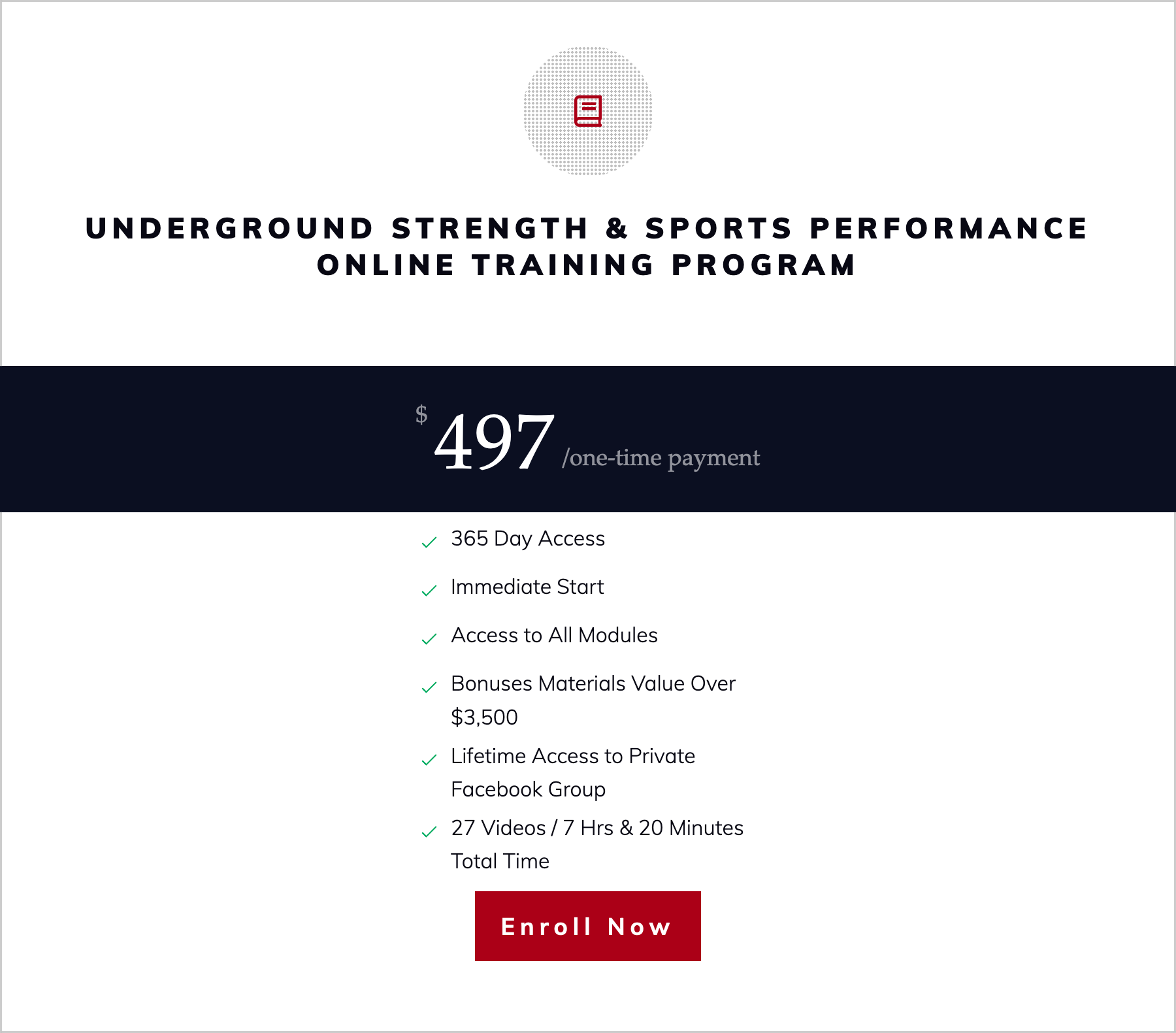 -59
Days
-1
Hours
-7
Minutes
-53
Seconds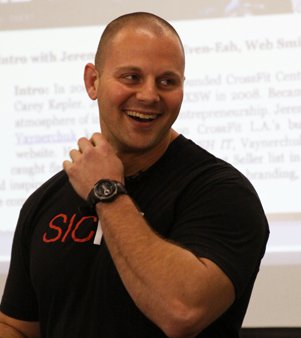 My Guarantee to You....
​The Underground Strength Gym began in 2002 from my parents garage & backyard and has continued to grow & thrive.
You are getting an inside look into how you can plug & play these proven training systems and business tips so you too can thrive while changing the lives of others.
From youth athletes to D1 Teams & Universities, from Adults to Special Ops Military - you'll see exactly how to thrive with The Underground Strength System!
​Not many Coaches can say they've built a business that has thrived for so many years. This is your opportunity to gain access to this proven system from the comfort of your home, anywhere in the world.