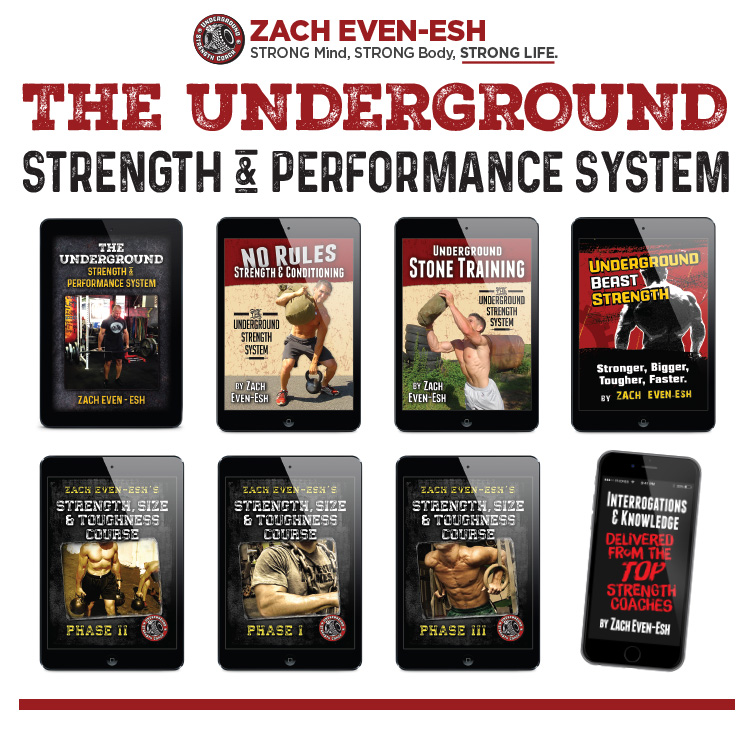 A No-Nonsense, Proven Road Map for Developing Brute Strength, Explosive Power, Athleticism That Dominates The Competition and Mental Toughness.
THE Strength & Conditioning System Proven To Deliver Powerful Results (Since 2002) for Dedicated Athletes All Around the World.
From: The Underground Strength Gym
Coach Zach Even - Esh
Time: 5:23 AM
I'm not a fan of these hyped up, long, drawn out sales letters giving empty promises that come from fads, short cuts and BS.
That's not me and that's not at all what The Underground Strength System is about. The Underground Strength Gym has always been about transforming athletes in a manner where their Strength exceeds the walls of the gym. The Underground has always been a place where RESULTS did the talking!
Training for Life is what some might describe this as.
We also Describe our Training as....
Training to be DANGEROUS.
The world is a dangerous place.
If you're not physically and mentally ready, then you are at a disadvantage.
Whether you're an athlete or an adult, having a Superior mental and physical edge gives you the tools you need to Dominate in the Gym AND in Life.
Instead of hype or BS, I want to share with you a short story of how this training system has evolved, how it helps athletes and hard charging men & women (like YOU) continue to get stronger, tougher and faster.
No short cuts or empty promises here. Work is the key, Discipline is the path and results will come by following this system of training.
What started as a side project one Summer to help a few local athletes succeed more in sports quickly unfolded into my relentless pursuit of what it REALLY takes to build the toughest, meanest, most dominant athletes.
A system that evolved into helping adults all the way into their 60s and older have gone through my training methods and it has been life changing for all who took action. It has been awe-inspiring to see and experience!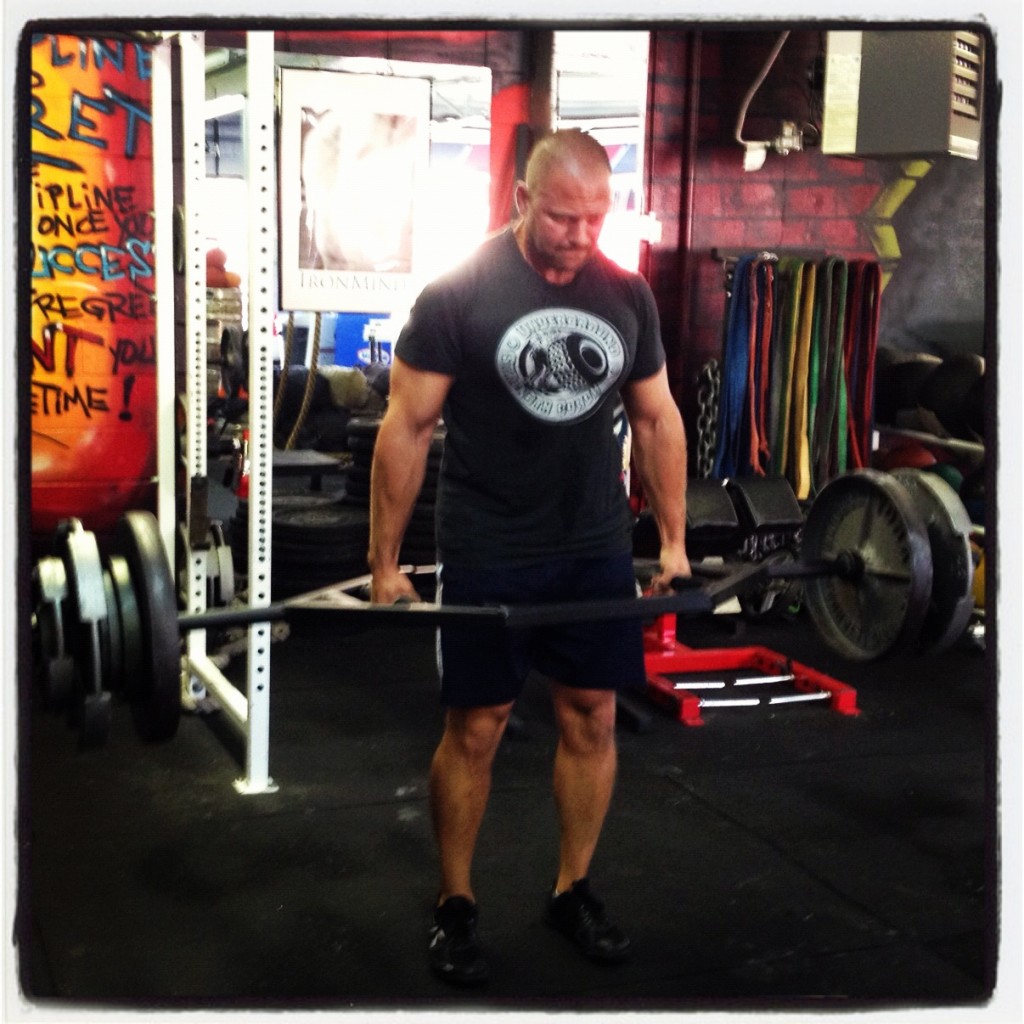 The Underground Strength System has now been proven time and again, year after year, to deliver serious results since it began in The Summer of 2002.
From multiple Underground Strength Gym locations in NJ.
To Coaches who have traveled from all around the world to travel to NJ to learn The Underground Strength System.
To training athletes & consulting with Coaches at some of the most dominant D1 Wrestling Programs in the country.
During my years as a Coach I've worked with thousands of Youth & High School Athletes, Division 1 Wrestling Teams, Olympians, LEO and Military. I've never been a fan of all the hyped up training programs that offered gimmicks and short cuts because anyone who is serious knows it takes HARD work.
The Underground Strength System is tested day in and day out with my athletes at The Underground Strength Gym and constantly being refined. Hence why I am rewriting this program.
In a Nut Shell, This Program is What I Use to Build HAMMERS.
Thousands of athletes have been through this training system at The Underground Strength Gym of NJ. Well over 1,000 men and women from around the world have invested in this course.

Now it's your time..... Your opportunity....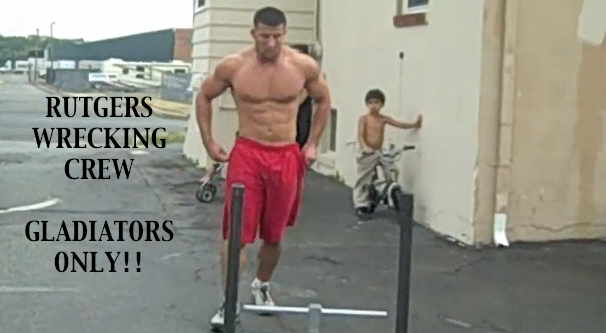 Proven Success Stories Because You Can't Fake Results & You Can't Fake STRONG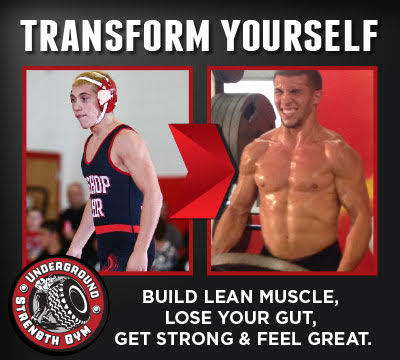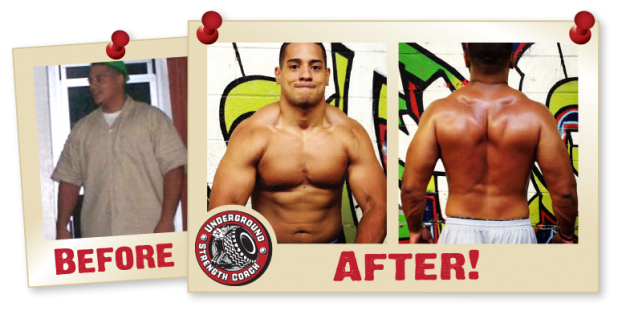 "The Mental Toughness I've Started Building Through Your Program Is Unbelievable..."
Dear Zach,
My name is Blair Sneed and I'm from Memphis, Tennessee. First off, I would just like to say that you have been a huge inspiration on me in my pursuit of a career in the fitness/ training field. I have always been athletic and have always tried to stay "fit", but once I found your blog, I totally bought into your philosophy and realized that I wasn't doing anything but building those pretty "sugar muscles".
I purchased your Underground Strength System, specifically for all the audio recordings that came with it. Honest to God, It has totally transformed the way I, not only think about fitness and muscle growth, but how I design programs for myself and others. Within just a couple of weeks of throwing some strongman and Olympic style lifting into my weekly programs, I am already throwing up some weight I didn't think I was capable of reaching, yet.
The mental motivation I get from you, though, paired with the mental toughness I've started building through your program is unbelievable.
As a person who has been through the shit in my life and got to a low point that I didn't think I would recover from, your programs, blogs, and motivational e-mails were just what I needed to get me off of my ass, start working, and pull myself out of "little bitch mode".
Thanks for your time and everything you do, man. You touch peoples lives when you stay true and keep it hardcore. Thanks,
Blair Sneed
"Gained 20 lbs of Muscle Over the Course of My Summer..."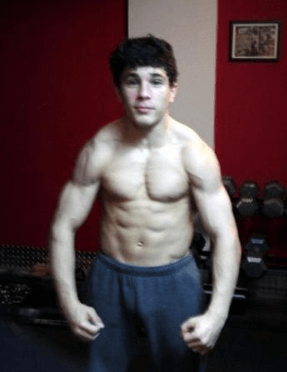 With the goal of being a National Champ and finding a way to get results, my Dad signed up to train with Zach in his garage. It was the most intense training I had ever been through but also proved to be the most effective.

The training helped me gain 20 lbs of solid muscle over the course of my summer.
My gains in strength, power & confidence went through the roof.

With out a doubt this is the style of training all athletes should be using if they want to dominate their competition.

Dan White 
3 x Prep National Champion
Beast of The East Champion
Division I Wrestler
"I've NEVER Been This Strong In My Life..."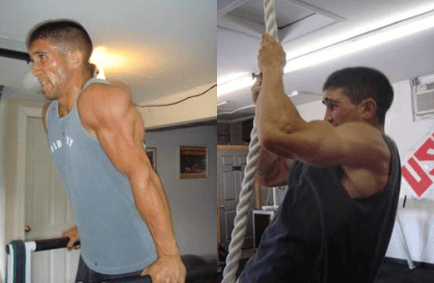 I began training with Zach in my teens for wrestling. Before training in his garage, we were both training like bodybuilders, and although I looked strong, I honestly did not feel it was giving me the return in exchange for all the time and effort we spent in the gym.
When Zach's training evolved and I began prepping for Police Academy, we started attacking the body in short periods of time using a variety of methods that not only changed me physically, but also mentally.
This style of training changed my outlook on training. My joints no longer ache throughout the day, and I have increased my strength, speed and power big time. Physically and mentally, I have NEVER been this strong in my life.
During my time at the police academy I felt great and was able to out-perform all the other recruits, ultimately winning the PT honors award, breaking some very long standing PT records at the academy.
Zach and I always tell each other that we wished we used this style of training when we competed in wrestling in high school and college.

If you're serious about results, follow this training system. I've seen what it has done for all the athletes Zach has been training dating all the way back to his garage days. If you're willing to put in the work and your dedicated, this is the program for you.
Griffin Banos / NJ
Former Plymouth State Wrestler & High School Wrestling Coach
NJ Law Enforcement

"Uncle Uses Underground Strength System to Transform His Wrestling Nephew & Gains 22 lbs of Muscle in One Summer!"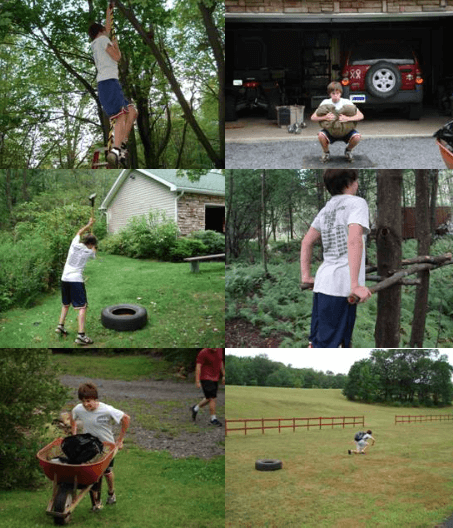 Hey Zach!I've been training my nephew Eric using your Underground methods and it's paying off big time.
He's been wrestling all summer and training with me at least twice a week.
He started this summer at 103lbs and now weighs 125lbs after practice---- and its all muscle!
I've been looking for a training program like your Underground Strength System.I've been lifting free weights and machines at home and at Gyms for over 20 years now. I've worked on farms bailing hay and for my Dad, a plumber, digging ditches and snaking sewer lines (excellent forearm workout).
I feel that your Underground Strength approach is the way to go. I only wish I had this Manual back in the early 80's when I wrestled. But I'm glad I have it now because I am strength training my nephew for wrestling and his success makes it all worth it.
He started as a freshman this year at 103lbs and did ok (30-10).
He placed 3rd at districts making it to the PA Northeast regional tournament where he got beat up a little.
He's been wrestling since he was 5 yrs old but has not really strength trained yet.
I believe that with your training methods he will win the close matches and make it to the PA State tournament in Hershey this year! 
Just had to tell you that your Underground Strength System is AWESOME!
Thanks again Zach!
Dan Powell / Pa.
"These Methods Will Take Your Strength Training Business or Anyone Else You Train to The Next Level…."
Zach,
Here is what I have to say about your methods and products.
Can you say - Kick Ass Training Manual??
That's what this is and I'm giving my 100% honest, unsolicited evaluation about The Underground Training Manual!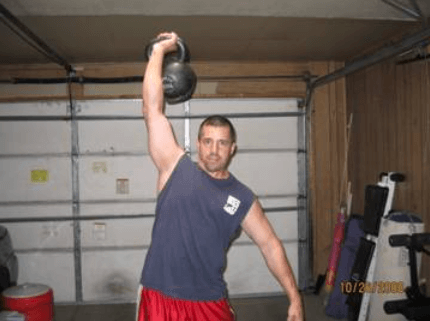 This manual is nothing short of phenomenal. 
The method inside The NO RULES training can and will take your strength training business or anyone else you train to the next level.
This manual is loaded with photos of numerous training exercises, tons of training regimens.
They are endless and you should never have to do the same workout twice with all the variations you give, unless you choose to do so.
And, there is extensive information on the different types of training methods for strength, speed, conditioning, muscle growth, etc. This manual is for anyone wanting to take their training up a notch or many more.
In regards to NO RULES, Old School, Underground Training, Zach Even-Esh is the man.
Now, Zach is much more humble than that, but, he is no-nonsense and fluff free.
He doesn't pull any punches which is the way it should be.
But the one thing about this manual that I truly love is it challenges you to learn and be able to create and accomplish your own training regimens to fit your individual needs.

You can and should follow the workouts in the manual until you get into the groove and feel comfortable developing what you personally desire out of your training.
Whatever you call it: Physical Culture, Old School or Underground Training, it does work and it works big time. The Underground Training Manual is a must have for all strength fanatics, athletes and coaches and is a great addition to your existing library.
So why am I telling you all of this?
Simple, - because this manual is that good.
Because it does and will bring about results.
Because you can't afford to pass up getting this manual to have as your own.
Because you need The Ultimate Underground Training Manual.
James De Lara
Albuquerque, New Mexico
"It Was The Most Fun I've Had In A Long Time…."
Zach -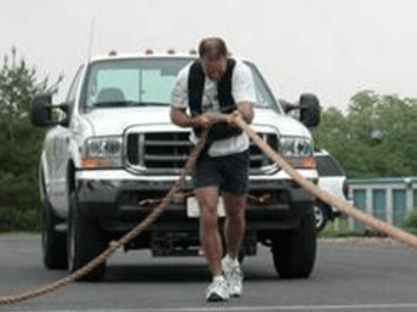 I just got a tractor tire and tow ropes rigged up at our corporate fitness center after reading your Underground Strength Kit. I tried it out with our Head Trainer on Wednesday night. Forward and reverse drags, presses, rows, hand-over-hand pulls -- it was awesome! 
Both of us were grinning from ear to ear, in between gasps for air. It was the most fun I've had in a long time.
Don McCandless
Vice President, Sales & Marketing
Restek Corporation
"I Find These Workouts To Be The Best Preparation For My Line Of Govt. Work …."
Zach –
I love the work outs in The Underground Strength System!
I work as a Special Agent for the DoD and some of our functions have us supporting the USMC and other Coalition Forces world-wide.
I find these workouts to be the best preparation for my line of work.
Running a solid city block in full gear (25lb vest, ammo, helmet, rifle, etc), climbing a flight or two of stairs, walking in a combat crouch and then entering an environment where I'm supposed to talk to a guy and get information is much, much easier if I'm not vomiting and catching my breath. 
In addition to the professional benefits, these workouts are just plain fun!
These workouts are also great, because they don't take a lot of time to complete, and that is a bonus for people with limited time. 
The military missions require a level of fitness, in my opinion, riding the line between strength and endurance. We need both, but focusing on one steals from the other.
Your style allows for strength without taking too much time off a 5K-10K run time. Surely you empathize. Thanks for all your help and great job Zach!
Regards,
Tom (last name withheld due to security)
Special Agent for DoD
"Wrestler Transforms Himself From Losing Record to State Finalist In High School & Top 5 Nationally Ranked Collegiate Wrestler…"
Hey Zach,
Hope your weekend is going great! I just got back from the tournament today and it went awesome!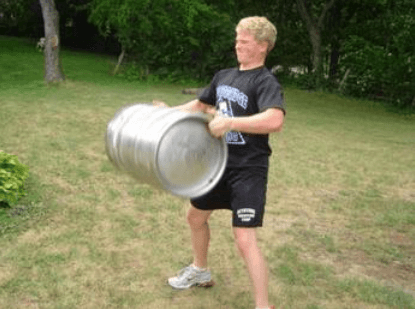 I went 3-0 (winning the tournament) and in my first match I avenged a loss (3-2 last time I lost to him) to a kid from NY, and today I totally out muscled and out wrestled him!
The final score was 10-1!
Then in the finals I totally dominated this kid winning 12-0!
Since training Underground I feel stronger than ever before, I don't even care who I wrestle, I just know the kid will have to step on the mat and go head to head with a beast.
Those kettlebell conditioning drills are helping tremendously. In the first match I still had strength and gas left in the tank in the third period.
Enjoy the rest of the weekend and I'll see you at the gym for another kick ass session!
Jim B. / NJ (last name withheld due to NCAA regulations)
2007 NJ Wrestling State Runner Up
2008 D 3 Wrestling Conference Champion
Top Ranked Division 3 Wrestler
"Elevated My Strength, Speed and Conditioning To A Level I Never Thought Was Possible..."
Training with Zach has elevated my strength, speed and conditioning to a level I never thought was possible. 
I used to train in fancy gyms on machines but Zach changed my style of training. Now I flip 600lb tires, perform 550lb sled drags, and can do more pull-ups than any kid my size that I know of. 
This style of training is what gives me the edge over my competition. 
Zach has transformed me into a STRONG MAN rather than just an average high school athlete. 

Chris Orzechowski / NJ
2007 District, County and Region Champion
2007 NJ State Wrestling Championships, 7th Place
NJ Freestyle AND Greco Roman State Champion
D 1 Wrestler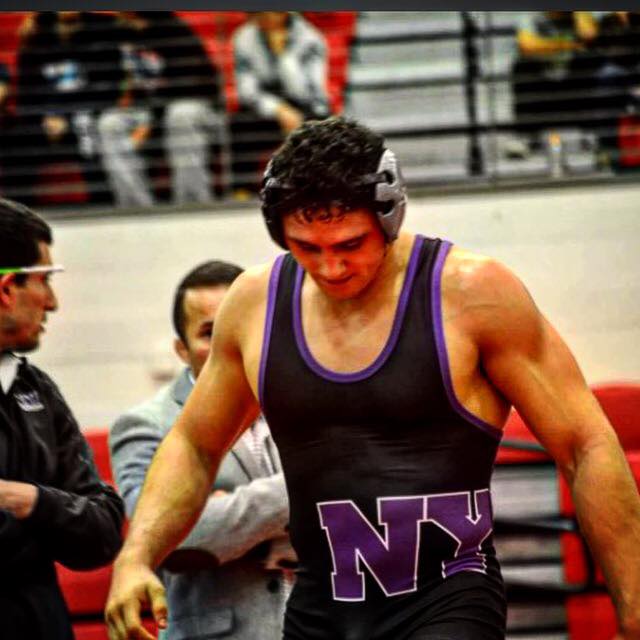 Ray Jaz Achieves All American Status for NYU
Sets University Record for Wins ALL 4 Years of Competing, Setting a New Standard for Discipline, Strength, Toughness & Physical Preparation!
Get The Underground Strength & Performance System

HERE


$97

$67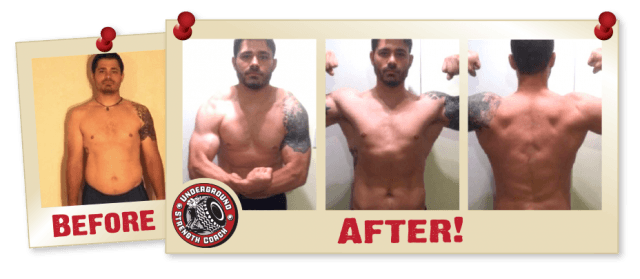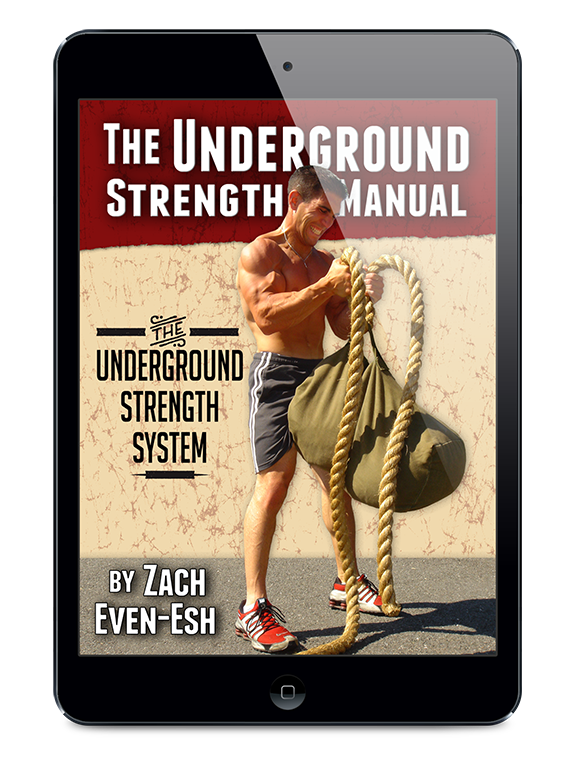 The Original Underground Strength System has been updated & upgraded into The Underground Strength & Performance System.
With 500 + pages of hard hitting information, I poured my heart and soul into this Masterpiece of ALL the knowledge I could spill from my brain. Every chapter not only details training methods we've successfully tested and implemented with athletes, but I also include HOW we dodo things at The Underground.
You'll have sample training sessions, training weeks, warm ups from different scenarios and locations, multiple long term training plans that are from the youth, high school, college and adult programs we use.
Some of these samples are 10, 12 and 14 weeks long. You'll be devouring this powerful information and putting it to use immediately, whether it's for you personally or the athletes you train.
You're about to be armed with the most hard hitting, powerful training information you've ever had.
16 Push Up Variations to develop upper strength, size & explosive power.

Sandbag Strength & Power Endurance Workouts to develop strength in a manner that free weights can NOT develop for you.
Bodyweight & Dumbbell Combo Workouts to develop the Agile, Mobile & Hostile traits that dominant combat athletes are known for.

Building GPP (General Physical Preparation) & Confidence through "Mini Workouts"
12 Sample Workouts For Short On Time, High Intensity Needs
6 Methods to integrate Program Design Models for Increasing Strength, Size & Toughness
My 10 go to free weight movements (barbell / dumbbell basic lifts)
My 6 favorite bodyweight / calisthenics exercises
How I train and develop youth athletes safely and effectively + sample workouts from The Underground Strength Gym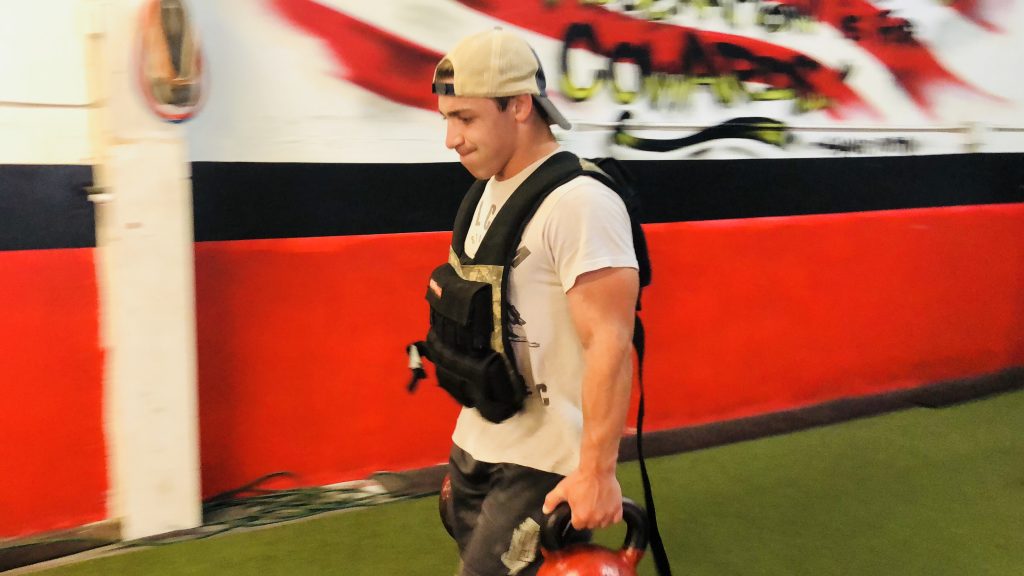 Farm Boy Workouts & 14 Farm Boy Training Tools
Building Your Gym Anywhere On a Budget (Garage Gym, High School Weight Room,. etc)
How I organized my back yard to train athletes when I did NOT own a gym and still produced powerful results (All State & All American Athletes).
9 Sample Energy System / Metabolic Conditioning Workouts
My own sample workouts and how I transitioned from "gym strong" to "functional strength"
9 Crucial Tips for Training Athletes
Sample Workouts for Wrestlers, Football Players and Law Enforcement
How to Incorporate Speed & Power Work for Athletes (Medicine Ball Training, Plyometrics, Dynamic Effort Method, Sprint Training & More)
The preferred periodization model we use at The Underground Strength Gym + Sample training sessions, training weeks (Off Season & In Season), exercise variations and much more....
10 Sample Circuit Training Workouts for Strength Endurance & Power Endurance
Age Appropriate Training for Sport Athletes; How do we begin training athletes safely from the youth years through middle school, high school, college & beyond.
Sample training plans and warm ups for our Athletes of ALL Age Categories (Youth / Middle School, High School, College, Adults)

There's More....
26 photos of push ups and all their variations with descriptions so you can perform each exercise with perfect form and safety
A 14 Week Training blue print of an Underground Strength training program.

8 variations of pull ups / chin ups to build a strong, powerful upper body.
13 photos of the various pull ups and chin ups with step by step descriptions on how to perform each movement with perfect form.
5 of my go to bodyweight movements for your upper body that all of my athletes use at The Underground Strength Gym
6 variations of the bodyweight squat to develop powerful legs from all angles
4 leg raise variations that will develop a strong and powerful midsection / core.
How to incorporate ropes into bodyweight training and playground workouts to develop added grip strength and upper body strength
29 Kettlebell movements to develop full body strength, power and toughness
6 Kettlebell – Rope combo movements to develop a stronger grip and bigger forearms
Now $97 $67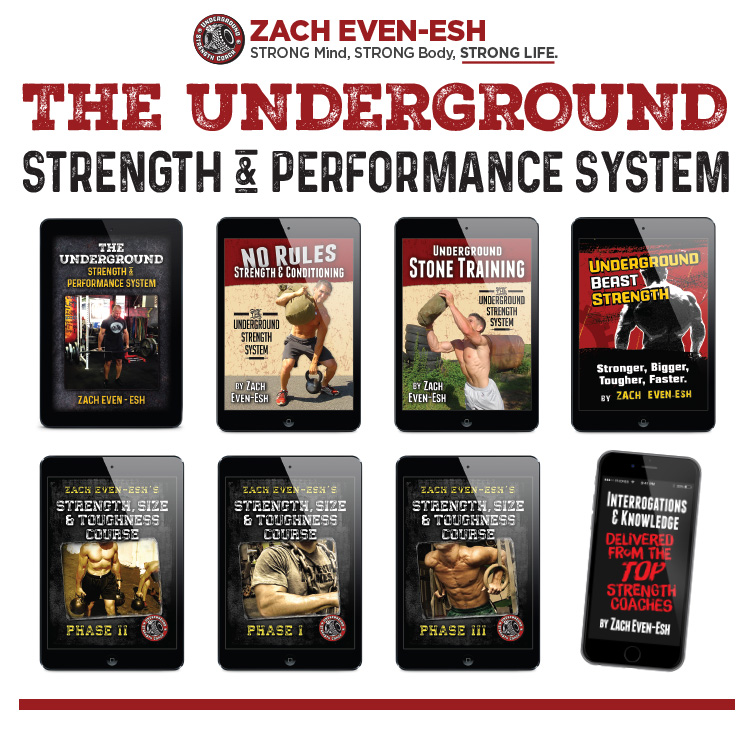 Well Over $300 of Bonuses Added Inside The Underground Strength System....
You will Also Get These POWERFUL Bonus Items:
The Underground Strength Audio Collection ($147 value)

, a compilation of 10 + no holds barred audio interrogations from the best of the best strength coaches. Close to 10 hours of the top strength & conditioning coaches in the world sharing their best training methods.
You CAN NEVER Learn enough when it comes to hearing from some of the best in the world. Experts in their field know the difference between information that is free vs GREAT information that you invest in!
2 Additional Training Manuals, The Stone Training Manual and The NO Rules Training Manual ($67 Value).
These 2 manuals cover the BIG reasons why I feel my athletes were the toughest, most successful and most dominant BEFORE I even owned a warehouse gym.
It was brilliance with the basics.
Simple & Savage.
These manuals cover the training methods and give many workouts and training programs to put to the test.
- Inside The NO Rules Training Manual you'll have 100 pages of information detailing how I use sleds, sandbags, kettlebells and bodyweight together.
There are sample workouts, countless exercises photos and details behind using these odd lifts for athletic prowess.
- Inside The Stone Training Manual is 60 pages of photos, stone workouts and how I trained athletes in my early days blending traditional free weights and backyard workouts to develop mental toughness and what I call "Farm Boy Strength".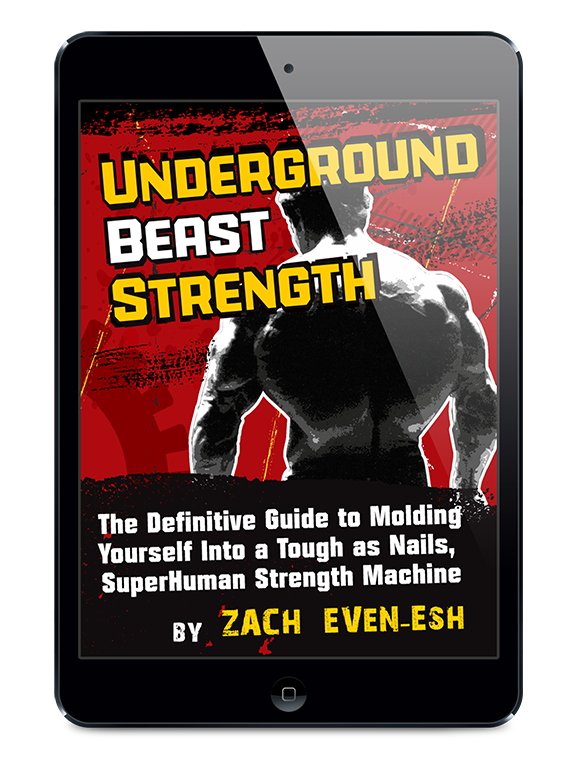 There's Still More, ALL Included In This Package!
The BEAST Strength Course ($67 Value - Included!) which is a 1 year training program. I've used this program on athletes as well as myself through a year long training plan. The BEAST Strength program was implemented to vary the style of training for my athletes in order to avoid burn out and over use injuries. Adult athletes have used this program after being burnt out from following programs NOT meant for the natural athlete. D1 Wrestling programs have implemented this program as well.


Last but Not Least, The SST (Strength, Size & Toughness) 12 Week Training Block

($67 Value - Included)

, Direct from The Underground Strength Gym with Videos Linked inside the PDF, walking you every step through the next 12 weeks of training.
The BEAST Strength Program

takes you from beginner workouts through advanced. Proper program design, choosing sets and reps and detailed training is mapped out along with deload phases to keep training and progress happening at all times. The variety of the workouts will inspire you and excite you to keep training hard. These workouts can be adapted for athletes as well as adults who are training hard and desire elite fitness and performance.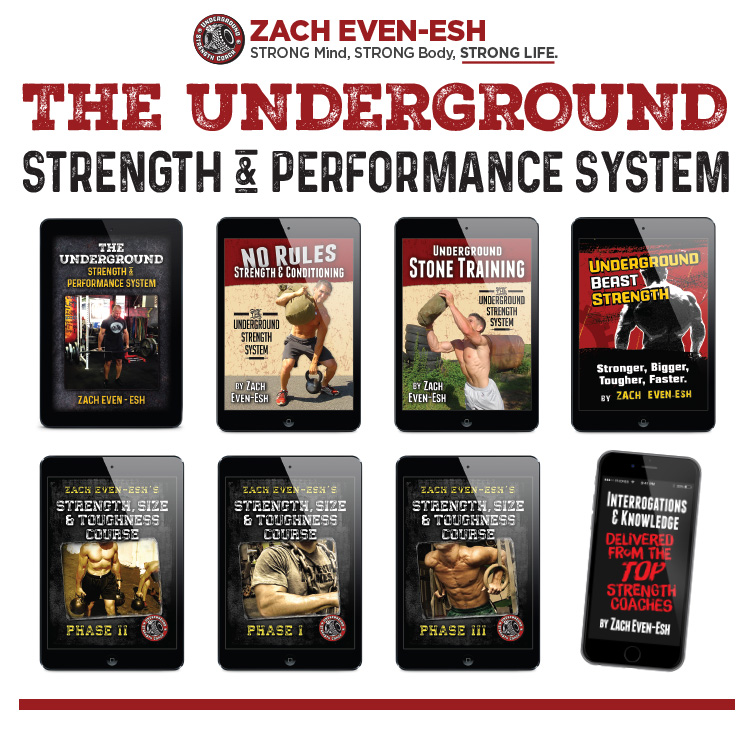 I'm excited to share this program with you and you will gain access to the program within minutes of your purchase as this is a downloadable course.

The Underground Strength & Sports Performance Manual alone is 500+ pages with Countless Training Plans, Warm Ups, Strength & Speed Methods packed to the hilt for you!
I have PACKED this program with ALL of my YEARS of information to give you the best advantage you can gain from ANY training program.
Again, this training system is NOT based on theory or guess work. The Underground Strength System has been tested and dialed in as I've progressed through my journey since 1989 as an athlete and Coach.
There's a reason why Coaches fly to The Underground Strength Gym from all around the world and the MAIN reason is because of the results this training produces.
The training builds dominant athletes who are strong, tough, explosive and built like brick sh*t houses. Now it's your turn. I am psyched you are about to join in on this powerful journey!
Dedicated to Your Success,

NOTE:

This program is a download program. NO physical products will be shipped to you

.
You will receive an e mail with download instructions within 10 minutes after your purchase. If you do not see this e mail please check your junk folder. Support e mails can be sent Here. Thank You!