I got LUCKY.
I Found myself a killa little playground, still in need of finding pull up bars and dip bars that are up HIGH. I've seen these in videos outside of the states & in the suburbs of NYC, I fear there is a conspiracy to keep people weak by removing playgrounds
We filmed a TON of footage at this playground for the new Bodyweight Training Course.
Now, although I've been cranking LOTS of bodyweight workouts at the playground lately, you might be asking how I train the lower body.... GREAT question, as I wonder the same when I see the BEASTS on the playgrounds, it's ALL Upper Body work and NO lower body training.
Remember: If you wanna be as strong as a house, you gotta build the foundation (your legs!).
I mountain bike 2 x week now, yesterday I took a solo trek on the mountain bike for about 2 hours in the brutal heat and it felt GREAT. The bike riding is brutal on the legs and great for conditioning.
I also do the bodyweight exercises for lower body found inside The Convict Conditioning Training Manual.

And.. I have been hitting some VERY light deadlifts 2 x week to keep the legs and back strong. Nothing crazy on the deads, but enough to feel em'. I found that if you kill the deadlift it will kill you
QOD (Question of the Day): Have you every put together a kick ass bodyweight workout, full body?
If so, drop a comment with your bodyweight workout challenge, let's see who has the most kick ass bodyweight workout that they have TRULY used (basically, do NOT make shit up and post it as truth, I only want the REAL TRUTH).
Live The Code
--Z--
Get The Underground Bodyweight Training Seminars On Video As A Member Of The Underground Inner Circle, Along With More Than 12 Other Underground Strength Courses For Less Than 10 Bucks.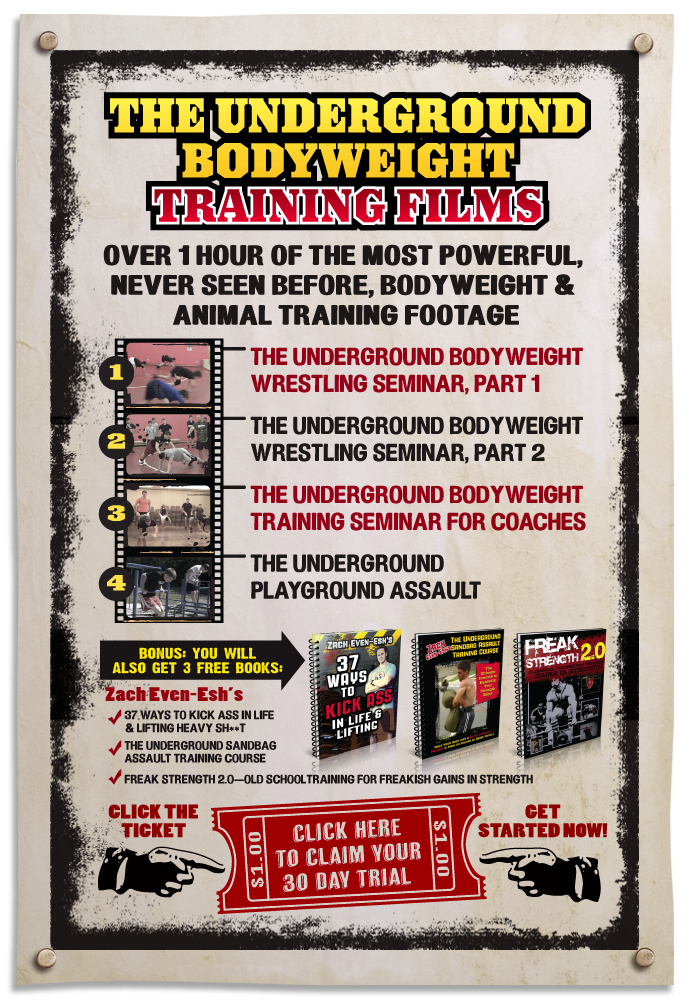 (Visited 283 times, 8 visits today)