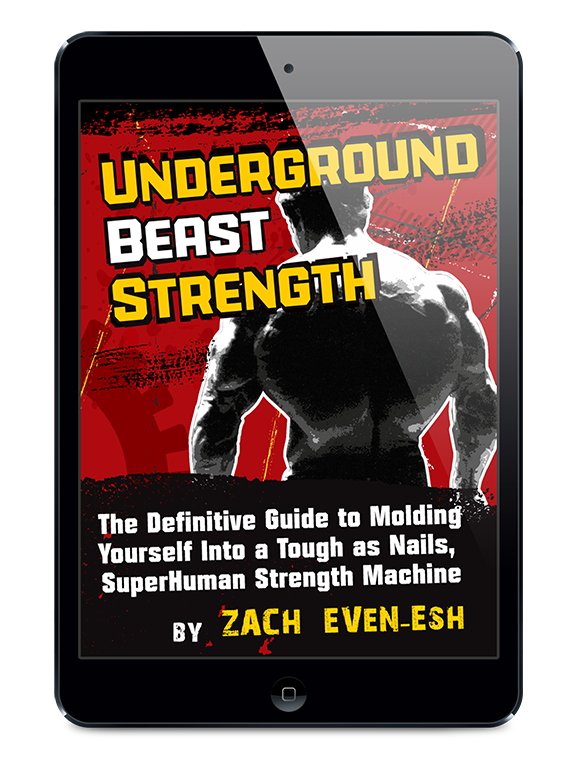 Prepare to Transform Your Mind & Body Into a Lethal Weapon
Intro Training Plan to Prep You Physically & Mentally for Advanced Training

Results Proven Training Programs & Methods Used at The Underground Strength Gym with thousands of athletes and adults, ranging from high school to D1, to men in their 20s, 30s, 40s and 50s


Programming to Help You Avoid the Common Mistakes That Cause Injuries to Shoulders, Knees & Back

Avoid Mental & Physical Burn Out with these Powerful Training Methods that Keep Your Enthusiasm and Results Coming on the Regular


Reclaim Your Lost Athleticism & Lost Energy Levels Training LESS than Ever Before (Most of the BEAST Strength Programs are 3 x Week)


Feel More Athletic & More Confident than Ever Before. Develop a Mental Edge that is Missing from Men in Today's World.


Burn Unwanted, Stubborn Body Fat While Building Lean, Functional Muscle Mass

6 Months of Results Proven Training Plans, Ready for you to Follow Today!
PRICE: $37


Below is the Outline of the BEAST Strength Training Phases with a Nutrition Bonus as well:
- [ ] The Underground Rite of Passage Intro Workouts (4 Weeks)

- [ ] Week 1 - 3: BEAST Beginnings

- [ ] Week 4 - 6: Underground Muscle Forging

- [ ] Week 7 - 9: Warrior Workouts

- [ ] Week 10 - 11: Golden Era Power- Bodybuilding Workouts

- [ ] Week 12 - 13: Strong as Hell Workouts

- [ ] Week 14-16: Physical Culture Training

- [ ] Week 17-18: Power Bodybuilding Training

- [ ] Week 19-21: Bags & Bells

- [ ] Week 22-23: Combat Readiness

- [ ] Week 24-25: Golden Era Training

- [ ] Week 26-27: NO Rules Training
PRICE: $37