Let me slap the haters in the face before we get GOING.
BIG, STRONG arms are critical to aiding your upper body strength. They also help keep your shoulders healthy when you train your arms properly.

Want to improve your bench press, military press, pull ups, push ups, dips, etc?
Then get those arms stronger.
If you've got skinny, weak arms, it's likely your upper body pushing and pulling strength sucks as well. Do NOT fear doing direct arm work.
When I train arms and when I use arm work for training my athletes, I THINK about how these arm exercises will have a carry over to their sport.
In the video above, the Cheat Curl / Power Curl is for MORE than biceps. It is is grip and upper back work. The heavy eccentric helps with building biceps size.
One of the most misunderstood and overlooked "transfers of training" is CONFIDENCE.
Athletes get excited to train arms. They FEEL better when they pump up the arms. They also have More confidence when they are better built.
I want their arms to BE STRONG, not just LOOK Strong. Call it "functional strength" or whatever you may call it but the bottom line is I want their arms to impose their will on their opponents.
That means we will use the "Not So Normal" movements and techniques to get those arms stronger AND bigger.
Here's 11 Quick Tips for Jacking Up Your Guns.....
1) After your upper body workout, pick 1 or 2 exercises for biceps and another 1 or 2 exercises for triceps. Hit each exercise HARD for 2 - 3 sets each.
Usually we just go hard with one exercise each for biceps and triceps but don't be afraid to hit some extra volume if you're feeling it.
Go heavy on one exercise for 6 - 8 reps, then high reps on the next exercise, 12-20 reps.
Here are a few favorite exercises we like to use at The Underground Strength Gym:
Favorite Biceps Exercises:
- Various Thick Bar Curls
- Thick Rope Curls (looped through Kettlebell)
- Hammer Curls
- Barbell / Dumbbell Power Curls aka Cheat Curls
- Hammer Cheat Curls
- Hand Over Hand Pulls with a 50 ft. Rope
Exercises such as farmer walks will also help your biceps and grip develop immense strength.
Favorite Triceps Exercises:
- Tate Press
- Lying DB or KB Extensions (Also DB Roll Backs)
- Dips (high reps and weighted)
- Band Pushdowns / Extensions from Various Angles
- Close Grip Push Ups
- Close Grip Bench Press
2) I have found that triceps respond well to slightly higher reps, usually in the 12 - 15 rep range while biceps respond well in the 6 - 12 rep range.
This doesn't mean that I NEVER stray from those rep ranges, I often times switch it up.
3) Utilize pull up variations during each back workout. Get good at underhand pull ups FIRST. Once you can get 10 underhand reps, move to overhand and neutral grip pull ups. Once you can crush the various pull ups using traditional handles use ropes and towels to make your pull ups tougher.
Start mixing the grips every set. Perform high rep pull ups one week, the next week, attach weight and perform weighted pull ups in the 3 - 6 rep range.
4) Use parallel bar dips if your shoulders don't get bothered from them. Don't go to failure on these, leave a few reps in the tank. Use high reps with bodyweight as well as weighted dips for lower reps.
5) Use weighted push ups with chains / weight vests using a neutral grip.
6) If your triceps are weak use bands and crank 3 high rep sets of triceps work after EVERY upper body workout. Vary the angle of the band exercise each set. These will NOT fatigue your arms or interfere with your other workouts, so do NOT worry. I did this one summer after every upper body workout and my arms got bigger AND my upper body got stronger.
Lesson learned.
7) Stray from the normal arm exercises. Use the hand over hand sled pull with a 50' rope for 2 or 3 hard sets and you'll feel what REAL arm work should feel like. Don't own a sled? Make a sled? Or... attach a rope to your car or a snow sleigh. Figure it out, NO excuses.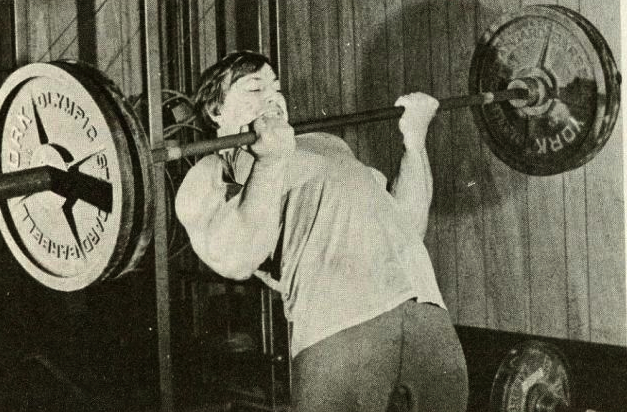 8) Don't let the naysayers tell you cheat curls will hurt your back. Sitting in front of your computer with your shoulders hunched and your chest caved in, arguing with you tube trolls who have 13 inch arms will hurt your back also.
9) Row Heavy.... Can you row HEAVY dumbbells for sets of 20? When you start pushing the envelope and rowing heavy those arms will get jacked as will the strength of your back. If you see someone with a strong back you can be damn sure they've got strong arms.
10) Build your strength up to rope climbing. As you begin kicking ass on pull ups and your arms get stronger, it's time to utilize rope climbs (unassisted - NO legs). If you hit a few hard sets of rope climbs 1 - 2 x week prepare to take a week off after 2 - 3 weeks to give your elbows and bicep tendons a break.
Your biceps will get strong as hell from rope climbs. If you can't perform rope climbs, perform the recline rope climb.
11) Don't bench with a wide grip. Wide grip benching kills the shoulders.... Use a moderate and close grip when benching as well as using varied barbells such as T Handle Bars.
Notice in this video with footage from The Underground & DeFranco's Gym that we have our athletes pulling and pushing some HEAVY poundages. Focus on upping your strength in these BIG lifts and your arms will grow like a weed.
Live The Code 365
--Z--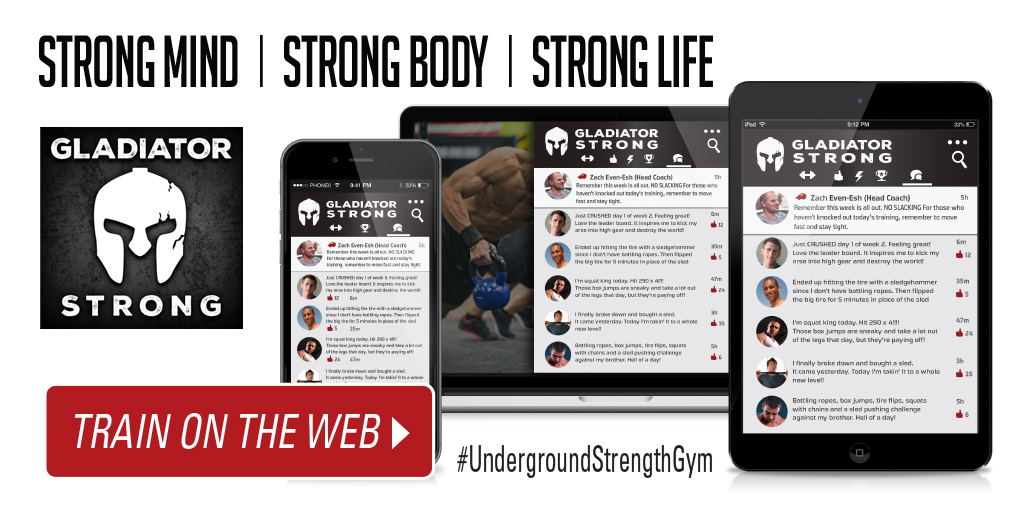 (Visited 3,020 times, 8 visits today)