I am inspired to write this Blog greatly because of two men, both of whom I speak of often:
Jonny Hinds, Owner of The Monkey Bar Gym, who will also be presenting at The Underground Strength Gym in Edison in October (stay tuned for this announcement).
Rick Gonzales, my infamous college Gymnastics Coach.
These men have the seamless strength of Gorillas. They move their bodies through space and perform bodyweight strength exercises that are extremely challenging, yet they show such tight technique and high levels of skill, making it seem as if they are not even trying.
Kinda reminds me of the awe shocking strength of Gorillas, pulling themselves up and over obstacles such as 8' walls using one arm with ease and speed.
I still remember Rick demonstrating ring muscle ups, one after another, with ease, talking to the class as if it was as easy as brushing your teeth. He explained to us how it was a pure strength drill, as were the majority of gymnastics basics.
1) Focus on Strength as a Skill: And because the majority of gymnastics drills were based on strength, he had us train for strength using the various apparatuses in the gym: the high bars, rings, parallel bars, pommel horse, crash mats and of course, the wrestling mat. The volume was high and we often had to complete total reps rather than prescribed sets and reps.
Examples were 50 pull ups, 50 dips on parallel bars combined with walking back and forth on the parallel bars, 50 leg raises, 50 jumps on the crush mats, 50 shoot thrus on the pommel horse. It was BRUTAL but I got strong as hell AND explosive from all of this animal training.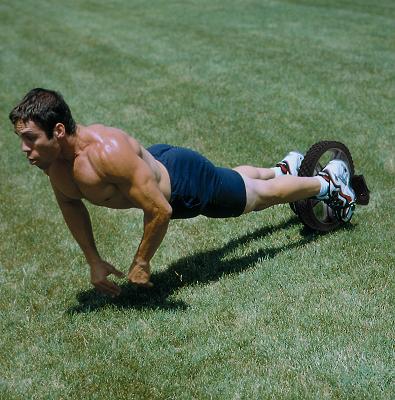 2) Walk on Your Hands: I've seen Jonny Hinds walk around on his hands with ease, walking DOWN stairs on his hands as well. BOTH men always focused on developing strength, speed, power and athleticism through the various forms of bodyweight training. Jonny also recommended hand walking on monkey bars and rings for greater upper body strength.
3) Jump Training & Plyos for BOTH Upper AND Lower Body: Rick had us perform full body traveling plyo push ups down and across the wrestling mats. Jonny performs resisted jumps for lower body often. Both Coaches used jumps to teach the body speed and power from the legs and upper body. BUT.... this requires a great deal of strength before implementation. Go back to square one if need be and focus on strength as a skill.
Check out my warm up, guided by instinct, followed by a portion of my workout, influenced by men stronger than I am.
And Now, for Part I of the "Gorilla Strength" workout.... I've got LOTS of work to do before I can give myself props...
I LOVE training with bodyweight, trying to mimic the movements of animals. I also LOVE ripping into heavy iron using Old School Basic barbell lifts.
Here's my Question for You:
What type of training do you implement when "training like an animal?"
Drop a comment below, psyched to see you responses!
Peace!
--Z--
Recommended Resources:
Underground Strength Coach Certification
The Convict Conditioning Workout
(Visited 1,210 times, 2 visits today)