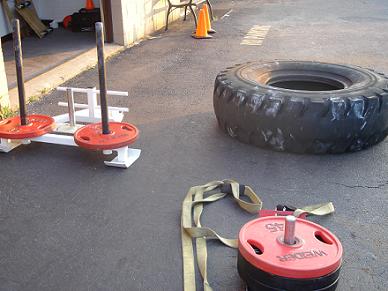 Above, a pic of the parking lot during the first few weeks of The Underground Strength Gym (warehouse gym) after moving out of my 2 car garage into a 1600 sq ft warehouse in Edison, NJ.
I've made many mistakes as my time as a Strength Coach. Today, with 2 gyms and consulting for other strength coaches I see a common theme amongst mistakes that can screw up your chances of success BIG time.
I've made these mistakes myself when I get caught up and listen to people who are NOT in the same situation I'm in. These mistakes teach me powerful lessons and if you are a Strength Coach or Warehouse Gym owner, you'll wanna pay very close attention to this Video.
[youtube width="640" height="360"]https://www.youtube.com/watch?v=r3pzyaLmHZ0[/youtube]
The next mistake I want to share with you has resonated with me since I began running The Underground Strength Coach Certification.
It is critical yet so many Strength Coaches don't get just how powerful this is.
It is a BIG part of Living The Code and Living what you teach.
I explain in part 2 of the video series Here:
[youtube width="640" height="360"]https://www.youtube.com/watch?v=Aas4wF1FIdY[/youtube]
There have been many times when Coaches had attended The USC Cert and were out of shape, unable to perform the warm up or would show up and immediately tell me about an injury and asking if they can just watch and learn.
At first I was caught off guard as to how and why so many Strength Coaches were not doing the very thing they were trying to teach, share and inspire others to do. This was happening on a regular basis and being the passionate person I am, I was getting fed up and fired up.
I didn't believe in Coaches or anyone for that matter trying to sneak by without doing the work. I thought about WHO would I want my Coach to be or the Coach of my kids? It HAD to be someone who walked the talk.
I finally put an end to this and put a note on the Underground Strength Coach Certification web site stating that you must be healthy and able to participate fully in the cert to complete and earn your Underground Strength Coach Cert.
Of course, the online Underground Strength Cert is different. You WILL be learning by watching videos through the 4 weeks and then taking a multiple choice test within 90 days of your purchase of the course.
I will also be doing a webinar and live QnA during the 4th week to answer your questions in training or any other Strength Coach questions you have.
After the Cert you also get:
$297 Value - 1 year membership to The Underground Strength Inner Circle, where I've been adding content since 2005.
$5,000 Value - Lifetime access to The Underground Strength Coach Mastermind area. You'll be able to discuss business, training and life with certified coaches from all around the world as well as myself, I check in every day. This is priceless.
After the Cert is completed on your end is when you MUST represent your training and live the code. You need to be honest with yourself and do the work necessary to succeed. You must look the part of what you do or no one will buy into your message. As the late Ultimate Warrior said, "Be a Leader for the Leaders!"
If you have more questions on the topic of Strength Coach Biz / Training / Running a Warehouse Gym, drop your comments below!
The USC Cert Online!
[youtube width="640" height="360"]https://www.youtube.com/watch?v=ds5A2tUgbkg[/youtube]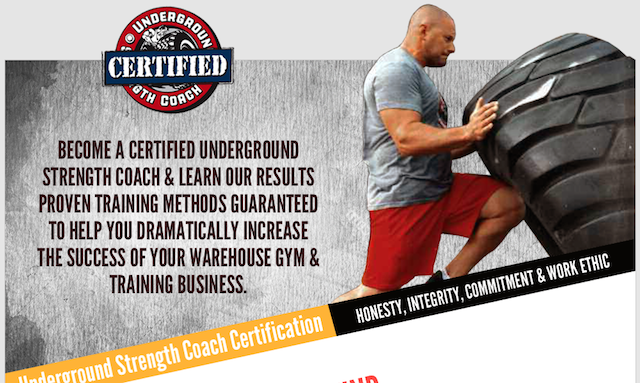 (Visited 94 times, 2 visits today)