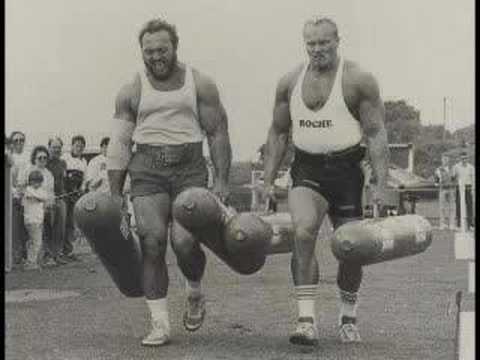 Training the strongman lifts, I always tell others, must be earned.

If you're a Strength Coach, seriously, stop letting everyone and their Mom flip tires. It leads to injuries and leads to a lack of respect for what it takes to be strong.
We shouldn't have tires every 50 lbs separated so everyone can flip a tire. That's like saying everyone wins, it's always a tie!
We shouldn't have Sandbags every 10 lbs so everyone can comfortably increase poundages. Odd objects are supposed to be UNcomfortable. They are supposed to be hard. You should feel like you're wrestling them to get the rep finished.
The strongman lifts must be earned. Period. End of story.
How do your earn your way to use the strongman lifts? It's simple, but not easy. Let me explain....
Get STRONGER.That is first on your To Do List.
I know, this is NOT newsworthy but for some reason no one wants to believe that this is THE way. Stronger is the ticket and the foundation for success in the strongman lifts.
Check this video as I give you some KEY exercises you must become GREAT at so you can earn your way towards not only performing the strongman lifts, but also dominating some big weights with the various other strongman exercises.
Check the video below and drop your questions for me in the comments section.
[youtube width="640" height="360"]http://www.youtube.com/watch?v=aYt39e6Szi4[/youtube]

(Visited 482 times, 1 visits today)