I had a blast this weekend at The CrossFit Powerlifting course at my Underground Strength Gym in Manasquan.
My man, AJ Roberts crushed it and delivered an excellent weekend packed full of knowledge and insights that he has learned from training under Louie Simmons at Westside Barbell and became a world record holder in the 308 lb class.
There were over 20 Coaches in attendance, most of them were CrossFit Coaches. Here are 5 Lessons I learned from AJ this weekend as well as from Louie Simmons, a man who I've spent countless hours on the phone with since 2002.
Thanks to my countless hours of talking with Louie and AJ through the past decade, I've allowed my training to be less rigid and MORE dialed in for each athlete I work with while training.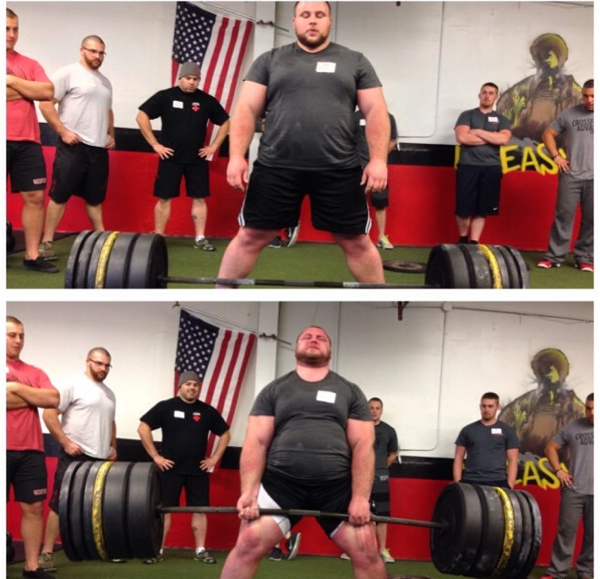 Lesson 1: Everyone at Westside is doing something different. Why? Because everyone has different weak areas. Everyone has a different mindset. There is NO need for everyone to be doing the same exact thing. Louie doesn't force everyone to do a certain exercise unless that exercise is tailor made for bring up that person's weak areas.
If you're a Coach, sure, it might be easier to manage 10-20 people doing the same exercise, BUT, you can't truly be attacking everyone's weak areas. Make sure you give people some individuality to help meet both their physical AND mental needs when it comes to training
Lesson 2: Atmosphere and your training partners are key. You need to train with people who will push you beyond your own self motivation. It's great to compete against yourself, but, you need to train to beat other people as well. This competition will push you beyond the norm.
Lesson 3: There are various levels of potential. Some people have the commitment level to achieve their potential but many more will quit early. Louie says that most people break mentally before they break physically.
Lesson 4: Do NOT stop learning, ever. Don't just learn from books, learn form other coaches and learn in the trenches. Go to Louie's house and AJ said you'll see books covering the entire kitchen table because Louie never stops learning. He is always researching more and experimenting on himself and the lifters at Westside.
Lesson 5: Strength & Overall Fitness are NOT things that stay with you forever. Training needs to be a consistent effort to raise your levels of strength, speed, stamina, etc. This is a NO Brainer, but many lifters, coaches and athletes STOP lifting in season during sports season. After about 2 weeks your strength and stamina levels will fall off.
You can regain them quickly but unless you're training regularly, don't expect to hold your gains. Push yourself to the level that is your best THAT day. This is why Westside is NOT rigid with percents unless it is Dynamic Effort Lower Body Day.
Your maximum effort is based on your max for THAT day.
In a nut shell, train hard and train often.
I'll be back with more Lessons Learned from AJ Roberts, Louie Simmons & Westside Barbell.
If AJ is in your neck of the woods holding a CrossFit Powerlifting Course, get to it!
Please drop a comment or question and I'll see if I can get AJ to answer a few and then I'll get him on for a STRONG-Cast PodCast!
Live The Code 365,
--Z--
PS: Next USC Cert & LAST USC Cert of 2013 is around the corner. Save $500 before price goes up on Nov. 1st.

(Visited 368 times, 8 visits today)