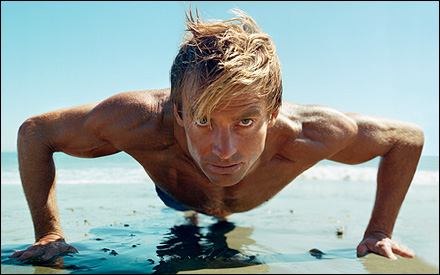 Laird Hamilton is a beast of a man. He surfs waves that would sink huge cruise liners, he defies the odds and might be seen as a God in the ocean.
Ironically, we have ourselves a modern day Laird Hamilton tearing it up at The Underground Strength Gym.
At 6 feet 5 inches, Kurt Gregory started out as a super skinny guy just looking to dedicate himself to the shape he was once in. A devout surfer and a regular on the Basketball court, Kurt's body was already in impressive shape. His strength was not very impressive, and when you're 6' 5", moving big weights is tough as hell, because you are moving the weights over a very long distance.
Still, Kurt defies the norms, as does Laird Hamilton. Now, Kurt can flip a 600 lb tractor tire like it's nothing, he can deadlift 400 lbs and we have video footage of him jumping on top of 3 tractor tires, which totaled 77 inches in height!
[youtube width="640" height="360"]http://www.youtube.com/watch?v=TR97QL0HxMw[/youtube]
Next week Kurt will be heading to Northern California, where the waves are BIG, up in Santa Cruz. He'll be looking to get some workout in at CrossFit Head Quarters. Just like Laird, Kurt has become totally committed to his fitness, treating it as a lifestyle, not just a hobby or something that must be done.
And because of his passion for strength, fitness and life, Kurt is finding success in everything he does.
[youtube width="640" height="360"]http://www.youtube.com/watch?v=cSvgffrlfUw[/youtube]
I'm impressed and very proud of a kid who was once lacking direction is now finding himself thanks to the waves and the weights.
And if you've ever seen Laird Hamilton train, there is a very similar nature to his training and our Underground methods. I've seen laird dragging logs on the beach sand, just as we drag sleds, performing pull ups on tree branches, just as we use thick bars for our pull ups and endless variations of calisthenics, which is something we regularly perform from every possible angle.
[youtube width="640" height="360"]http://www.youtube.com/watch?v=j6wrhNlOLbg[/youtube]
How will you find yourself?
I'll be hitting the waves this summer and I'm pretty darn psyched!
In Strength,
--Z--
PS - This is what Laird Hamilton would love to have in his posession, maybe I can find a way to get it to him? And what about you? Is this in your hands yet?
PPS - If you're a Coach or aspire to be one, maybe you will be on of the 5 spots available for the next Underground Strength Coach Instructor's Course. Click HERE and make it happen!
(Visited 66 times, 1 visits today)