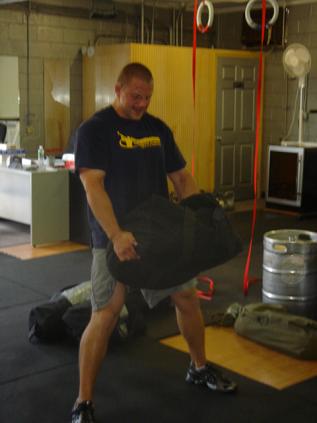 We haven't been following a ton of rules here at The Underground. This is a BIG reason why our clients are developing in strength and muscle so quickly.
Compare our style of training with the typical program that has light dumbbell curls, lat pull downs, crunches and calf raises to someone flipping tires, hoisting heavy barbells overhead, deadlifting and squatting hundreds of pounds - it's no secret why the old school program works better than today's "powder puff" workouts.
Sometimes all we do is press weights overhead, from the ground to over our heads on every single rep of every single set, using different implements every few sets.
Start with a barbell for a few sets, then some kettlebells, next up...an anvil, next up might be some old round head dumbbells, next might be sandbags.....on and on, ripping weights from the ground to overhead, pushing the body into foreign territory.
The mind and body will let you go where ever you desire, so push past your limits, soar to new heights and demand more of yourself.
Go get em'!
In Strength,
Zach Even - Esh
P.S. - Wanna take your training to new heights, see how break ALL the rules HERE!
(Visited 83 times, 1 visits today)