Are you a cellar dweller?

I first heard of "Cellar Dwellers" through IronMind Magazine BUT my first experience came from my middle school days seeing a guy Deadlifting in front of his house.
Snow was on the ground and he had a few homemade barbells set on the lawn next to his driveway. These weren't the normal barbells you see in a gym. They were cement wheels of various sizes.
I was leaving school and walking out front to meet my older brother and there was this guy, deadlifting with jeans and gloves. I never saw anything like this. This was when I was in 6th grade if my memory serves me well, the year was 1987 or so.
Training back then was influenced by Arnold. Arnold was the biggest movie star and the workouts in the magazines had NOTHING to do with Deadlifts and everything to do with cable crossovers and pumping u your biceps......
Memories like that still inspire me. There is a purity and beauty that can't be explained when you have your own "courage corner", a place where the imperfections seem beautiful.
Those who know, KNOW!
Not everyone understands the beauty behind a garage or basement gym. Some of you have e mailed me photos of your gym that are in your backyard. You are the rare few who get it. You thrive under the imperfections where others want air conditioning, machines and mirrors.
Do you train in your garage, basement or in your backyard?
Those are the places where some of the strongest men who ever lived have trained.
Paul Anderson had squat stations with various weights scattered across his sprawling backyard. He built much of his own training equipment with odd objects. Nothing fancy, just a relentless pursuit of excellence on the basics!
It doesn't take much equipment. The basics will always deliver: Using a barbell, dumbbells and some bodyweight training. Make your bodyweight training tougher as Paul Anderson did, making his own weight vests to challenge his bodyweight training.
Waiting for the next pay check to sign up at the local gym?
Do you REALLY need those machines?
How about Stones, Sandbags, Kegs?
I encourage ALL to find a way while others find excuses.
You CAN get stronger, faster, tougher and bigger with odd objects. I've seen barbells made from steel poles and spare car tires, then, plates added on. Craigs List is great for finding gym equipment that is unwanted.
I missed those days of training in my garage so I set up a simple garage gym in my current home. A barbell, some Kettlebells, Rings and odd objects. Nothing fancy yet my training is brutally effective.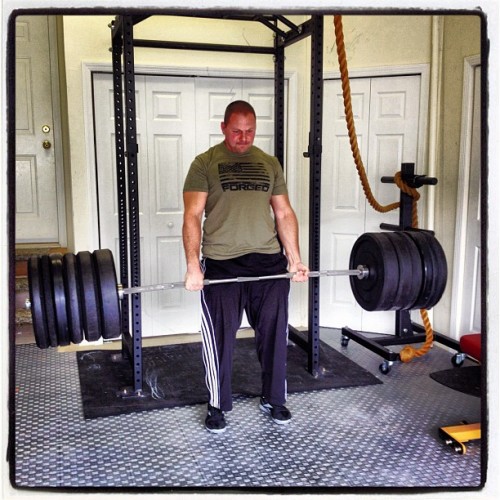 My next house will need a barn out back, so I can convert it into my own Underground Strength Dungeon ala Rocky IV.
You can have excuses or you can have results but you can NOT have both.
Respect goes out to ALL the cellar dwellers who find a way while others find excuses.
Live The Code 365
The Underground Strength Academy
Join The Community HERE
(Visited 746 times, 5 visits today)