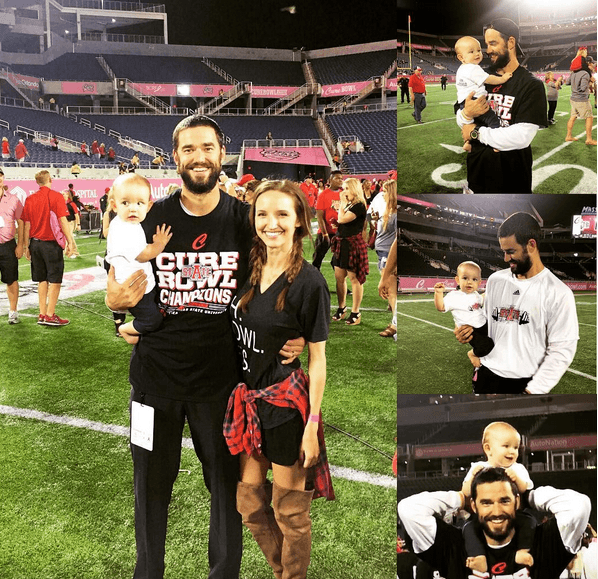 Here we go! Episode 108 of The STRONG Life Podcast with Arkansas State Football Strength & Conditioning Coach, Matt Shadeed.
I posted the above photo of Matt with his family because that is 1 of the first things we discussed on this episode of The STRONG Life. You'll soon hear how Matt sets his standard for being a GREAT Coach AND a GREAT Family man.
Matt Shadeed is the Head Football Strength & Conditioning Coach at Arkansas State.His passion and fire stand out from the first second we begin chatting. You can't pretend to be dedicated, THAT is for damn sure!
We discuss the following topics in this episode of The STRONG Life Podcast:
- The mindset needed to handle the tough times as a Strength Coach, especially in the D1 Football Sector
- How Matt keeps his schedule organized to ensure he gives his players & staff everything he's got as well as his family.
- How does Matt organize training for incoming freshman
- Program design for the Football players at Arkansas state and why Matt chooses to do More work with smaller groups.
- How does Matt organize the various phases of the training year from pre season, in season, post season and off season.
- How to move each training session at a fast tempo while working in mobility, restoration and activation for the MAIN lifts.
- Software vs Pen and Paper for recording workouts?
- Developing buy in and culture with athletes to maximize the results of the training.
- How Matt organizes a rough draft of the annual training plan and how flexible is Matt when training the players from day to day
This is awesome insight into the energy and dedication you need to being a Great Strength Coach. As Matt said, it's NOT about you, it's about the kids.
That might seem like common sense but most Coaches aren't living by this code, if they were, they would be focused on constantly improving in an effort to help the athletes improve.
Good enough is the Death of Greatness.
Being a Strength Coach isn't for everyone, THAT is for sure!
Visit our sponsor at http://IntekStrength.com and use code zach100 for 10% off.
Strength Coaches & Books Matt enjoys learning from:
Live The Code 365,
--Z--
STRONG Life Resources for Dominating In The Gym AND In Life

(Visited 217 times, 5 visits today)