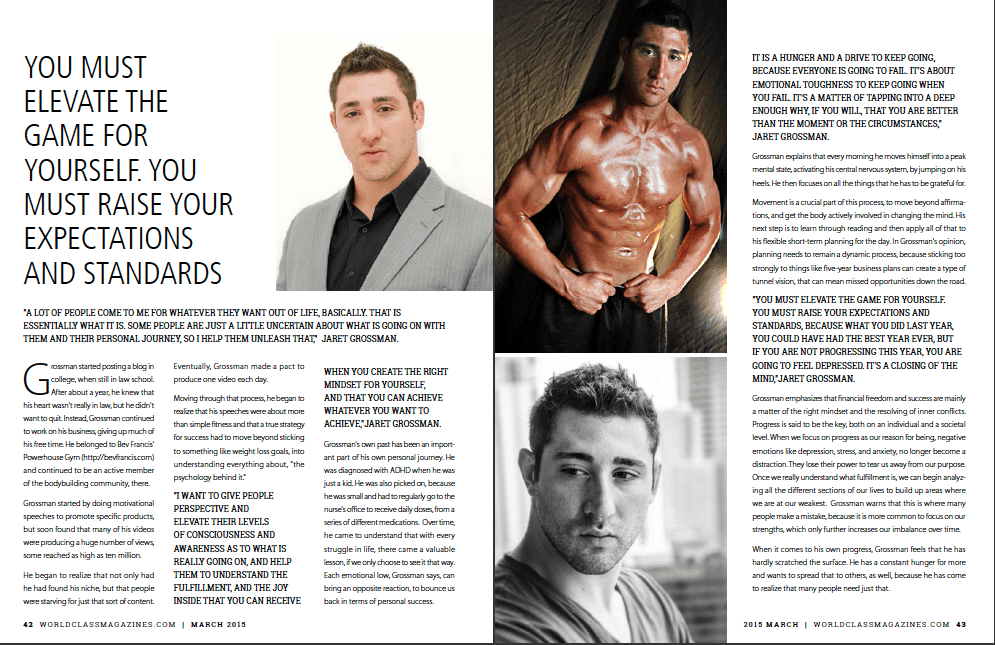 STRONG Life Podcast Episode 121 with Success Coach, Jaret Grossman.
I came across Jaret's words some years ago through a random motivational YouTube Video that popped up in my recommended feed. I didn't see his face in this video, it was 1 of those athlete motivation videos and Jaret's voice was in the background.
I must have played that video 10 times just so I could listen to the audio playing while I worked. It was powerful. I thought Jaret was a Coach who had been around for a few decades so I was shocked to hear we were around the same age. He had a unique wisdom that was more than just another motivational video.
There's a reason why these inspirational or motivational videos have millions of views. It's crazy, especially when you see videos from history such as Dr. Martin Luther King giving a speech with maybe 100,000 views.
To me, this shows that people are REALLY seeking out inspiration, motivation and wisdom because LOTS of people are lost in life. I get the messages and e mails everyday with people telling me they are lost. Lost their fitness, lost their inner drive, living in the past, struggling to move forward in life.....
And wanna know the truth?
I have found myself there MANY times. MANY times.....
I always get out of a rut by getting back to a high charging environment. I get back to a group with other successful and driven coaches / entrepreneurs. I get back to reading powerful books. I do what other successful people do! I always say, Success leaves clues.
Jaret and I have been trying to connect for a long time, and, thanks to the hectic pace of the world and not enough slowing down on my end, it took too long.
So I am excited to share this STRONG Life podcast with you.
Here's just some of what you'll learn from Jaret in this episode:
- What are the common traits of "Success"?
- Why you must identify and move towards your unique purpose if you want to experience more happiness and fulfillment
- How Jaret took lessons as a 3 x All American Collegiate Wrestler and applied them to his Life
- Should you quit everything to chase your vision? Here's what Jaret did to start his business while in the thick of law school.
- How fast (or slow?) should you move with your plans and actions?
- The necessity of evolving in life and business
- We've all heard the phrase "follow your passion", is this a good idea to act on?
- Avoiding "the gap" to avoid disappointment in life and business
- Creating a Daily Routine to achieve your goals. When do you stick to this routine and when do you break the routine?
- Mental Toughness and the yin - yang theory. The power of harmony of structure vs freedom. 
- "Pull Motivation" and how this relates to the amount of action you will take.
- Who defines "Success"? How do you define your own success and peace within?
Get your notepad out for this one.....
- The 8 Success Principles that will allow you to self assess and bring you closer to achieving more happiness, success and fulfillment.
I'm going to encourage you to dig in and listen to this episode multiple times, make sure you have your notebook ready when Jaret walks us through the self assessment with 8 Success Principles that are crucial to your success in life.
Subscribe on iTunes
Subscribe on Stitcher Radio
To connect with Jaret, see the resources below:
BIG thanks to our sponsor, http://IntekStrength.com
Get 10% of your order with code zach100
Check out their Functional Trap Bar HERE
I LOVE this bar so much I will be getting one for my garage to use it more often.
STRONG Life Resources
(Visited 358 times, 3 visits today)