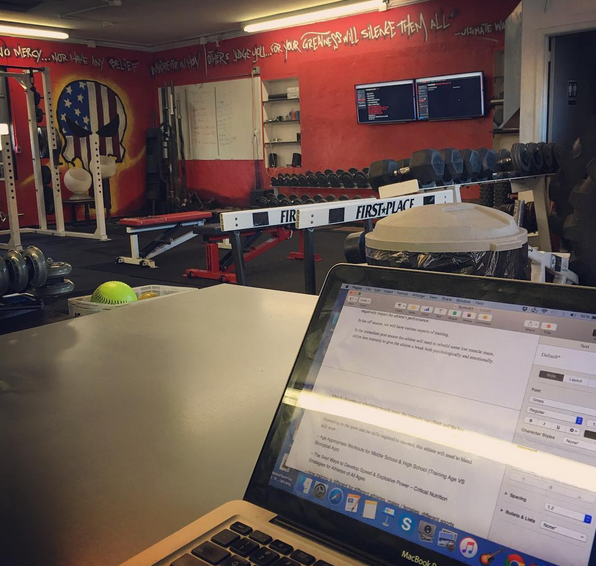 Photo above with info HERE via my Instagram
This QnA STRONG Life Podcast [Episode 77] is jam packed with information from various training questions to business and life questions.
Please Bear with the initial audio as these were recorded from live Periscope Videos so the first 2 minutes is me getting my butt kicked by technology and trying not to explode the internet. There are some slight audio skips in this episode so next time I will get back to straight audio recording.
Regardless, this episode kicks ass so pay attention and get your note pad ready to take notes.
Otherwise, This STRONG Life Podcast gets real & I tackle some awesome questions.
Here are Just Some of the topics covered:
Post Workout Meals and Anabolic Eating Tips
How I train different athletes during the in season and off season
The success rituals I recommend to live a STRONG Life
How I decide on membership pricing packages for my gym and what I recommend for other warehouse and garage gym owners / strength coaches
What I FEAR in Life? Tough Question!
How I like to implement program design methods and why I do what I do in the gym with my athletes
How and why I came up with "Live The Code 365" and "Battling The Bull Shit"

How I manage the volume of training athletes not just by their respective sport but also by knowing what they do when they are NOT at The Underground Strength Gym
What does a full workout look like at The Underground Strength Gym, from start to finish?
There's much more in this QnA STRONG Life so give a listen and get your learn on!
Also, if you want to get your question asked you should follow me on Instagram OR post your questions below in the comments.
Resources Mentioned In this Show:
The Zach Even - Esh Newsletter & FREE Workouts
Don't Miss My YouTube QnA Videos
The Underground Strength Academy (11 Years of Content!)
The LAST Underground Strength Coach Certification
Thanks for supporting and hooking me up with 5 star reviews on iTunes. That is big time appreciated and helps others find out about the show!
Live The Code 365,
--Z--
Get Exclusive Strength & Conditioning Coaching From Zach
(Visited 88 times, 1 visits today)