[youtube width="640" height="360"]http://www.youtube.com/watch?v=ZDoUHdhoOpo[/youtube]
Take your training outdoors.
Find an empty school parking lot when school is closed or go behind a strip plaza for some wide open space with no foot or car traffic.
Use 1 or 2 Kettlebells for this Underground Strength Workout and perform the strict clean and press, not a push press.
1A) Clean and Press 10 x 5 reps
1B) Car Push 10 x 100 Ft
Rest as needed between sets and perform the appropriate warm up that you need to get your entire body ready from your feet to your neck.
When pressing the Kettlebells overhead squeeze your legs, glutes, abs and grip.
When pushing your car keep your arms locked and your abs tight.
After the workout perform the mobility work you need.
NOTE: If you don't have a foam roller, jump stretch bands and LAX balls at your house for mobility and soft tissue work, get them HERE and start performing mobility work at least once a day at home. This is imperative for your success. Without your health you have nothing.

Post your comments below and even better, get video footage of your training session!
Live The Code
--Z--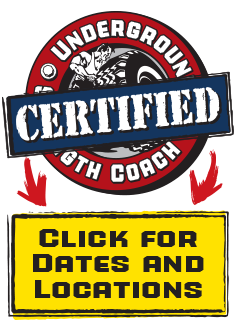 For The Strength Coaches who want to keep learning, keep improving, pursue excellence and transform the lives of their clients, Click HERE for details on our Underground Strength Coach Certification and our Underground Strength Courses.
(Visited 54 times, 1 visits today)