Through my own experiences as an athlete and training other athletes, I was taught a powerful lesson that was once (and perhaps still is seen as a fad): Training ONLY with free weights and bodyweight exercises is limiting your potential in developing strength above and beyond the "norm", especially if you're an athlete.
The body quickly gets bored and adapts to training methods unless you implement variety. Variety can be the training tools, the speed of the exercises, the range of motion, the start positions, the hand spacing / grip of the barbell, etc.
But, one of my biggest reasons behind the use of odd objects are these 2 benefits:
1) The development of mental toughness under awkward / struggling positions
2) The development of physical strength in awkward positions. I also call these positions the "oh shit" position and Mel Siff coined this imperfect training.

Mel felt that by purposely performing an exercise in an awkward or "wrong technique", you were better preparing the body for the awkward positions that cause injuries in sports or heavy lifting.
My Firs Lesson in Strongman Training / Odd Objects:
The first time I went to the tire yard to flip tires I got a RUDE awakening.
This was sometime around 2003 or 2004 and my buddy and I were pretty strong with our barbell and bodyweight training.
I was squatting 455 for sets of 3 - 5, benching 300 for 3 reps and assumed I would easily rip through these tractor tires.
The guys at the yard drove up in their mini fork lift and lowered a tire from the 20 ft pile of tractor tires. These tires had steel belts in them so they looked small but were actually quite heavy for their size.
Getting in a favorable position to flip these tires wasn't happening. The tires were narrow and too low to get my chest under them so I had to power curl the damn tire.
A better set up / technique for the tire flip is a wider tire that allows leverage where you can drive your chest into the tire.
It took me what seemed an eternity to wrestle the first tire up and get ONE ugly rep. My buddy watched in shock as I almost got crushed under the tire. My buddy went to flip the tire and was shit outta luck. He couldn't flip that tire and kept getting stuck with it mid rep.
We were untrained in the world of imperfect training. Barbells, dumbbells, bodyweight and even machines. No problem. Odd objects posed a problem and we were fired up.
Embarrassed with our lack of power to flip the first tire, I told the guy operating the fork lift that we need a lighter tire.
Reluctantly, he pulled down a slightly smaller tire and again, I wrestled that bad boy up and over and finished that rep in shock and exhaustion.
My training partner took his turn and barely made the tire flip as well. We traded rep for rep and each rep got a little better, a little faster and slightly less embarrassing.
The 2 guys working in the tire yard were smoking cigarettes, they laughed at us as they watched us struggle through each rep.
When we stopped to take a breather, both men threw down their cigarettes, approached the tire without warm up and tore through the tire for several reps in a row as if it was child's play.
It was THEN that I realized how our strength was limited from traditional training. 
Kegs, Sandbags, Tires..... they ALL attack the muscles in a very unique way that simply can't be developed through traditional workouts. Certainly, if you're a powerlifter, there is not much need for odd objects.
But, if you're an athlete or any kind, the odd objects can be effectively mixed in with free weights to develop you into a more explosive, tougher athlete.
[youtube width="640" height="360"]http://www.youtube.com/watch?v=akivgiWFbtc[/youtube]
[youtube width="640" height="360"]https://www.youtube.com/watch?v=dvyr56XGHrQ[/youtube]
[youtube width="640" height="360"]https://www.youtube.com/watch?v=sN-S6Ql36EA[/youtube]
[youtube width="640" height="360"]https://www.youtube.com/watch?v=hlL4tNG2ig4[/youtube]
When I started training outside of my bodybuilding methods, all I had was "gym strength". I was strong with the exercises I could perform in the gym but the odd objects crushed me.
The first time I carried a tree log in my backyard my back and abs never felt such an intense challenge. When I climbed the rope in my backyard my entire body cramped up. I was clenching that rope with all my might.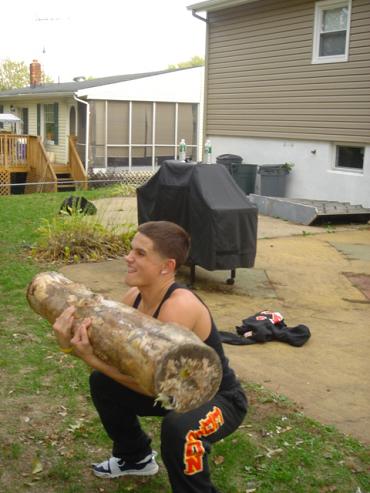 My physical abilities outside of the traditional gym exercises were nothing to write home to Mom about. I had to get out of my comfort zone to develop REAL World Strength, a type of strength that is needed for athletics, military, law enforcement, mental toughness and plain ol' being a BadAss.
As a father, it was imperative for me to develop a new sense of toughness, to keep my edge while the majority of men who hit their 30s began making excuses, I wanted to make myself into a stronger man, inside and out.
I knew that training outside my comfort zone was the ticket towards pushing me to new heights in mind, body and spirit. It can do the same for you. The first step is exactly that, taking the first step.
Many will make excuses or say all you need to do is squat, bench, deadlift and press. If you're a powerlifter, yes. But if you want a challenge and want to get out of your comfort zone, then learn to lift shit that gets you living my motto:
"Get Comfortable Being UNcomfortable"
Drop a comment with your thoughts and / or questions.
Till then, train hard and Live The Code 365
--Z--
PS: A big part of my programming for athletes is the blend of powerlifting and odd objects. This is what helps us transform athletes beyond the mere physical. The mental aspect is crucial to their success and that's what our training system develops: The Agile, Mobile & Hostile athlete.
If you're a Coach, Athlete or Parent of an Athlete and want to learn The Underground Strength System, Click HERE for our next CERT.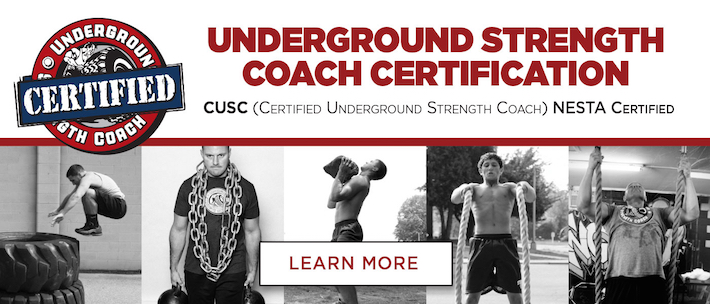 (Visited 4,041 times, 26 visits today)