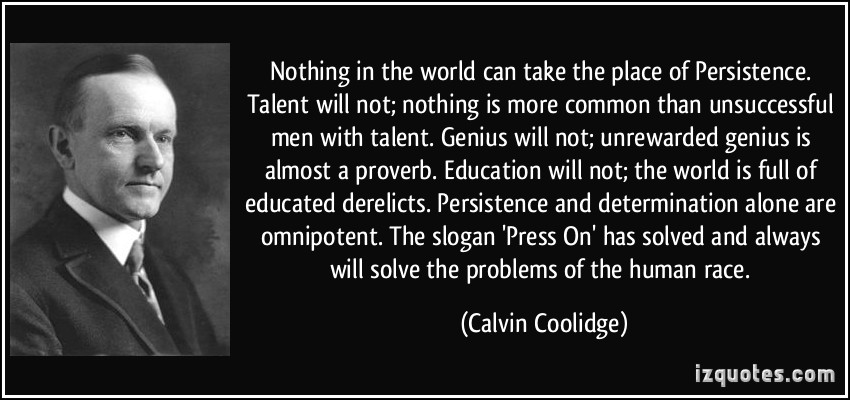 "Nothing in this world can take the place of persistence.
Talent will not; nothing is more common than unsuccessful men with talent.
Genius will not; unrewarded genius is almost a proverb.
Education will not; the world is full of educated derelicts.
Persistence and determination alone are omnipotent.
The slogan Press On! has solved and always will solve the problems of the human race."
- Calvin Coolidge
I explain to the athletes I work with on a daily basis how DEDICATION & Work Ethic is the key to their success in both sports AND life.
I explain to them that 90% of athletes or their parents QUIT as soon as adversity appears.
The 10% who DO stick through the tough training, a solid 5-7% of them will have excuses on nutrition, or, will eventually believe they are "too good" and will stop training. They go and train with their friends at a nice globo gym where it's comfortable.
What should you do when it gets tough in training or life?
Press ON!
I don't ever recall saying how training in ANY endeavor, be it for sports or Life, is Easy.
I never said it.
I always find a way to make it tough instead of easy. Easy is for those who don't want results.
TOUGH, Hard Work is for the few who understand that you only get what you earn.
You're an adult now.
So grow UP and accept the fact that strength and weakness are choices, not some genetic gift or curse.
Execute with discipline and STOP with the lame, weak, pathetic excuses.
You ARE capable of being as successful as you WANT to be.
Read that last sentence a few more times.
Then, understand this.....
You are exactly where you want to be. Be it in your strength, your life success, etc.
It's ALL you.
[youtube width="700" height="400"]https://www.youtube.com/watch?v=GkkxzhlaqrA[/youtube]
Remember, the obstacle is the way!
Now get out there and OWN the day.
Be the BEST at your career or business.
Crush your training.
Eat clean.
Train Mean.
Get it ALL!
Live The Code 365,
--Z--
For Those Who Have NO Tolerance For Mediocrity
Team Garage Gym Gladiators

(Visited 167 times, 1 visits today)