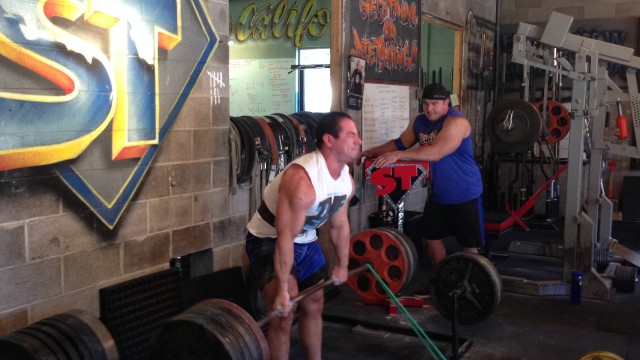 I ain't gonna lie.
I was nervous and actually kind of scared. It's been a LONG time since I felt any fear entering a training session.
I was at Mark "Smelly" Bell's Super Training Gym in Sacramento, Ca. I had watched the videos for years and years, before I even owned my warehouse for The Underground I had seen guys killing weights in Smelly's gym.
I had never deadlifted with bands from a platform before and I was feeling run down from all the flying and sleep deprivation. My thoughts started to fuck with my mind for a brief moment....
I sized up each lifter in the group and I quickly realized I was not going to be stronger than any of these guys. I knew Silent Mikke and Jim McD but the other 2 guys I didn't know.
They didn't even introduce themselves to me. I knew what was up. I was the "new guy" and if someone is gonna shake your hand in this gym it's because you earn their respect by battling against heavy weights.
Instead of focusing on how shitty I felt I focused on harnessing my fear and using it for my benefit.
This is something I've learned to do after years of allowing fear and nervous energy to push me around like a little bitch.
In life, you have choices. I choose to be strong and I choose to fight for myself and stand up for what is right.
Watch my video as I explain how to harness fear and your emotions to become STRONGER.
[youtube width="640" height="360"]http://www.youtube.com/watch?v=1rC2qI7CDeY[/youtube]
Drop a comment / question with how you handle fear and your emotions.
Live The Code 365
--Z--
STRONG The Seminar.
Strong Mind, Strong Body, STRONG LIFE!
(Visited 46 times, 1 visits today)