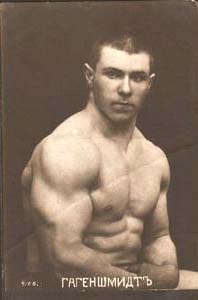 Wow, those were some wild days.
Back when I FIRST began taking on clients as a profession, a five bucks per hour profession none the less 🙂
I was training a few athletes from my Dad's garage, his backyard and the local parks.
At the time, Kurt, was a high school basketball player.
His Dad owned a truck and I offered to train him all summer for free if he can help me pick up some gym equipment.
I purchased a long dumbbell rack, a chin - dip combo bar, a boat load of rusty ivanko plates and a barbell.
Good times.
I had some other tools in the garage, stuff that was confusing to me as I never used it, but my close friend used these tools like crazy and he was training everyone with them
I'm talking about stability balls and balance discs.
I used to have Kurt use these tools and although they can be used for some great stuff, especially the stability ball, they don't get much use from us ever.
Kurt brought up the stories of our training and asked why we don't use the stability balls anymore, parden my language, but you can guess what i said about them....
"__________ those stability balls" (fill in the blank as you wish 🙂
The big functional craze had me questioning my methods at the time, which are best described as Underground Bodybuilding methods....
Truth of the matter is, using a barbell and dumbbell is infinitely more "functional" than any of those stability ball gadgets.
You want size, strength, agression, toughness, power and speed...plus rugged muscle? Grab a heavy barbell and some heavy dumbbells, I'll make it happen.
The moral here is not to be confused or convinced that the "old" stuff doesn't work or isn't functional.
Heck, I've seen athletes tied up and tangled with rubber bands and all other kinds of stuff.
That stuff is not gonna work. It's a big game and circus act and yes, I know, the hate mail will be coming soon 🙂
Keep it simple and train your tail off with intensity unheard of and watch what happens!
The basics with a solid program design method will blow any ball and circus act workout out of the water.
In Strength,
--Z--
PS - Here's what one man did to create one of the most rugged physiques I have ever seen, as well as transforming himself into one of the most dominating wrestlers the world had ever seen: http://tinyurl.com/5nky6p
(Visited 54 times, 1 visits today)