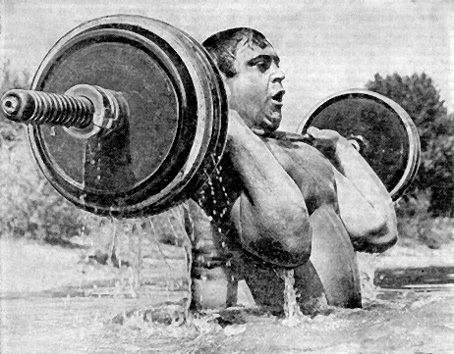 He walked through waist high water for over an hour, lifting his legs out of the water on each step to develop work capacity.
He would snatch throw a 220 lb. barbell for 100 reps backwards over his head as a warm up to his olympic lifting workouts.
He trained in solitude.
He trained in training hall or his backyard.
There were times he would train with a barbell in the water as well, diving under and emerging seconds later with the barbell ripped through the water into a power clean.
He did not follow the rules, very much like underground strength training.
One of our athletes, Kurt, who I have written about before, as a modern day Laird Hamilton, surfs on a regular basis.
When he is done surfing, he takes a long swim in the ocean and often times treads water in one spot for 10, 15 and even 20 minutes. He finds a spot 10' deep, and throughout his treading water he sporadically jumps out of the water. Kurt goes through our most intense workouts probably faster than anyone else.
His work capacity is extremely high. On other days, he performs short workouts in his garage, the local park, playground or takes a bike ride.
Kurt doesn't follow the rules written in the popular magazines and books. He follows the code of Underground Strength Training: There are NO rules!
Isn't it time you started breaking the rules?
In Strength,
--Zach--
P.S. - There are some BIG changes happening at The Underground very shortly, you don't wanna miss out on them. Become a member to become a part of this ass kicking strength training movement and start experiencing the best results of your life.
P.P.S. - If you want to see exactly how I run The Underground, and you want to start doing what you love, immediately, bypassing all the mistakes, then see our Apprentice Video and e mail me. Serious inquiries only please.
(Visited 124 times, 1 visits today)