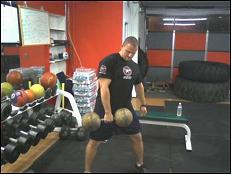 Above, 1 arm high pulls with a 150 lb Globe dumbbell.
Strength training seems to teeter totter between ultra basic to ultra fancy and then back to ultra basic.
Fancy never worked too good, yet people cry and moan when they see the basics are encouraged. They then claim they were the originators of these basics whether it's with a barbell, a sandbag a stone or a variation of certain bodyweight exercises.
I have books from the 1800's with all of this information. It is powerful, powerful stuff. It's powerful because I use and so do my clients.
Still, I'm hungry to learn more. So today, i took part in Day 1 of Valery Fedorenko's American Kettlebell Club Certification. Valery is a world champion in Girevoy Sport, aka, Kettlebell Lifting.
Now, although he is a world champion, he still has a Coach. And, although he is a world champion, he utilizes ONLY the basics to improve his lifts. Why the basics? You know the answer: They Work!
I have also said this before: Everyone knows how to bench press, squat and deadlift, yet VERY few are moving hundreds and hundreds of pounds in these lifts. The basics can be tweaked and combined with other movements to increase your results dramatically.
The magic of program design is critical, but more importantly is your desire and determination combined with your discipline to keep working those basics over and over again.
The complainers of basics who bed for fancy training will always be talkers and skinny, those with the grit and determination to sweat and get under the bar will rise to the top.
Which one are you?
In Strength,
Zach Even - Esh
P.S. - The ultra basics can be found here. They work, but they also require VERY hard work.
(Visited 64 times, 2 visits today)