[youtube width="640" height="390"]http://www.youtube.com/watch?v=DchUE6Wy67s&t=2m23s[/youtube]
There are a few critical things you want to do that will help strengthen YOUR Deadlift. Notice I put the CAPS on. Some of these tips will need to be tweaked for YOU. That happens when YOU get in there and LIFT.
Less Reading, MORE Lifting.

Every MAN should have a Strong Deadlift.
EVERY MAN.....
A 2 x bodyweight deadlift should be the minimum goal. Let's get after it....

Work all types of rows with heavy weights AND high reps. Whenever I slack on my arsenal of go to rowing movements my lats don't have the strength to help me deadlift heavier AND faster. I've seen guys deadlift and get stuck because they do NOT train the back heavy outside of deadlifts. Strong lats build the deadlift.

[youtube width="640" height="390"]http://www.youtube.com/watch?v=utmQXXVQfqc[/youtube]
Don't max out too often. For me, I will test a heavy single, but NOT a max single, every 6 weeks or so. Rule of thumb: Kill The Deadlift & The Deadlift Will Kill you.

Use submax efforts on the deadlift. Focus on moderately heavy weights and always leave a rep or 2 in the tank. Re-read the above tip.

Squat. Yep, use squats to increase lower body and low back strength to up your deadlift. Too much focus on the deadlift will leave you with an injury in no time. We use MANY squat variations at The Underground as well as on my own. They ALL improve the deadlift.

If you're advanced, test your grip on the lighter sets and Use a double overhand grip until you reach your heavy sets. If you're not advanced stick to over - under grips. A strong man has Strong hands.... AND a strong back. Period.

Attack your posterior with various kettlebell exercises and good ol' backside bodybuilding movements.

LEARN from others. Have others look at your technique. Read how other strong men train, learn from them, experiment on yourself, use what works for YOU.
That's it, a short n' sweet list to help you up the deadlift, one of the "Manliest" exercises anyone can do.
If you've got tips to add, please drop a comment.
If you enjoy this post, please share on facebook and twitter 🙂
Peace!
--Z--
Learn How To Get Strong As A MoFo From One of The Strongest Men Who Ever Lived.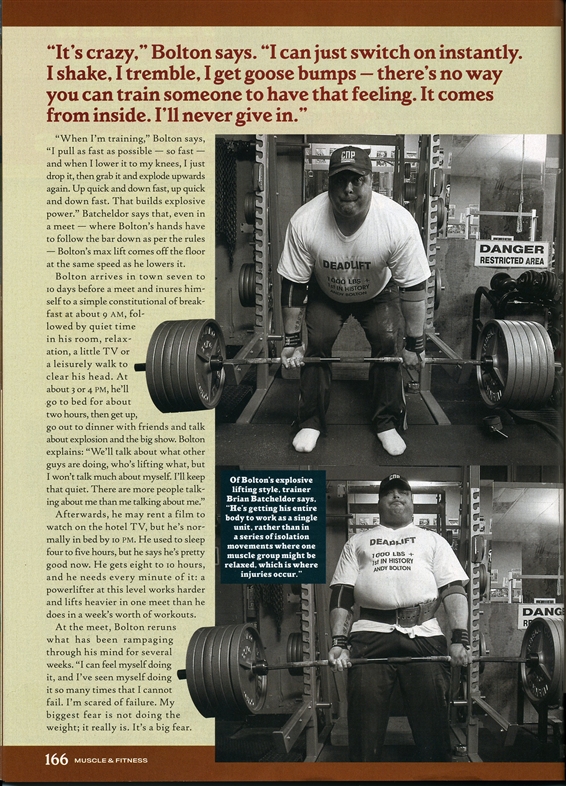 CLICK The Photo For MORE Deadlift & Strength Tips From Andy Bolton,
The World's Greatest Deadlifter
(Visited 700 times, 5 visits today)