This post is inspired after seeing The Carolina Panthers earning their way to Super Bowl 50!
Joe HOUSE Kenn is The Head Strength Coach for The NFL Carolina Panthers & I've been lucky to know House since my early days on The Elite FTS QnA staff.
As an independent Strength Coach I am transparent about the struggles we face.
People see instagram videos or youtube videos and assume the gym is always pumping.
You might assume that because I am recognized internationally that I have a strong hold on the local athletes. Nothing could be further from the truth as that is NOT the case.
People don't see or understand all the behind scenes work being done to grow the gym.
They don't see how hard you must work behind the scenes to educate athletes and their parents.
They don't see The challenges of the high school coaches telling kids "We do everything they do" and the kids actually believing that as truth.
There are other struggles college strength coaches face as well.
Those struggles are different than the independent coach but the bottom line for ALL Strength Coaches is you can NEVER rest on yesterday's success.
You must ALWAYS Live The Code 365.
Iron Sharpens Iron.
Don't allow yourself to get caught up in the "we're good enough" BS. You are NOT yesterday's success, you are what you achieve and earn day in and day out.
What can you learn from this: Joe House Kenn remains the ONLY D1 Strength Coach to bring his entire staff to The Underground Strength Gym.
Not only that, but the "House Rules" was that his Coaches Must follow our workout vs doing whatever they wanted to do.
You can NOT learn by doing only what you enjoy. You must push outside your comfort zone to learn.
Here are the lessons I want to share that are inspired by Joe "House Kenn.
[youtube width="666" height="366"]https://www.youtube.com/watch?v=G7DFZZXKqxg[/youtube]
Below are the Videos from 2008 when House brought his crew and we trained together at The Underground Strength Gym.
This is hands on learning.
Joe House Kenn Brings His Crew of Coaches to The Underground Strength Gym
Part I
[youtube width="666" height="366"]https://www.youtube.com/watch?v=1QgYIqFnpWg[/youtube]
Part II
[youtube width="666" height="366"]https://www.youtube.com/watch?v=unUsiVZ45oM[/youtube]
Part III
[youtube width="666" height="366"]https://www.youtube.com/watch?v=AqdkB5W1nw8[/youtube]
The above Videos were from 2008.
I was still a teacher and I took a "sick day" as soon as House asked me to open up my gym so we can all train together.
I was fired up beyond words to learn and train with House and the Crew. We ALL got better that day.
Looking back, I NEVER imagined I would have become a D1 Strength Coach (Lehigh University). I never imagined running 2 gyms and being where I am today. But..... House taught me that you do NOT settle as a Strength Coach and you do NOT stop learning.
After our workout together we discussed training and then hit a Jersey Diner, crushed a LOT of food and discussed more training.
The learning NEVER ends. Iron Sharpens Iron. Success Breeds Success.
I remember being at a business conference and a business coach overheard me discussing training methods with other coaches.
He said to me, "Nobody gives a shit about chains, bands and sandbags. I'm teeing off every morning at 10 AM and every week I'm depositing cash into my bank account."
I personally don't play golf. But, there are times in the Summer when my 10 AM is heading to the beach with my kids or going Mountain Biking with my son.
And there is Nothing wrong with depositing cash into your bank account. I prefer to look at "Being Rich" much differently than the money I have.
Here is a Code ALL Coaches must live by:
Your gym can have more clients and make more money, BUT..... if you're NOT changing lives and getting every day, then you are NOT a true coach.- Being "Rich" is much more than the money you make. It's how many lives you change with what you do. I'll let that brew in your brain a bit more.
That is why I don't run boot camps, fat loss, adult training, etc. THAT is not in my heart. My heart is set on changing the lives of young athletes through STRENGTH.
EXCELLENCE is the only option.
Live The Code 365,
--Z--
Learn The Training System of The Underground Strength Gym That Builds Dominant Athletes
Become A Underground Strength Coach HERE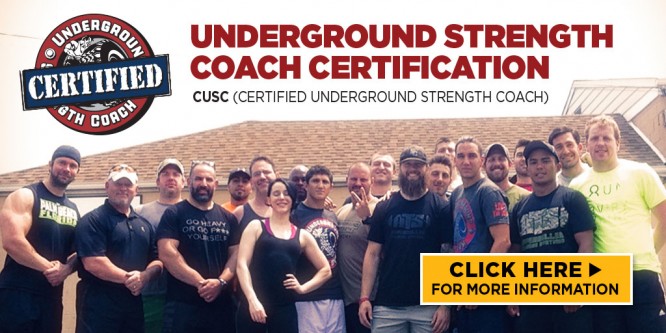 (Visited 145 times, 1 visits today)