I've been getting questions regarding injuries, knee pain, back pain and nutrition for a LONG time.
After 3 knee surgeries, a shoulder surgery, a broken nose, aches and pains since my early teens
with Wrestling and practically living in the gym, I've experienced a LOT of ups and downs.
I blend an approach where I experiment and figure things out for myself as well as reaching out to a few friends who have more experience than I do.
Here's the deal.
I used to always wear a thin leather weightlifting belt, just like what you see in the photo above
with Arnold. I would buy the belt from the gym and man, I took PRIDE in the sweat stains that would eventually destroy the belt.
Arnold and his buddies often wore a belt as well. Not always, but during their heaviest sets, they threw on a weight belt. Some of Arnold's photos show him wearing knee wraps.
When I got into my mid and late 20s my mindset shifted and ALL I could think about is "What am I capable of doing ALL by myself?"
I felt wearing a weight belt was cheating and if a Powerlifter let me use his belt I didn't like the belts, they were thicker than a car tire and I couldn't move in them.
If you know me even a little bit, you know I prefer the throwback days of Bodybuilding and lifting, not just from a training perspective but also with regards to the weight belts.
I don't need a car tire wrapped around my waist and back. I wanted some old school leather!
The period of my life where I felt like I was cheating if I used a belt carried over beyond the gym with me. Not only did I dig into this from a strength standpoint, but also from a life standpoint.
I turned down ALL help. No belts, no wraps, don't help me, I'll do this by myself, no spotter....
Then, about 6-7 years ago Mark "Smelly" Bell and Jesse Burdick held a 2 day seminar at The Underground Strength Gym.
I still remember Jesse grabbing that big belt and putting it on me and it didn't feel right.
Too thick and too bulky. I made that Deadlift, and yes I know, it was an UGLY rep! But, as Jim Wendler once told me, They don't call it the Deadlift because it looks pretty!
At this seminar, Mark told me and the others flat out, Listen, when you're training heavy, you'd be stupid NOT to wear some support gear. It's a safety factor and think of it like playing Football.

The team doesn't go out and pay Football without some safety gear, even during practice.

Well, fast forward to today, after my knees were aching and my back was feeling jacked up from lots of driving and almost 30 years of lifting, I said to myself.....
Who cares, if it makes me feel better, use it. Use the belt, use the knee sleeves. You're not 21 anymore so stop training and acting like you're 21.

I began using my STrong Knee Sleeves and a Belt for Squats and Deads.

Last Friday I hit an EZ Trap Bar Deadlift with 515 lbs wearing my STrong Belt.

Use Discount Code "Zach" for The STrong Belt & STrong Knee Sleeves HERE
If your knees are aching and hurting, here's some of the simple work I've been doing AND feeling better......

Get back to some old school bodybuilding:

Leg Extensions x 10-20 reps

Leg Curls x 10-20 reps

Leg Presses for sets of 8-20 reps

Squat wearing compression knee sleeves to keep your knees warm and feeling strong

3-5 second eccentrics on Bulgarian Split Squats
1 Legged RDL with Varied Loading Patterns

Look at the Old photos of some of The Golden Era greats show them lifting with knee wraps and belts.
Don't be a hard headed, knucklehead like I am......
I keep my knee sleeves at my gym and in my locker at Rutgers. I'm interested in feeling healthy vs ONLY testing my mental fortitude.
I used to say things like, "You don't wrestle in a weight belt so why wear a weightlifting belt?"
I am not so arrogant to say my thoughts are the end all, be all methods. NO. Experiment and test drive what works for you.
If I squat, I put on my knee sleeves most of the time, not all the time.
I've been hitting a lot of high rep bodybuilding work in my training the past month and it is feeling GREAT.
I actually START with the high rep work and then, I move to some of the basic free weights or functional strength work.
I'll go through about 30 minutes of rep work with bodybuilding training and then I will hit some Deadlifts, Shoulder the 150 lb ball, Squats, etc. At this point, for me, this feels great.
It feels Great and at 41, I needed to get back to some of that to get the joints feeling better PLUS building muscle. Not every 41 yr old has been training since age 13, so what someone needs at your age might be different for the next person your age, but with different training experience.
Training is Training.
Stronger is Better.
See you at The Squat Rack!
BOOM!
In Strength,
--Z--
EST. 2005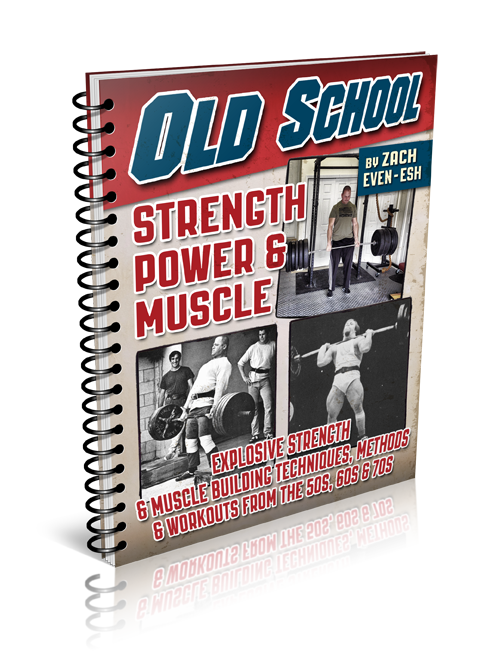 (Visited 1,113 times, 11 visits today)