Above, The Manasquan Underground Strength Gym.
I have mentioned this before, and in my last post, where many of you commented on your favorite exercises being "Ground Based". We're on the same page.
I've been on the other side of the map myself, when I was a high school wrestler, using every machine in the gym, lying down, sitting down, smith machines, etc.
That training had me looking like a fitness model and performing sub par.
There are tremendous strength benefits that come from ripping weights off the ground, especially heavy, awkward Sandbags. If you're an athlete or compete in any sport, regardless of your age, ground based lifts are the exercises that give you the most bang for your buck.
The benefits of heavy ground based lifts are:
- Great for building muscle and working the entire body at once.
- Great for developing full body strength, teaching you to use your entire body as one unit.
- Great for developing power / starting strength.
If your goal is to gain more muscle, build more strength and to improve your performance, then focus on ripping weights of all sizes, shapes and types off the floor.
From free weights to odd objects, don't discriminate against the tool and put them to use.
Notice all the different carry variations we perform in this video as a finisher with this crew of Wrestlers and Football players at The Underground Strength Gym....

[youtube width="640" height="360"]https://www.youtube.com/watch?v=7-bM_jMcQcA[/youtube]
The workout was coming to an end and I planned on having the athletes carry all types of "weights" outside in the parking lot as a finisher, but, when weather doesn't cooperate, and in NJ it rarely does, you make due with what you've got. NO excuses.
For us it meant carrying dumbbells, sandbags, anvils, weighted vests, kettlebells and even carrying our training partners.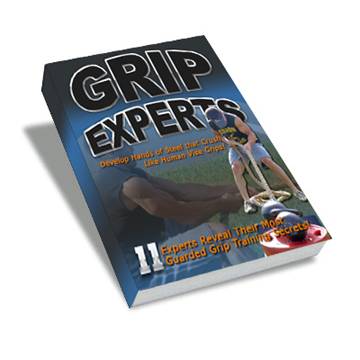 Every set began with a power clean of some sort from the ground up, helping the athletes develop power, grip strength during the lift and the carry, conditioning during the carry and overall strength and mental toughness.
Strongman Finishers: You can do these finishers for time, such as 5 or 10 minutes of max work, or, 1 set of every object at your disposal. No rest between sets.
Test Yourself Outside of The Gym
In addition to using odd objects and even traditional tools for grip strength (Rolling Thunder, Captains of Crush, Wrist Rollers, etc) there are times when you need to perform bodyweight and manual resistance training for grip and forearm strength.
And ultimately, time to compete.
I was inspired to put my athletes in competitive modes more often when I saw this documentary on Arm Wrestling, highly recommended you see it as well.
[youtube width="640" height="360"]https://www.youtube.com/watch?v=wz8I8uR6Pto[/youtube]
Note the regularity of competing even in training from the movie above.
See this Video below, competing against your training partners in Arm Wrestling can be brutal.
[youtube width="640" height="360"]https://www.youtube.com/watch?v=Rkawy7SfMZ4[/youtube]
Arm Wrestling at The Gym: Make sure you perform equal matches with both your left and right arm. I personally do a few extra sets of arm wrestling on my left side which is my non dominant side.
These arm wrestling challenges are a GREAT way to shock your muscles into growth and to TRULY test yourself and your training. It's easy to be a bad ass in the weight room. Anyone can do that.
Put your training to the test.
QOD / Question of the Day: I would love to hear how you make due with what you've got and how you turn a simple movement into an all around muscle building, strength building movement.
Post your advice, answers and comments below.
The Last post was just shy of 30 comments, let's break 30 comments this time!
Live The Code 365
--Z--
Get ALL of These Underground Strength Training Courses As a Member of The Underground Strength Inner Circle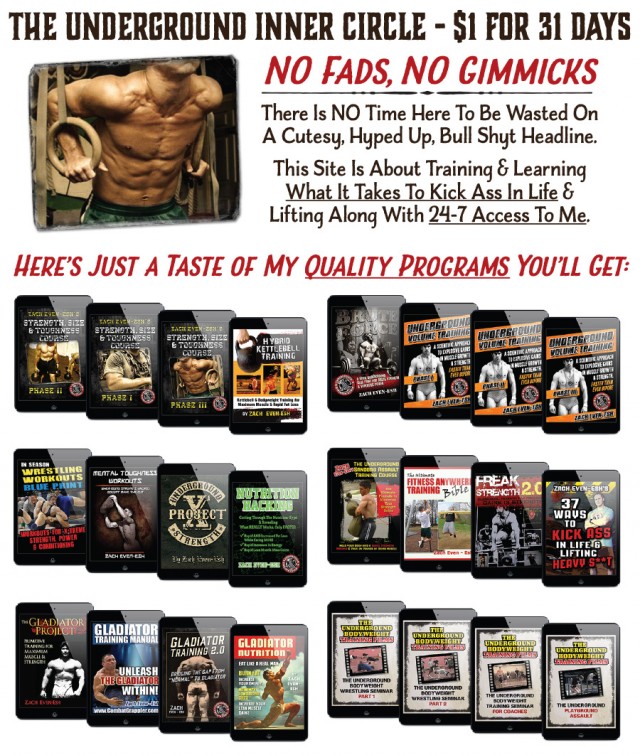 (Visited 386 times, 5 visits today)