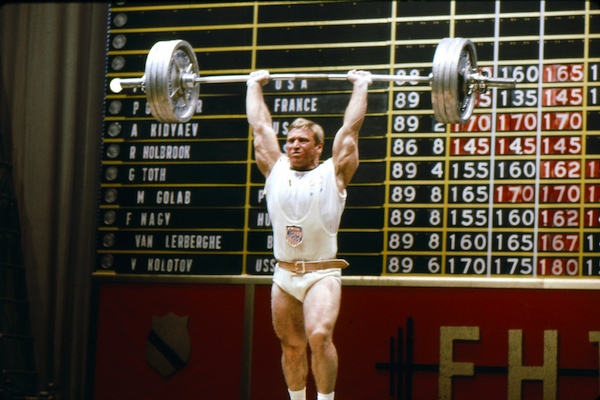 I have a SERIOUS passion for all types of lifting, but, I especially LOVE throwing weights overhead, ALL types of weights.
Remember, I'm a SOUL Lifter, rules need NOT apply.
Discriminate against NOTHING that makes you stronger.
In this Video I timed myself against an array of training tools to clean and press overhead. The variety keeps you from getting bored and each overhead press is slightly different than the next.
Your mind must stay focused to handle the details of each different training tool.
The muscles must work harder as they get fatigued and require a slightly different technique from one training tool to the next.
Check the Video below and see which of these training tools you can put to use to test yourself.
There are certain lifts that are straight up a sure fire way for packing on muscle and developing Brute Strength.
Lifting weights overhead via the press, snatch, clean & press and even THROWING weights overhead will get the job done in a manner that can't be achieved using machines.
Some of the objects were lighter and some of them were heavier. The lighter weights allow you to develop speed and dial in overhead technique.
The heavier weights require more strength and toughness as they battle against your body and mind in a test of will. To get stronger, you must battle the heavier loads.
If you're a beginner I suggest you only hit one variation of the overhead lift but if you're more advanced and have spent plenty of time under the bar, go ahead, see what it's like to vary the training tools and use an overhead medley like I did in this Video.
Keep Your Shoulders Healthy
Every single workout I perform a variety of these exercises to keep my shoulders healthy. The athletes at The Underground Strength Gym do the same.
- band pull aparts (overhand & underhand)
- band dislocators
- PVC pipe dislocators
- overhead squat with PVC pipe
- overhead squat with band pulled apart overhead
- Indian club exercises
- Kettlebell windmills / Kettlebell get ups
- side planks with support arm fully extended
There are more exercises along with shoulder mobility drills and soft tissue work that is included every workout.
Strong shoulders and healthy shoulders are KEY.
Lead from the FRONT!
--Z--
(Visited 222 times, 2 visits today)