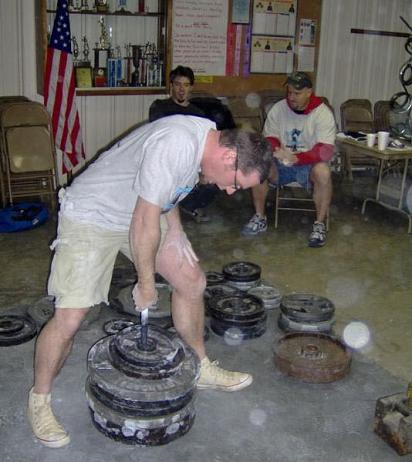 Got a question via e mail and wanted to share this bad boy....
Question: I own a small gym in St Louis and have recently added a few thick bars to my collection.  I had a new member ask me an interesting question the other day, he wanted to know what muscles were benefiting from using a thick bar that would not benefit by using a regular size bar.  He also asked if you only used the thick bar would that hurt him in the long run because he is a pitcher and a quarterback on his high school team.  I told him that I would ask someone with more knowledge than I had on the subject.
Please help
DeAndtre D.
Answer:
DeAndtre, great question my friend, and I respect your humility and willing to look elsewhere for answers! That is the sign of a true teacher, one who is always willing and looking to learn 🙂
Using a thick bar will stress the hands, wrists and forearms to a greater degree compared to the regular barbell. Also, there are various sized thick bars. We have a 2" thick bar which is plenty big enough when using various pressing, rowing, curling and deadlifting movements.
Should this athlete ONLY use thick bars, absolutely NOT. It can be done, but, I suggest utilizing a variety of barbells to stress the body differently. Also, using only a thick bar will limit the amount of weight he can use in critical movements such as deadlifts and barbell rows.
The wrists, hands and forearms can be stressed through many tools and variations, thick bars being just one of them. I personally love using a thick bar when performing rack pulls, sometimes adding chains to this awesome deadlift variation.
We also perform floor presses, cheat curls and military press variations with a thick bar.
Your athlete will definitely notice a greater degree of grip strength for his sports which in turn can lead to greater success, especially since the majority of high school athletes greatly underestimate the importance of a mighty grip.
Another added value of the thick bar is that it forces the rest of the body to tense up when lifting the weight because you are gripping the barbell so aggressively, the rest of your body tenses up to help translate strength throughout the entire body.
I'm glad to see you're using thick bars and discovering the importance of hand, wrist and grip strength!
Keep me posted on the progress of your athletes!
In Strength,
--Z--
PS - Wanna see some awesome grip training methods from other strength coaches who are putting their methods to the test on other athletes? Check this Out!
(Visited 41 times, 1 visits today)