[youtube width="640" height="360"]http://www.youtube.com/watch?v=HHU840euwqQ[/youtube]
The footage above was shot during the "We're Almost done training.... maybe.... if you work hard enough..." portion of training The Blair Academy Wrestling Team, the top high school wrestling team in the country. These lessons were pushed after I saw certain times during the workout where opportunity was NOT taken.
So, I asked these wrestlers and a few basketball players ONE question to check if they're TRULY working hard enough to achieve their maximum potential...
At the end of the day, ask yourself this question and answer it honestly.....
"Have I done my absolute best today?"
It's a brutally simple question, but just like training, there is NO need for the complications.
It ALL starts with being honest with yourself first and foremost.... forget about everyone else.
If you find that you doubt yourself during OR after times of action, you're NOT working to the best of your ability. Only YOU know the truth, so don't be a pretender.

Remember, Living The Code doesn't mean we're going to be perfect. It does mean that we will hold ourselves to a higher standard, every day, gunning to be at least 1% better than you were the day before.
The first code is Honesty - Be honest with yourself first and foremost. Once you do that you can be honest with everyone else. This is when you can begin achieving REAL strength. This type of strength starts within. As I've always said, it's You vs YOU. Let everyone else follow, copy & compare to everyone else.
Once you begin pushing yourself to YOUR best, you'll be MILES ahead of the competition without even thinking about them, you'll be too busy making yourself stronger day in and day out.
Drop a comment with your thoughts & questions. I always look forward to connecting with you and hearing your thoughts, answering your questions..... If you feel others can benefit from this blog post, please take 2 seconds and share it with your friends. MUCH respect.
Live The Code
--Z--
Click HERE For The Training Program That We Use To Develop Brute Strength, Athleticism & Mental Toughness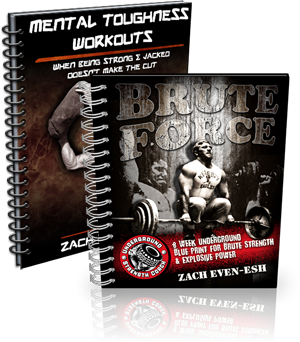 (Visited 79 times, 1 visits today)