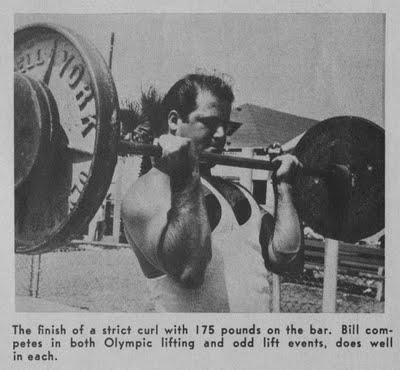 Sometimes, time just ain't on your side.
You have two choices when this happens:
1) Skip your workout and come back the next time.
More often than not, your excuse will NOT be valid, it will only validate the fact that you're an excuse maker and did NOT act on opportunity when opportunity presented itself to you. You contribute to the pussification of Man kind here and it's suggested you avoid this at ALL costs.
2) Lock down your workout and attack with only 1 or 2 exercises.
Remember, simply doing ONE exercise is 100% more than doing NOTHING.
I ALWAYS prefer # 2. Get something done. Let me explain.....

If I skip a workout when I KNOW I coulda cranked something... ANYTHING.... for 10, 15 or even 20 minutes, I can NOT go to sleep happy with myself....
I can NOT look myself in the mirror and KNOW I am reppin' Underground Strength Nation, reppin' for my family and reppin' for Aspiring Strong MEN.
I came across a few OLD School videos of me after reading a collection of OLD School Dr. Ken articles. Inside these videos I give you a glimpse inside these amazing magazine articles.
I locked down 2 heavy exercises and went to town on them.
If heavy isn't your gig then go head to head, toe to toe with 2 bodyweight exercises.
[youtube]http://www.youtube.com/watch?v=_roexhEnV0c&feature=colike[/youtube]
[youtube]http://www.youtube.com/watch?v=0VIfeUoWLOQ[/youtube]
The combo can be push / pull or upper / lower exercises.
In between sets attack the foam roller.
Train hard, Train Heavy, Eat Big and Rage Against The Weakening of Man Kind!
This article is short and sweet, just like these workouts.
If you are a busy man or perhaps need to cut back and volume to spur on new growth, check out THIS program, your body will quickly learn to respect just how powerful a workout can be regardless of how short it is or how few exercises you use.
Check out The Underground Inner Circle where we feature countless time crunched workouts, training tips and support from myself and the rest of Underground Strength Nation. You can't go wrong when I got your back, 24-7!
See you on the other side - Click HERE for details and a special offer.

Peace
--Z--
PS: Strength Coaches.... Aspiring Strength Coaches..... the clock is ticking, in 2 weeks this will be the most info packed USC Cert EVER... with alumni returning and a fire in my eyes like NEVER before, this is the time you do NOT want to miss.
(Visited 450 times, 2 visits today)