I've been asked countless times for a beginner strength training program and I've stayed away from this for a long time. Most of my training requires some sort of a background. Some experience. Something!
I tell high school athletes and their parents all the time, if you're an athlete, you should at least be doing push ups, curls and sprints on your own. 
We've got 2 programs for beginners.
High School STRONG is our Off Season Program. This program is for athletes and to be implemented by a sport coach, strength coach or parents of athletes.
Our other program is simply called Beginner Strength, it is for men or women new to training, or, someone coming back to training after an injury or some sort of a layoff.
Below is a sample week from High School STRONG.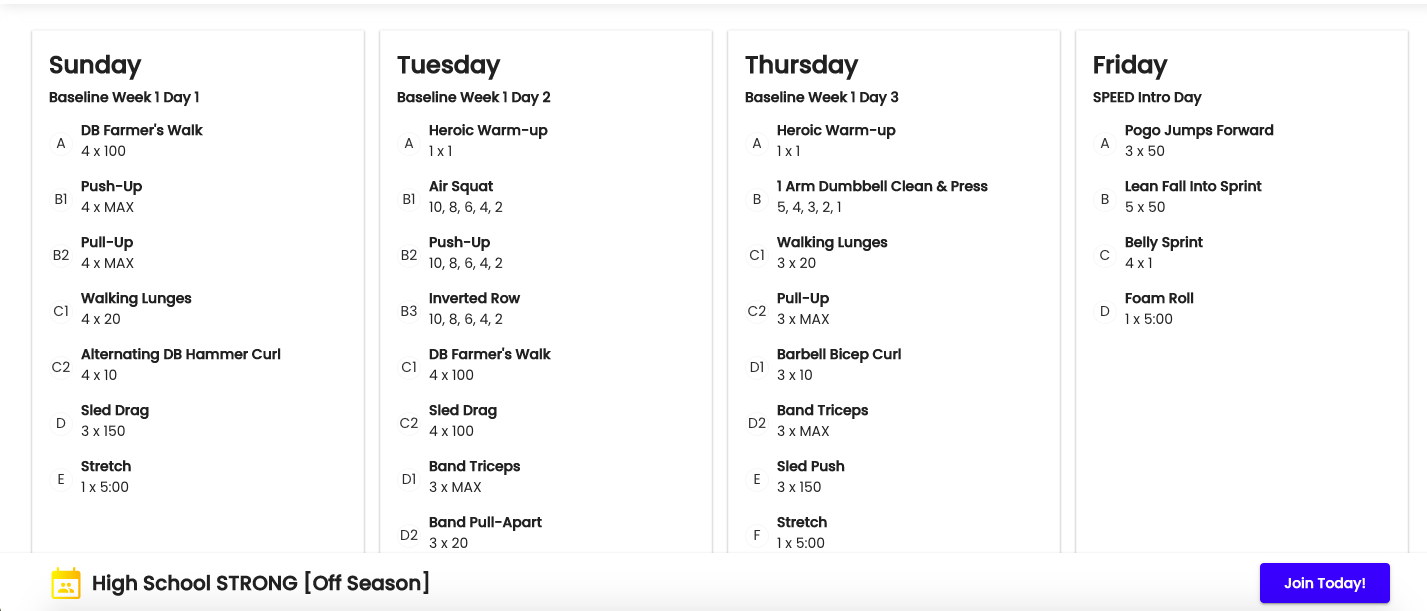 For Beginner Strength, something I see many people make the mistake of is there is NOT enough basic bodybuilding work, aka Hypertrophy training. 
I want to see people actually Look like they train.
Meaning, when you walk around, can people see your traps through your shirt?
Do your arms look skinny or fat? Or, can we see the arms stretching your shirt sleeves?
Does your chest pop through the shirt or does your stomach pop?
Building muscle is the best way to improve your body composition.
Below are 2 sample weeks from Beginner Strength.
One week is from the beginning of the program, the other week is from the middle of the program.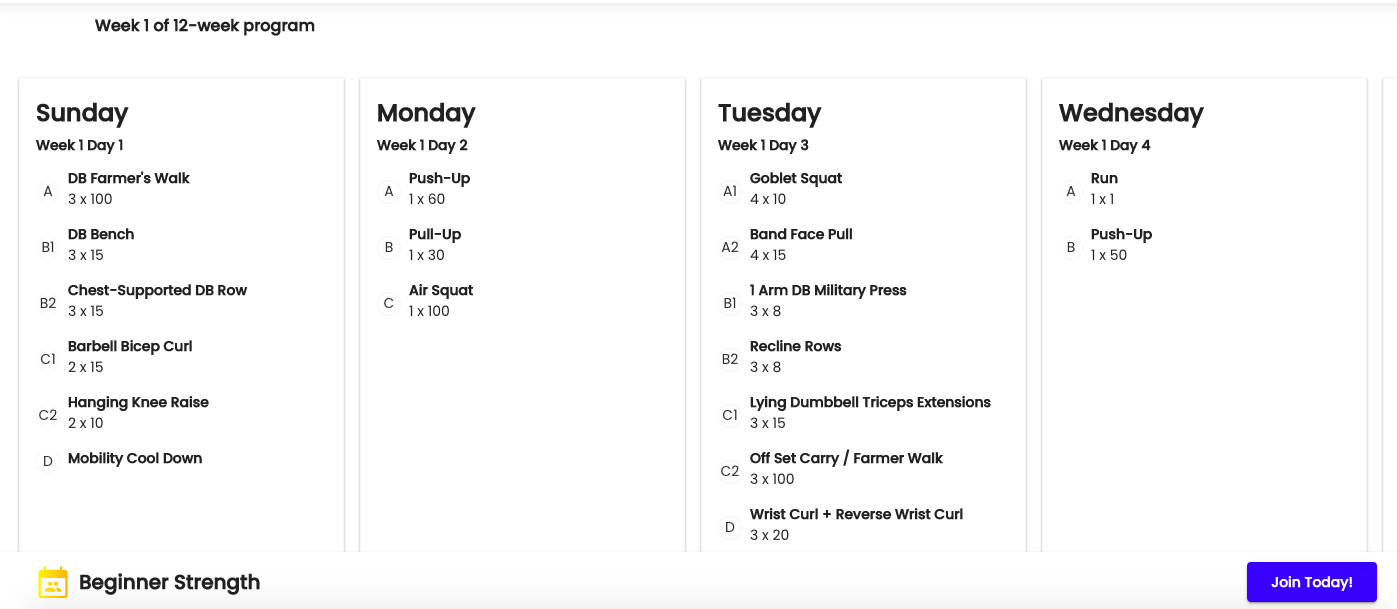 One thing you don't see in the photo are the notes included in each workout and for each exercise.
For example, where it says Day 2 you see 60 push ups, 30 pull ups and 100 squats. This can be done as a workout, or, you can spread the Total reps throughout the entire day.
When you are in Beginner Strength, you can "drop the program" into your calendar on TrainHeroic, and then you can spread the days apart.
Day 4 shows run 1 x 1, which means running for 1 mile or intervals of walk / run for 1 mile. Yes, we should do aerobic work. It helps build muscle and improves recovery.
Now, see another screen shot below, from Beginner Strength. 
Notice how this is Week of Beginner Strength.
We incorporate a variety of moderate and lower reps, so we can build muscle, build strength AND we have adequate volume to build muscle.
As a Beginner, building muscle is one of the most important aspects of the overall training program. So whether you are an athlete or not, simply building muscle will improve strength AND performance.
Again, from the screen shot you don't see the notes or the warm up / prep.
Inside the program on Train Heroic, there are notes each exercise as well as a thorough warm up / prep that helps build technique, builds muscle and creates a mind muscle connection to ensure a GREAT training session.
If you have any questions, drop a comment below.
Details for each program along with a FAQ section is linked below.
Beginner Strength - More Info

HERE
High School STRONG Off Season - More Info

HERE
Get after it and prepare to get Results, regardless of the program!
Live The Code 365,
Z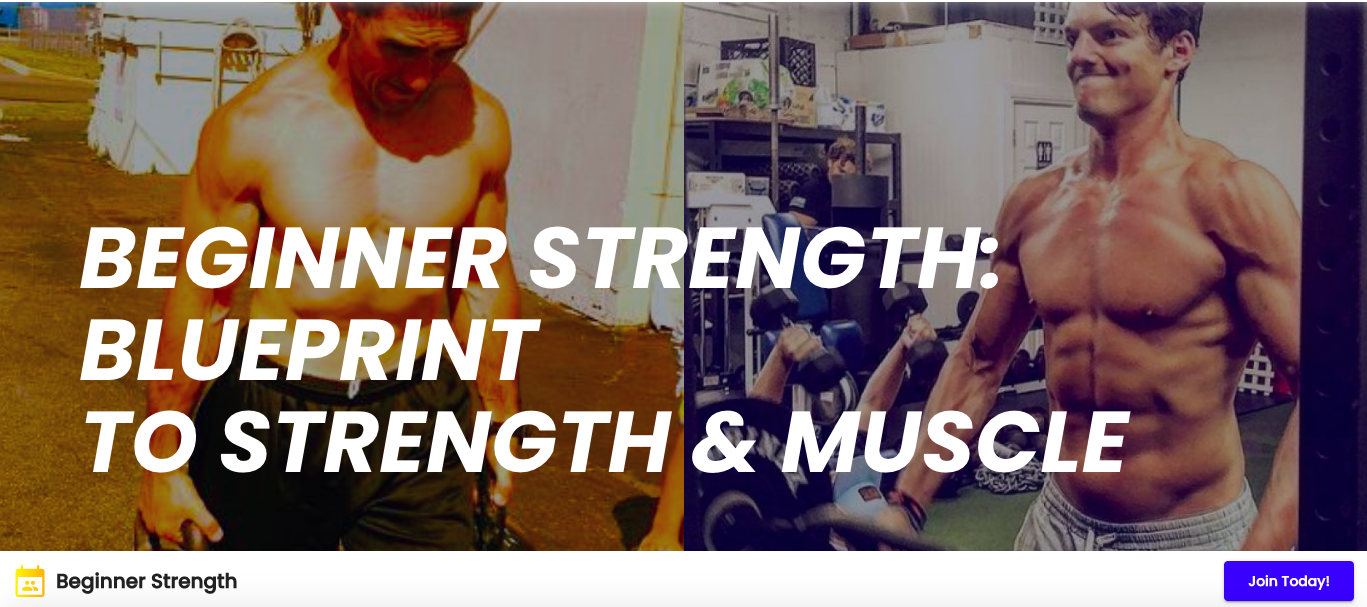 (Visited 573 times, 5 visits today)