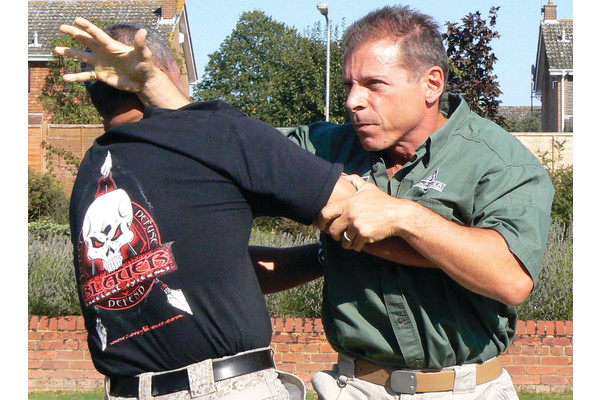 In the Fall of 1992 I got into my first, real street fight. I was totally unprepared for the reality of the streets. As a high school wrestler, I was used to rules, no punches, a referee and a 1 on 1 scenario.
That night, although over 20 years ago, changed my life. It changed the way I thought about training and it changed the way I thought about the street.
Anything can happen out there and I do mean ANYTHING.....
As a family man and with many family men & women e mailing me and connecting with me on a regular basis I have heard how important family is to you. That being said, you have a responsibility to know what the hell is going on out there and should be aware of what to do so you reduce your chances of being a victim.
Enter Tony Blauer. Since 1979 Tony has been at the forefront of self protection and reality self defense for the general public as well as Military, Security & LEO Personnel.
In this episode of The STRONGCast with Tony we discuss the following:
- I am testing opening up each episode by answering a question from either my Facebook page or Twitter. This question comes from a CrossFit Coach who aspires to run his own Strength & Conditioning Facility training high school athletes.
- I ask Tony, What the hell is this "Knock Out Game" and how can you be safer on the streets and less likely to be a victim?
- How one victim of a mugging became more aware and changed the outcome of his next confrontation with the same thugs that robbed him & beat him just weeks earlier
- Why sports Martial Arts may NOT be preparing you for the streets and how you can change that to better prep you for the unknown of the streets
- Why being physically fit changes your ability to handle and harness fear during dangerous situations and confrontations
- How does Tony live the CrossFit lifestyle with his hectic travel schedule and being in his early 50s.
Check out this episode and please drop a comment / question with your feedback! Take this episode seriously and be more prepared for the streets.
[youtube width="640" height="360"]http://www.youtube.com/watch?v=F8S0u6UkrDs[/youtube]
To listen on iTunes, (audio only), Click HERE
Tony Blauer Resources:

(Visited 139 times, 4 visits today)