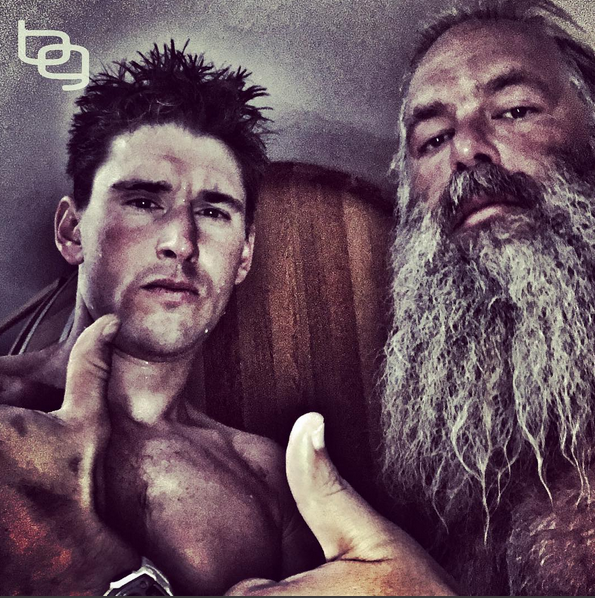 Ben Greenfield is 1 of my favorite people in the "fitness industry" and 1 of the smartest. I have invested in coaching with Ben and listen / read his info ALL the time.
The knowledge this guy is constantly dropping is mind blowing, I love it.
So when a Testosterone QnA thread started in the private forum for Certified Underground Strength Coaches, I follow what I call "Stay In Your Lane." I told the crew to post some questions and I'll ask my buddy Ben to answer them via audio.
This is what I like to call an "in between-isode" (dubbed by Tim Ferriss), episode 86.5.
Ben Greenfield helps us out by answering some awesome questions on all things Testosterone.
Here are some of the topics / questions answered by Ben on ALL things Testosterone:
- What Testosterone supplements are safe AND legal to boost testosterone levels?
- How does your iron level affect your Testosterone?
- How does alcohol affect your testosterone?
- What are the many things that can Negatively affect your Testsosterone?
- What do sleep pills do for your sleep and ultimately, your Testosterone?
- How to Maximize your performance & T Levels EVEN if you have a heavy work load and can only sleep 5-6 hours / night on weekdays?
- How shift workers can "trick" their body & circadian rhythm?
- How to maximize Testosterone naturally as you get older through Specific Nutrition & Specific Supplement Protocols?
- For the New Parent waking up every 2 - 3 hours at night for the baby, how can you maximize your sleep cycles AND improve your erratic sleep schedule?
- What supplements does Ben recommend to help you relax at night if you have trouble sleeping due to stress?
** Leave A Review on iTunes HERE **
For ALL the Testosterone Resources Ben refers to in this STRONG Life Podcast, please see his links below.
The Links are Listed in the order in which they are mentioned in the audio:
https://www.peptideswarehouse.com/shop/lgd-4033-10mg-per-ml-x-30ml/?ref=6
https://bengreenfieldfitness.com/2013/08/how-to-fix-your-brain/
https://bengreenfieldfitness.com/2013/08/how-to-fix-hpa-axis-dysfunction/
[youtube width="700" height="400"]https://www.youtube.com/watch?v=gmLfchQEOQQ[/youtube]
https://bengreenfieldfitness.com/2015/06/what-is-the-human-charger/
https://bengreenfieldfitness.com/2016/06/how-to-re-time-your-circadian-rhythms/
https://greenfieldfitnesssystems.com/product/natural-vitality-plant-sourced-trace-liquid-minerals/
http://www.bengreenfieldfitness.com/deepsleep
https://greenfieldfitnesssystems.com/product/young-living-essential-oils/
https://bengreenfieldfitness.com/2015/12/sleep-cocktail-ingredients/
http://www.bengreenfieldfitness.com/naturecbd
MORE Resources from Ben Greenfield:
To Support The STRONG Life Podcast, See The Resources Below
The Underground Strength Academy - Details

HERE
(Visited 1,312 times, 9 visits today)