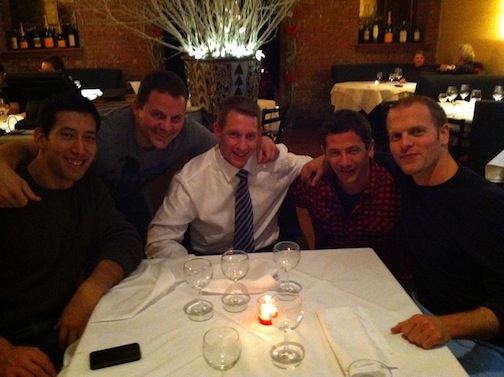 The trailer pumped me up BIG time. I won't lie.
I wanted to Deadlift HEAVY and run FAST as soon as I saw this Video.

Sometimes, the trailer is better than the movie, or in this case, the book.
But, NOT this time.
This time, Tim Ferriss kicked some major ass in his latest book, 'The 4 Hour Body'.
It was a Friday night in NYC. I was meeting up with my homeboy, BMack, the Mastermind behind CrossFit Endurance, Tim Ferriss was going to meet us that night as we rounded up a crew of friends for good food, good drinks and good times.
Chatting, chilling and talking life, business, strange events (to be kept private!! haha) and training with Tim Ferriss pumped me up even more so, because during the course of a dinner cooked for Gladiators, I learned that deep down, Timmy Ferriss IS a BadAss Gladiator.
I'd been exchanging random e mails with Tim Ferriss ever since he released his first book, 'The 4 Hour Work Week'. Check out my first ever review HERE, from back in the day!
He walks the talk. He's a Black Belt in Judo..... he got his black belt in Japan.
He is a National Chinese Kickboxing Champion and I am sure Tim is quite well versed in other forms of combat.
RESPECT!
His latest Book, 'The 4 Hour Body', is for Undergrounders around the world, regardless of your age, this book gets 5 stars from me.
At such a cheap price, with all this hard hitting info, it's a steal. It's been ages since I've read a book with all types of "Underground" tips and tricks for fat loss, muscle building, strength gains and more. Back in the day, this was only shared amongst a small inner circle of hardcore bodybuilders and strength coaches.
Times are changin'....
Enjoy 🙂
Peace!
--Z--
Recommended Resources:
Get Your Copy of 'The 4 Hour Body' on Amazon HERE
(Visited 76 times, 1 visits today)