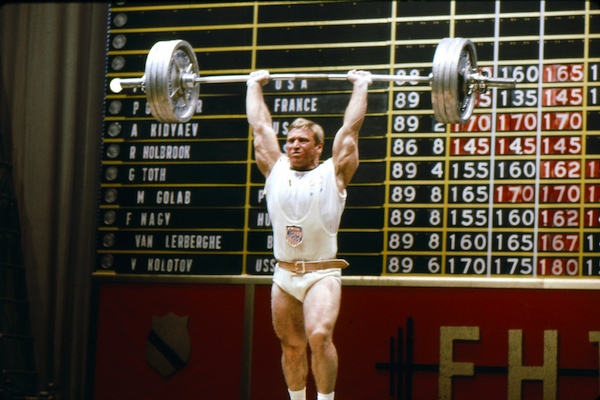 Is there truly an ART or a Science to getting strong as hell? Hmmmmm...... Ask Louie Simmons and he will say yes, Jim Wendler will also drop his genius with his 5/3/1 program, allowing him to keep getting stronger....and STRONGER.
But, when in doubt, just lift heavy shit with PROPER technique.
You can do high sets and low reps such as 12 x 2 reps OR.... try Hellish set - rep paramaters like 5 x 10 on movements such as the Barbell Clean & Jerk, Deadlifts, Kettlebell Snatch, etc.
Coach Reeve was always training against the clock when he was a competitive wrestler and a college wrestling coach, and, he still does it today with the Football players of Wake Forest.
Not only does this style of training build serious strength and dense muscle, but also develop immense conditioning and mental toughness, something too many people lack nowadays!
Try This: 2 reps on the minute, every minute for 10 minutes of (Choose Any One Exercise) the log clean & press, tire flip, sandbag shoulder, stone shouldering, deadlift, barbell clean & press....
I've done this with athletes using heavy weights if they need to gain weight and fighters, wrestlers and combat athlete who need strength endurance / power endurance.
And by the way, if you're resting 3 - 5 minutes between sets because your last scientific handbook told you to do so you're missing the boat.
In the REAL world, when the hell do you get to do 2 reps and rest? Learn to push heavy weights with minimal rest and as I mentioned before, using proper technique.
I've seen some dangerous form being used in local gyms and even by popular web sites on the internet. It sends the wrong message, and you can't create a powerful message unless You Lead From the Front.
Time for me to get some rest, the alarm is set for 6:30 AM tomorrow morning. It's training time. That means heavy weights followed by prowler conditioning.
Check out some footage below.
You may also have noticed less video footage from me. I will get back to the videos, so don;t you worry, BUT, I am zoning out when I train and hate to mess around with a video camera when I am focused on getting STRONGER, FASTER, LEANER & MEANER!
That's me hitting some thick bar deadlifting and the Prowler Pushing with 9 plates is one of our Freshman Football Beasts, we call him "The Hit Man".
Peace!
Lead from the Front.
--Z--
PS: For all you Strength & Muscle Building Fanatics, check the 30 Day Underground Trial HERE.
PPS: For those of you who wanna start doing what you love, check out our upcoming Underground Mentorship Courses:
2 Day Underground Strength Coach Certification / Mentorship
(Visited 629 times, 7 visits today)