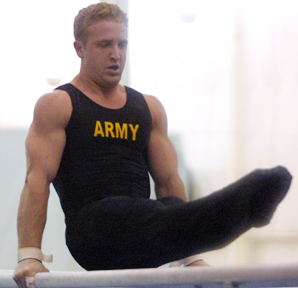 I have been a big believer in hand walking ever since my undergrad class in Gymnastics back in 1996.
My instructor was Mr. Gonzalez, he was an All American Wrestler and the owner of a Gymnastics school. He was a no nonsense type of guy. His physique was ripped and rugged, built like he was carved from stone.
One of the students in my class was wrestling for the University as a freshman when Mr. Gonzalez was a Senior. He told me how Mr. Gonzalez would do back flips to escape from take downs and was the most explosive guy on the mat
The gymnastics class was 90 minutes in length, 2 x week.
At least 30 minutes each class was spent on "gymnastics conditioning exercises", using countless hand walking drills on the floor and on various apparatus, along with jump training for lower and upper body.
[youtube width="640" height="360"]https://www.youtube.com/watch?v=mvI-PWerXgI[/youtube]
These drills challenged me, especially the hand walking drills. The guys who did not have a wrestling background were hurting big time during the conditioning sessions, I truly felt bad for them!
Ironically, MANY of us in the class were former wrestlers, so it was common ground for us to train hard, but the drills we did were unlike anything we ever experienced before. Especially back in the mid 90s where there was no such thing as "functional training".
We all did the bodybuilding workouts so even though we looked big and strong, this was a whole new world for all of us.
[youtube width="640" height="360"]https://www.youtube.com/watch?v=9c7vvyC29ew[/youtube]
The cool thing is that you don't need to use gymnastics equipment to derive the benefits of hand walking or any type of training on the hands, all of which is incredibly intense and effective to jack up the shoulders and arms.
- Get a training partner to hold your ankles
- Get furniture movers if on carpet or turf
- Get a dolly from a hardware store and wear gloves, walking on cement
I don't know of any other bodyweight movement that matches the effectiveness of hand walking for upper body strength and abdominal training. You need to try it yourself, plain and simple. Not only will you get stronger, but also healthier.
Live The Code 365
--Z--
Bodyweight Bodybuilding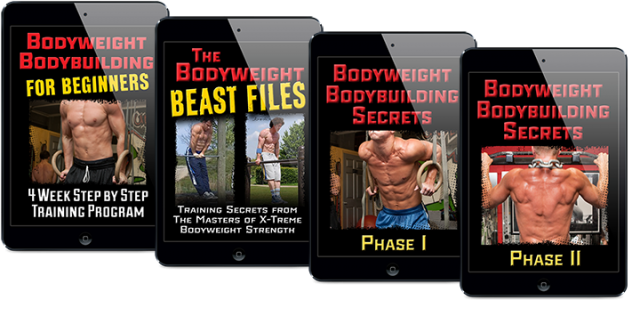 (Visited 2,259 times, 24 visits today)