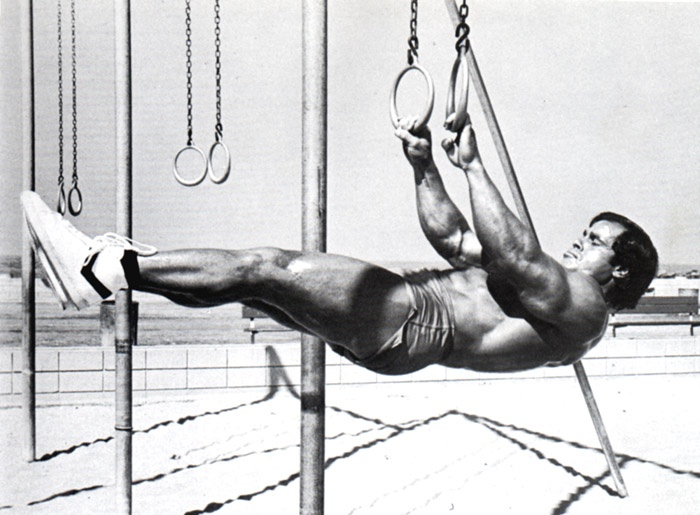 Lifting BIG weights feels awesome and there is NO denying that being a BEAST under a Barbell is critical for strength.
You just can't deny squats, deadlifts, cleans, military pressing and the bench press.
But....
Sometimes, the barbell just doesn't fit your needs anymore.
Sometimes, your body craves the need for strength with JUST your own body.
Sometimes, you get strong under a bar but can't move athletically otherwise.
Enter Bodyweight Training for developing lean muscle mass and Brute strength.....
If you've got decades of lifting experience, you can relate to feeling banged up from the endless years of heavy lifting.
Some lifters fight the transition of using less heavy weights / free weights and more bodyweight workouts.
Not me.
I embrace it!
Those who excel are those who embrace getting STRONG with Bodyweight workouts.
Ever since I released my best selling training course, Bodyweight Bodybuilding, I've been getting a lot of questions regarding bodyweight training.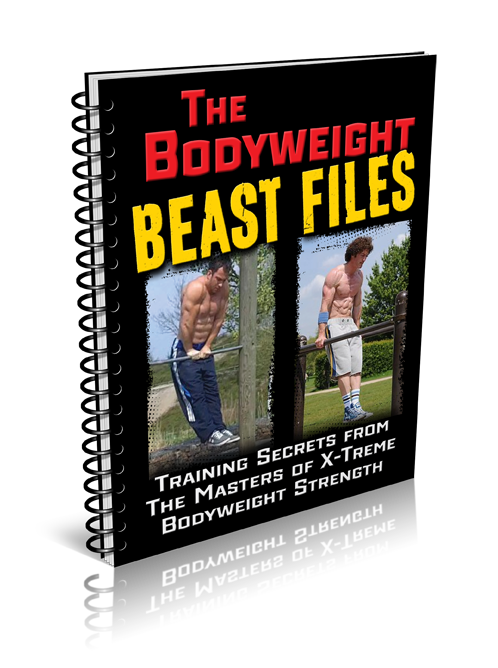 Here is a GREAT question regarding bodyweight training & probably the most frequent question I get.
Check it out....
QUESTION: Zach, can someone get endless strength gains from Bodyweight Training?
ANSWER: Awesome question!
I use Bodyweight training for my own workouts & it is a large portion of how I train my athletes at The Underground Strength Gym.
Bodyweight training is a HUGE part of what we do, but, NOT the ONLY part.
We use a variety of training tools and methods to push for reaching maximum potential in overall performance as you've likely seen through our training videos.
Here Is The BIG Mistake Most People Make With Bodyweight Workouts
Most people make the mistake of using Bodyweight exercises as an after thought to their workouts by throwing in a few half hearted sets of pull ups or push ups or some weak bodyweight circuit.
That is a HUGE mistake as you can use Bodyweight Exercises for the following Benefits:
- Improve Your Speed & Explosive Power
- Add Lean Muscle Mass
- Add Functional Muscle Mass
- Improve Your Stamina & Muscular Endurance
- Improve Your Mental Toughness
- Improve Your Body Kinesthetics & Overall Athleticism
"If you think you can't get stronger using Bodyweight exercises, think again...."
Test Yourself Against The 10 Bodyweight Exercises Listed Below
If you CAN crush these exercises you are a Bodyweight BEAST.
If not, then you CAN step up your commitment to Bodyweight Training and pursue greater strength and performance through Bodyweight Workouts.
Don't hide from bodyweight training, attack it!
1) Pistols x 10 ea. leg
2) 1 Arm Push Ups x 10 ea. arm
3) 1 Arm Pull Up x 1 rep ea. arm
4) Muscle Up On Bar / Rings x 5 in a row
5) 100 Consecutive Push Ups
6) 10 Handstand Push Ups
7) Handstand Walking
8) 20' Rope Climb With OUT Leg Assistance
9) Parallel Bar Dips x 50 reps
10) 20 Pull Ups (Overhand or Underhand Grip)
The above list of bodyweight exercises are the toughest movements for bodyweight training and some of the best bodyweight exercises you can & should use when looking to improve athletic performance as well as pack on lean muscle mass.
I'd like to add an 11th exercise.....
The Front Lever.
Since writing this list of top bodyweight exercises I have come across this exercise and it is TOUGH and awesome on not just the abs but the entire body.
Here is a front lever tutorial from Little BEAST who is in our Bodyweight Bodybuilding Bonus: Bodyweight BEASTS.
Remember, strength is a skill and it must be practiced regularly, and bodyweight training  gives you the power to practice anywhere, anytime and with no equipment.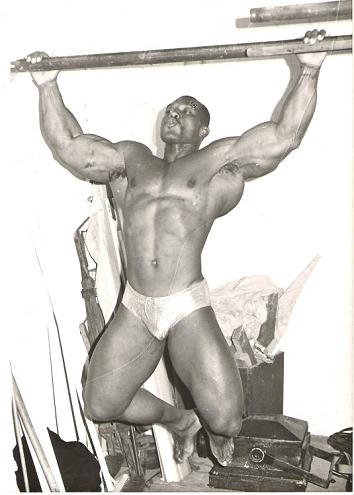 So until you are able to perform the above list of 10 Bodyweight Exercises I honestly believe you are NOT strong enough in Bodyweight Training.
Can I personally perform the entire list above?
Not ALL of them, so this tells me I CAN & Need to get stronger in those Bodyweight movements and that comes through more practice in bodyweight training and also reduction of body weight and better overall body composition.
Obviously, being heavier will not make the performance of those 10 bodyweight exercises easier, but, this is NOT an excuse as I have shown you many videos of myself and my own clients performing many of these feats, even at 250 plus pounds we have athletes climbing rope, performing 10 + handstand push ups, etc..
So if you've been thinking you're strong enough with bodyweight exercises and the only exercises you've been doing with your own bodyweight training are push ups, pull ups and dips.....well, it looks like you have your work cut out for you.
This is an opportunity for you to set a goal, plan your course of action and get after it like a MadMan (or Woman!).
It's time to get busy because we ALL need to become stronger.
You CAN maximize your physical potential by making bodyweight training an integral part of your workouts, not just some half hearted after thought.
Respect Bodyweight Training and the results will come.
Let's DO this!
Live The Code,
--Z--
TOP Resources for Those Who Want to Become Bodyweight BEASTS
Convict Conditioning Workout -  Perhaps The Most Powerful Book I Have Ever Gotten My Hands On For PURE Bodyweight Training & Calisthenics.
Bodyweight Bodybuilding Training Course - Develop Explosive Athleticism, Pack On Lean Muscle Mass, Increase Your Mental Toughness & Raw Strength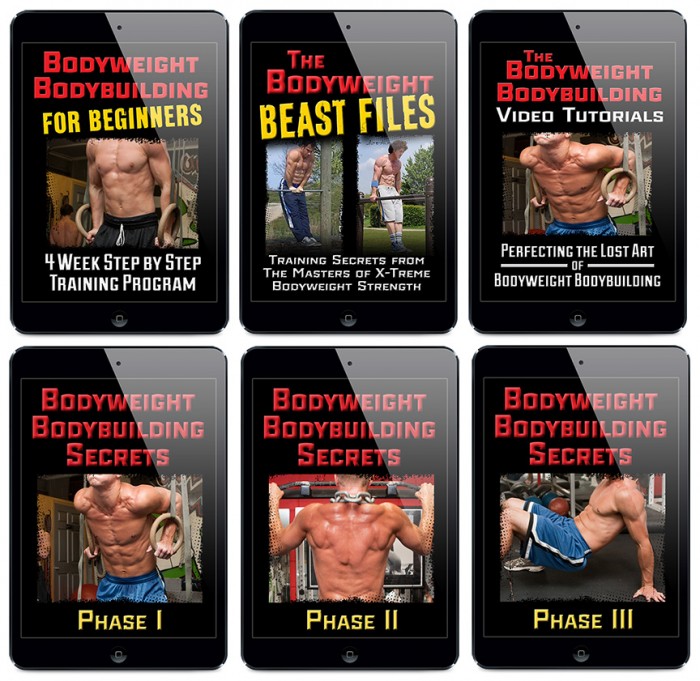 The Bodyweight University Video Series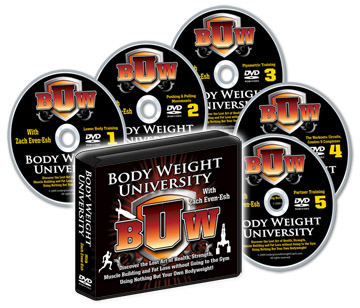 The Bodyweight Wrestling Video Files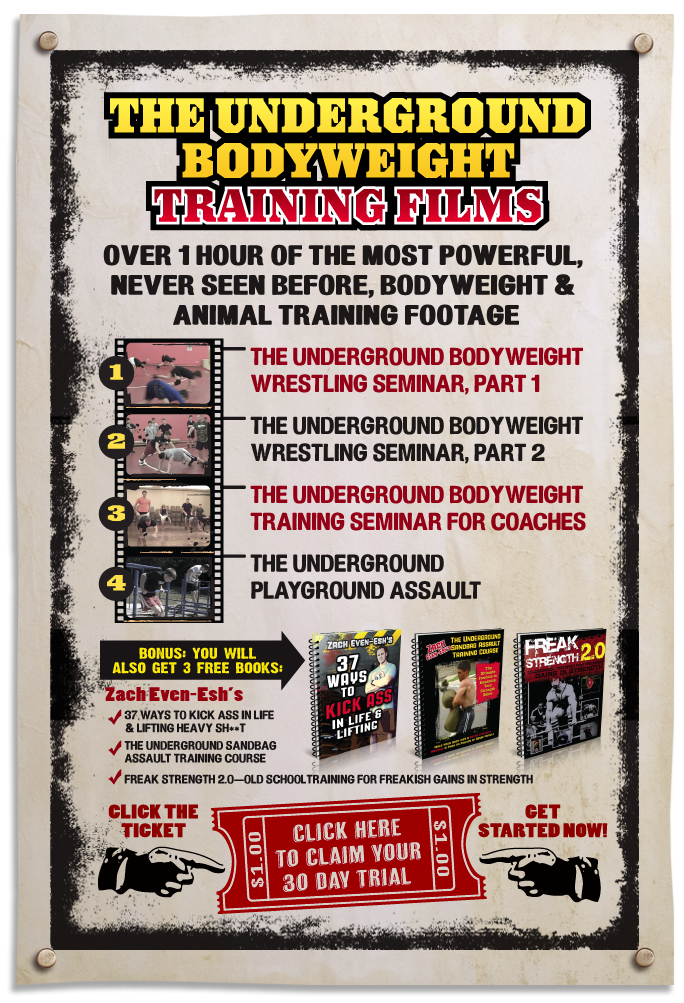 (Visited 13,223 times, 54 visits today)