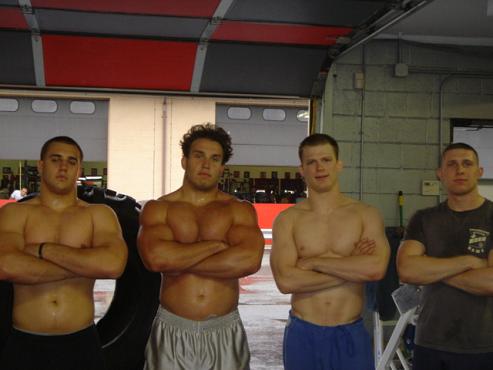 Training is easy when you wake up after 8 hours sleep, someone does your laundry, cooks for you, and there is all the time in the world to do what you want. Those days ended long ago for me, but, that doesn't mean those days will never come back.
Having a Chef and a cleaning team is certainly something I plan on having, but, in the mean time, I am usually getting 5 - 6 hours of sleep per day, working from 7 am - midnight.
Training is never perfect with such a schedule, and getting strong, lean, ripped and in great condition is much more challenging, still, I have no excuses, and get it done. Lead from the front, represent, make it happen, no matter what.
Tonight, I trained for about 20 minutes with only a few hours of sleep in me. If I waited for the day that I had 8 hours sleep, all my meals in place and perfect weather then I would never "get it done".
I took home two olympic dumbbell handles as well, adding to my collection of Kettlebells.
The basics will be covered with just these two simple tools. No worries, I'll easily add some stones, playground workouts, calisthenics and plenty of sprints to this simple yet brutally effective mix.
What will you be doing when the often "not the right time" comes around?
In Strength,
--Z--
PS - If all you had was One Kettlebell, you could still get in ass kicking workouts by adding calistehnics and anything else mother nature could offer you and you could find. Our results prove this, because it's what we have done for years on end!
PPS - I'll uncover every angle of my simple, no frills training methods at The Gladiator Seminar. Are you in? Space is filling up and time is running out.
(Visited 30 times, 1 visits today)