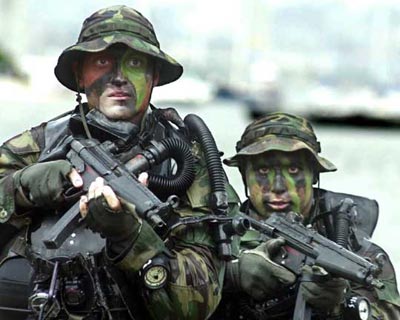 About 15 years ago I was training a bit with a Navy SEAL. He was in Israel at the time, but eventually came to the states.
His training regiment was brutal.
Three days a week he ran a good 10 km or more. My brother would run with him since he was in the military as well, in a unit called "The Cherries". He told me these were not jogs, but all out races and "Joe" was out to win, every single time.
The other three days Joe would swim a good 30 minutes. Sometimes a pool swim, other times the ocean.
Then, on evenings, Monday - Friday, Joe and I trained together. But, he was always there before me, and always stayed after me.
Training more is not always better, but Joe needed this for his own mental edge. Without the extras he probably would have felt cheated. Cheating himlself, that is.
So, he did 100 sit ups before every workout, and 3 days out of the week, every other day, Joe did heavy bench presses and heavy barbell curls.
I told him about overtraining and his response was, "Sheet son, you think the brothers in the pen give a fuck about overtraining, they do sit ups, benching and curls every day."
Joe was correct. Joe broke a lot of rules in training. Joe, was also 215 lbs. of ripped to the bone muscle. He was agile, mobile and hostile. He was in incredible condition, the best of both worls, strong and highly conditioned.
Once I stopped following the "rules", I made some insane gains, as do my clients, as will you.
In Strength,
Zach Even - Esh
PS - Wanna break the rules and start kicking some ass in your training? Click HERE and get in on the Gladiator Seminar. There is 1 early bird spot lift, plus 10 more spots after that.
PPS - Speaking of training in "The Pen"....We have a 2 part audio interrogation of a former inmate in one of California's most dangerous penitentaries. See what he did by getting inside access to The Underground.
(Visited 207 times, 2 visits today)