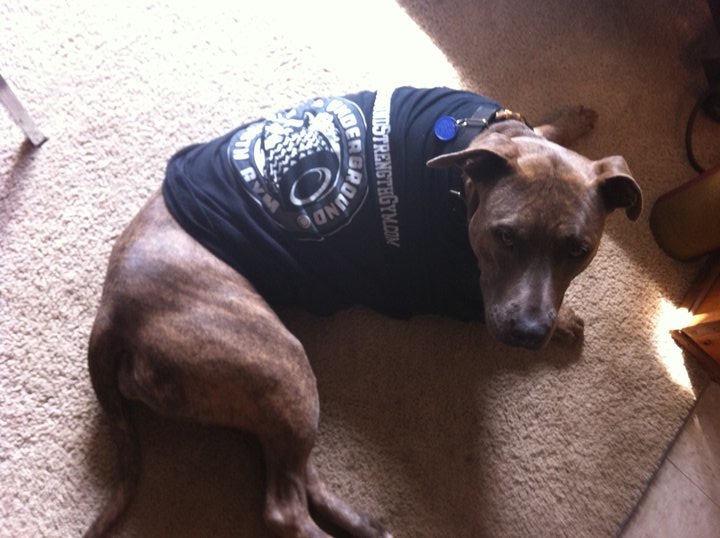 Our Underground T Shirts are selling out, FAST! I didn't think they would sell this FAST but they are. As of last night, only 51 Underground T Shirts were left! Undergrounders from around the world have ordered their t shirt, a good many of them ordered BOTH the grey AND black tees!!
Here's what we're gonna do..... We're gonna crank a lil' contest!
This is your opportunity to WIN, for FREE, BOTH the Grey AND Black Underground T Shirts! I'm even gonna throw in some extra goodies (some of my products 🙂 for good measure 🙂
Here are the "EXTRA" Goodies for the Winner who inspires the most through his / her video:
- Underground Inner Circle Membership (10 years at http://UndergroundStrengthCoach.com!!)
- Full Day to train with the athletes at The Underground Strength Gym
Here's How You Can WIN.....
1. Create an inspirational video of you training like an Underground Gladiator: Strongman, Odd Objects, Powerlifting, Old School Bodybuilding, Gymnastics, Parkour...... ANYTHING goes if it kicks ass, you KNOW how we roll. It can be any length you want, NO rules.
Be Creative! Show us your personal side, your aggressive training side, where your from and why you connect to training Underground spiritually and physically. Don't hold back, half ass effort NEVER results in success!
2. Post your video on you tube, title it 'Underground Strength T Shirt __________' (fill in the blanks on your own via your own creativity). This common theme and title will help link all your videos together for easy finding and inspiration for yourself and other Undergrounders around the world.
3. Once your video is up, post a comment under this Blog Post & embed or link your you tube video. Do NOT e mail it to me as it will get lost in e mail land! If embedding your video doesn't work, just post a you tube link and I'll fix it from there 🙂

4. The Due Date for the Videos is next Friday, December 10th, 12 Noon EST. I will choose the winner on Monday, December 13th.
If you don't have a you tube account, go to http://YouTube.com and create an account, it's easy and free.
You've got NO time to waste, go ahead and get cranking!
Looking forward to seeing everyone's Underground Videos!!
Peace!
--Z--
PS: Remember, dig deep, inspire us and entertain us with your video.
Most importantly, be YOURSELF. I wanna hear your story and I am psyched for this. Good Luck!!!
This is your chance to WIN Underground T Shirts, Underground Inner Circle Membership for 10 years and a chance to hang at my gym and train with us!

Recommended Resources:
(Visited 32 times, 1 visits today)