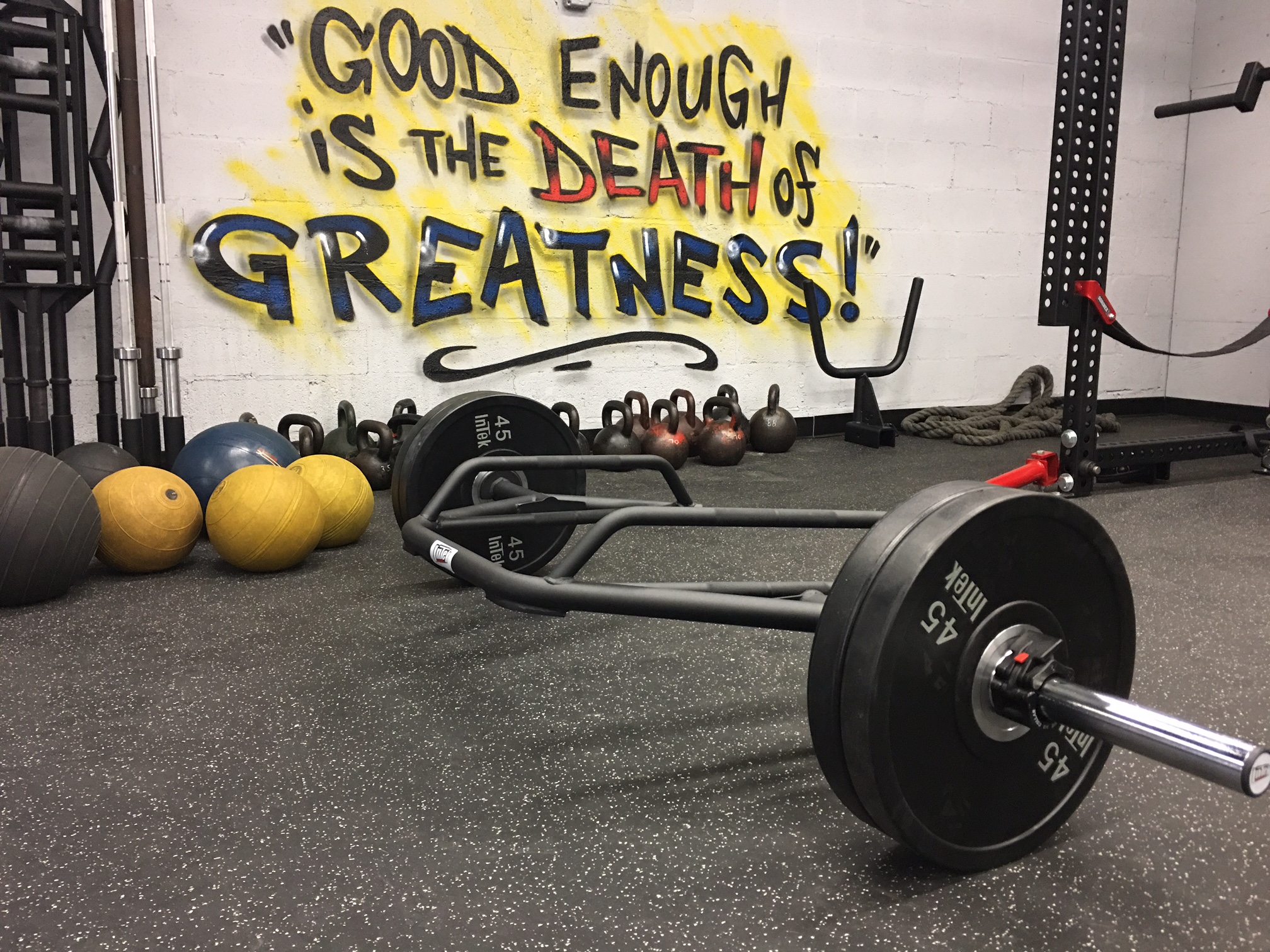 Intro: Zach here and I wanted to share a small project I gave to Andrew Prascak, who is finishing his internship at The Underground Strength Gym.
Some notes of my own are below and interspersed into this blog post to preface & compliment Andrew's list of lessons learned.
First off, I openly admit and even warn people, I am tough to work with. As I always say, "Good enough is the Death of Greatness". Sometimes I wish I didn't care as it IS emotional stressful to find yourself more motivated and dedicated to the kids then many kids are (or their parents 🙁 to themselves.
I want to see self motivated, disciplined, reliable, hard working and forward thinking people.
The kids are # 1. That means everything is to be taken seriously and nothing has to do with us as Coaches, it's ALL about the kids.
The work doesn't start / stop the moment you walk in / out the doors of The Underground Strength Gym. There is reading, studying, thinking, training yourself and more to keep sharpening your own sword so to speak.
_____________________
Andrew Prascak
I played sports my entire life, it has shaped and molded me into the person and the man I am as I stand here today. For this reason, I believe it is my calling in life to pass my experiences and knowledge down to the athletes of today's youth and become a Strength and Conditioning coach.
Before becoming an intern, I knew that this was going to be a learning experience that is going to kick start my future. As an intern, it is important for you to know why you do the things you do and how to make the most out of your experience. As my internship comes to a conclusion, here are the top ten things I learned during my experience.
Walk the Walk – If you are going to be coaching these athletes on what to do, you better be able to back up what you're saying. When I first started in early September, Zach had me shadow for the first couple of sessions, and train with the last one so I could learn the movements that I would soon be instructing.
The first couple of weeks rocked my world as I was doing mostly barbell and dumbbell work for my own training. The first time I was asked to pick up a kettlebell and perform a simple clean, I was thrown off. I could clean a barbell no problem, why was the kettlebell so difficult? This taught me a valuable lesson, start light, master the movement, then increase the weight. It's a process, and you should always trust the process.
Fire – In every intern's experience, sooner or later, you will be thrown into the fire to see how you react. A stress test if you will. It is imperative to become comfortable being uncomfortable. I'll admit, when I was told I would be running my first session all by myself, I don't know if I was more excited or nervous. I was excited when I walked into the gym, but as soon as the kids started walking in, the nerves came.
Then it hit me, this is it, I have to step up and learn to embrace the fire I was being thrown into. The fire I was thrown into soon became the fire inside me to lead and take that next step on my journey as a strength coach. EMBRACE THE FIRE!
No one is the same – Each athlete that you will work with is going to have a unique set of strengths and a unique set of weaknesses. It is your job as a great strength coach to recognize this, and build up the athletes accordingly, build up the base. Like the great Louie Simmons said, "a pyramid is only as strong as its base".
Build the base and work your way up. Just because someone is a certain age, does not mean you have to throw a barbell on their back the minute they turn 14. Master the basics and work your way up.
Role Model – As their coach, your athletes, especially the younger ones, are going to look up to you. They are going to want to do what you do, how you do it, and when you do it. I cannot stress enough how important it is to lead by example.
At The Underground Strength Gym, where I intern, we deal with a large amount of young kids under the age of 17. At this age, their minds are very easily molded, like Play-Doh. They want and need a role model other than their parents. Trust me 9 times out of 10, its going to be their coach. So be their role model, be part of the reason why they train hard, and work even harder outside the gym.
Communicate – When multiple coaches are working with the same kids, communication is key. If coach A is there Monday Wednesday Saturday, and Coach B is there Tuesday, Friday, and Sunday, you don't see all the kids. This is where communication comes in. Thanks to the technology of today's society, it's easier than ever. You have to inform the other coaches of what the athletes did that day.
Did you change anything? Why? Any injuries? These are all things EVERY coach has to know about the group.
Motivate – A lot of kids don't have the quality of intrinsic motivation. They are constantly searching for that outside motivation, the perfect song, a pregame/pre lift speech to get them fired up. The truth is, we have to teach these kids how to fire themselves up without the help of anything or anyone else. We want to help learn how to fire themselves up as soon as they walk in those gym doors. Flip the switch mentally and dominate the weights!
Challenge – In a perfect world, all your athletes will walk into the gym and be able to squat twice their body weight! This makes your life and job much easier, mainly because you don't have to teach anything, this type of athlete already knows what he has to do to make himself better.
You should want to work with the younger less experienced guys. Challenge yourself. Working with the younger guys who need to be taught, and coached in more detail, are the athletes that will make you a better coach. This is more rewarding as well if you ask me. You get to see the progress of them mastering the basics, getting stronger, graduating to the barbell movements, and that person eventually evolving into that athlete who squats twice their body weight. Play the long game!
Be Hungry – One of the first things Zach Even-Esh told me was that during this internship, you will be learning at the gym and at home, the learning NEVER stops. You have to embrace the relentless pursuit of excellence if you want to live the strength coach life style.
Reading, Listening to podcasts, asking questions, doing research. The life of a strength coach never sleeps, and you should never sleep on the learning process. Getting better mentally is just as important as getting better physically. Always keep learning, never stop getting better!
Work for free – "Do what you love, and love what you do" – Ray Bradberry.
Nothing says doing what you love like working for free. You are devoting your time and your life to the strength coach life style. Your time is 10x more important than the small amount of cash you would be making at some rinky dink minimum wage job. You should focus on growing mentally, and setting yourself up for your future endeavors as a strength and conditioning coach. Do this and the money will take care of itself in the future.
Prepare – Stay prepared so you never have to get prepared and ALWAYS be on time. Nothing is more frantic and disheartening then rushing to the gym because you are late. Then you pull up and see all your athletes waiting for you. When you show up late and unprepared, you are wasting their time. Now that you're late, you have to start your training on the fly, and when your mind is running frantically, you are bound to make a mistake one way or another. Do yourself and your athletes a favor, Be on time, be prepared, and BE GREAT!
Make the most of your experience as an intern strength coach. It is your job to make the most of this experience and become the best strength coach you can be!
_______________
I thought this was a solid write up from Andrew.
We went through some rapid changes when I unexpectedly had to move 1 of my locations.
Andrew was thrown into the fire, as he stated above. THAT is when he began to learn the most. I was hesitant to let Andrew coach too much, too quickly mainly because I am openly overly protective of the kids we train.
I remember how hard I worked as a student teacher way back in the Fall of 1997. I had a lot of support in 1 school, not so much support or guidance in another school. But, that experience made me better, made me mentally stronger and taught me to show up with my A game at all times.
Keeping that in mind, I knew if this experience was all smooth sailing for Andrew, he wouldn't learn much. No one learns much through comfort. That being said, I had Andrew traveling 1 x week where he had to drive 1 hour each way and then bring his A Game.
I e mailed Andrew daily and each week he was given resources to study. These resources varied from books, to web sites, to podcasts, to articles and more. The level of strength & conditioning knowledge for what kids really need was not present when Andrew started training here.
Hence, I had to give him information that was easy to digest and apply. No fancy books that talk about science and have little or no application to what kids REALLY need. I gave Andrew writing assignments similar to what I give Coaches when attending The USC Cert.
Did Andrew do ALL the work? NO. But I kept in mind that this process was an important time for me to improve my own skills as a mentor, something I am NOT the best at. I am intense, have high expectations and sometimes act on emotions before thinking things through.
I learned that it IS a good thing for kids to experience more than 1 coaching style.
Sometimes, my decades of experience makes me overly cautious and protective of the kids. This CAN hold back the kids. As a parent myself, you must loosen the reigns sometimes so your kids can learn to push the envelope and see what they are capable of.
I was also hesitant going into this experience as I kicked out the last volunteer intern. That being said, it was proof to me that we must continue to raise the standards of people in general. There is nothing wrong with expecting others to give their best if YOU are willing to walk the talk yourself.
No one is perfect and when coaching athletes, the perfect workout doesn't exist. And, THAT is a good thing because sports are filled with uncertainties and imperfections.
As we finish this up Andrew will be moving forward as a Coach at The Underground Strength Gym and as I always say, I'd LOVE to train kids for free but unfortunately, what is free and discounted is rarely if ever respected and valued.
Still, The Underground Strength Gym is NOT about business. The business IS helping young kids transform into Champions in Sports AND Life.
TRUE Strength must transcend the gym walls and be applicable to all areas of life.
Till the next time, do your part to change the world through STRENGTH!
Live The Code 365,
Z
The Underground Strength Coach Cert
(Visited 194 times, 1 visits today)