I have an inspiring message for you, or, shall I say, lessons I've learned from 2 Men that TRULY inspire me in the world of strength, muscle building and athletic performance. These men BOTH walk the talk and have been around the iron game much, much longer than I have.
Some of this might be the reminder you need to return to the basics and escape the fads and gimmicks.
Sometimes I seriously wonder if I was born in the wrong era. I wonder why I stand alone or stick out like a sore thumb when I'm the only guy who wants to wrap his hands around old school York dumbbells that were made before I was born.
In a day and age where athletes are connected to electronics and NASA like software, we are getting away from developing what I call "The Coach's eye" - the ability to listen to athletes, to assess them verbally and non verbally before the warm up even starts.
We are getting away from Brilliance with the Basics and seeking out the training that has the most flash. How many bands can I attach to your body? Parachutes? How about demonstrating a proper squat? The fundamentals are powerful! I have not met anyone who is beyond the fundamentals, ever!
Why do we fear the basics? Or, do we fear that being awesome at the fundamentals will not lead to more views on social media? As always, Basics for the WIN. Results count!
When I wrap my hands around these old weights, I wonder who did so before me, I wonder how they trained, how much they squatted and what kind of atmosphere was going on in their gym or garage as they lifted these heavy weights. I can literally FEEL the history when I grab those vintage weights!
Look at the physiques and the weights that were lifted in those early physical culture years. Those numbers are BIG time impressive.
Those "Golden Era" days must have been pure magic.
The lifters back then sure as heck didn't have to worry about guys checking out their hair in the mirror, recording one another on a Squat while setting weights on fire, popping zits and reading the paper in between sets.... or maybe they did?
Was there always "that guy" who was at the gym just to talk and not lift?
Was there always "that guy" who never got better, he was just there to socialize?
I am all for having FUN when training and socializing but I LOVE getting Strong. I can flip the switch as soon as I get under that barbell or wrap my hands on the iron!
I recall talking with Coach Ethan Reeve on the phone one day (which ALWAYS fires me up to train). We were speaking about experimenting with our training and all the different ways one can gain strength, power, add muscle and develop conditioning.
Of course, we agreed that there is more than just ONE way to make it happen. MORE than just one way to get powerful results and the men who have proved this through time over and over again, centuries old, are proof positive.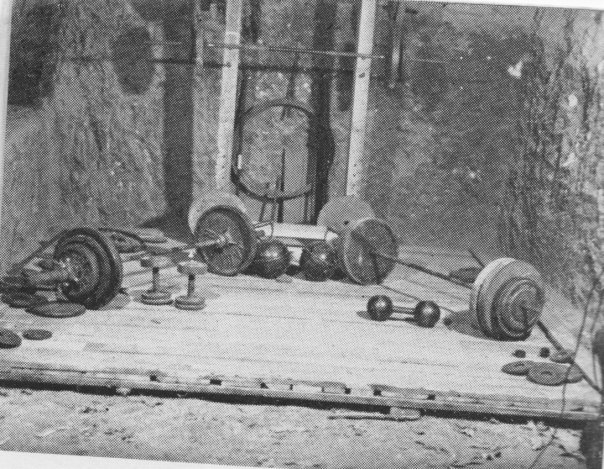 Above, Bob People's Gym, aka The Dungeon.

Coach Reeve and I agreed that if all we had were kettlebells, then we would make our athletes crazy strong using just the kettlebells.
Or just sandbags.....
Or just a barbell......
Or just strongman equipment.....
Coach Reeve is spot on...... it's about the attitude you bring to the workout, NOT the equipment you have. This is why the strength and the physiques from the 50s - 70s were far more impressive than the majority of what we see today.
Jim Kiritsy said something I love, when I told him about how impressed I was with his athletes attacking the basics. Jim said this; Do the Simple things Savagely Well.
Heck, take a look at the "barrel bar" that Bob Peoples used to fill with stones for his deadlifts.
Notice his "power rack" is a self made, backyard edition. No band pegs.... No squat suit.... NO training partner.
Food for thought.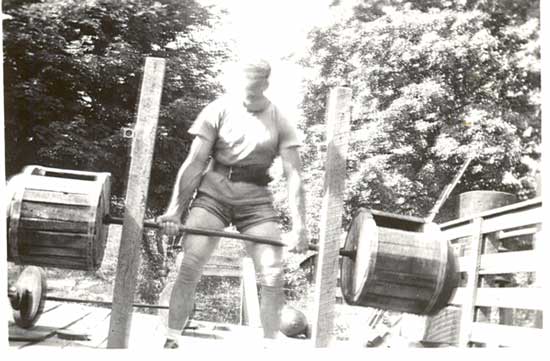 There are many ways to get the job done. Which had Coach Reeve and I talking about Dr. Ken who you saw in recent episodes of The Underground Strength Show. Check one episode below.....
Dr. Ken was training college & NFL Football players using odd objects like missiles. Weight is weight. Strong is STRONG.

Dr. Ken was also using steal beams with handles welded on them for deadlifts, farmer walks, one handed deadlifts plus all types of carries. I have video footage of Dr Ken training guys with heavy 150 lb sandballs and even cannon balls.
We can Deadlift with many different tools, squat with many different tools. Ultimately, the basics performed with brilliance will deliver powerful results.
QOD (Question of the Day): What odd objects do you use when training and how do you put them together to create powerful results? Drop a comment and let us know!
Live The Code 365,
Z
(Visited 269 times, 4 visits today)