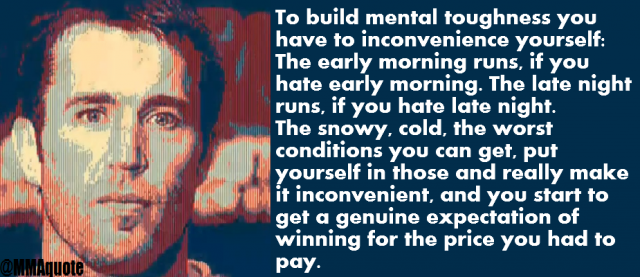 Last weekend I spoke in Md. at the state wrestling coaches association.
I was fired up to train and the hotel gym was on the same floor as my room. It was a posh, pretty little studio.
But, I turned out the crappy music and annhialated my training. I felt like a million bucks because I didn't make some lame ass excuse for being too tired after driving a lot the night before, not enough sleep, not a good gym, bla bla, bla.
I stepped up. Period. There is something awesome that happens inside when you rise above and squash any excuses....
You feel that "edge" that you should always strive to improve upon. Sharpen your blade, always, 365.....
Give yourself a gut check workout. Hit a circuit with heavy weights and get uncomfortable.
[youtube width="640" height="360"]http://www.youtube.com/watch?v=MmxK_fKCGz8[/youtube]
Here are 3 Reason Why You Need To Crush A Gut Check Workout:
1) The mental toughness derived from a gut check workout carries over to greater success in ALL areas of your life. Get tough in training and you will rise to the top in other areas of your life.
2) The worst thing a man can to do is lose his edge. If you're getting soft in any shape or form, step up and attack. Men should always remain dangerous. The mind should always remain sharp, in turn, your body will stay sharp.
3) Live The Code. The 365 Code is all about daily improvement, thanks to Cary Kolat for inspiring the 365 Code. Improve your mind, your body and any other area in your life on a daily basis. A gut check workout will take you OUT of your comfort zone and teach you about what you're made of and where you need to improve.
In part 1 of my gut check workout I did this, non stop, resting to change weights only:
A) DB Bench Press
B) 1 Arm DB Rows
C) 1 Arm Clean / Snatch
D) Band Pull Aparts
I'll share part 2 soon enough.
Drop a comment with your latest gut check workout.
Live The Code
--Z--
(Visited 117 times, 1 visits today)