Lots of Coaches & Lifters get confused with what to do, when to do it, how to do it, etc. Paralysis by analysis will get you nowhere.
Too many people make it ALL very complicated. When I train athletes, regardless of their age, and by the way..... I consider everyone I train an athlete, it doesn't matter whether they compete in sports or not.
The MOST Important Sport Is That of LIFE.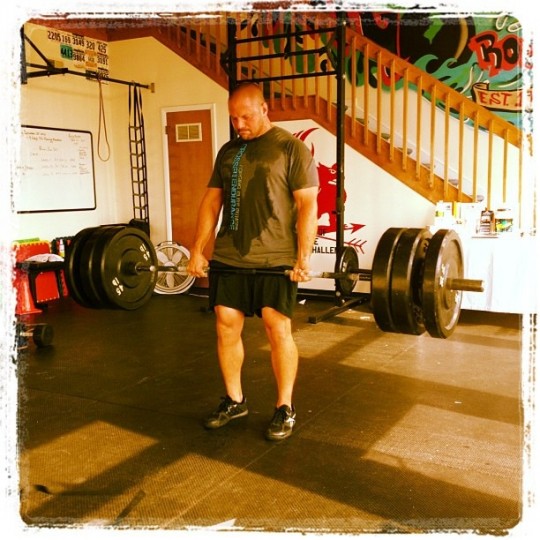 Back on track. I used to complicate the hell out of training and it's because I was getting caught up reading a gazillion web sites, blogs, books, videos, etc. It gave me a headache. I removed myself from keeping up with all the complicated things in today's world and actually went back in time and focused on how men trained from the 70s and prior.
It was all simple, NOT easy, yet brutally effective. This shit ain't easy, kids.
Here are 7 Key Traits I focus on when building athletes into becoming STRONG MEN (Or Women!) who can kick ass & take names in LIFE .....
1) Strength - Pretty simple stuff here. Lift heavier on a progressive basis. Get strong as a mother fucker. Face the heavy weights and don't back down from them.
If you're not pushing to break records on a regular basis then you're NOT gonna get stronger. As my buddy Mark Bell says, "When your strength runs out you are dead."
Smelly also goes on to say this (a quote within a quote??!!): "No one has ever said, "Oh man, I wish I was a little bit weaker for that fight, I coulda gotten my ass kicked a little bit more.... "I wish I was weaker for that Football game...."
2) Power / Speed - When you train, move your body or move the weight aggressively and explosively. Don't confuse being explosive for being fast, sloppy and out of control. BIG difference between the two.
3) Conditioning - It will NEVER hurt you to be in shape. This means running, sprinting, biking, prowler, etc. Put together some nasty circuits and make it hurt. These workouts will help you recover better and train harder. Being out of shape or even worst, being a fat bastard will NOT help you in ANY manner.
Don't lie to yourself that gaining extra weight is THE key when you're already carrying fat. If you're skinny and weak, then yes, obviously, you MUST gain the weight.... muscle, kids.
[youtube width="640" height="360"]http://www.youtube.com/watch?v=JWy9mlvROnk[/youtube]
4) Muscle Building - Your workouts should help you pack on muscle with proper set and rep patterns. Choose the right exercises and stray from the fancy shyt, attack the basics. Muscle Building requires some volume so kick it up a notch and put your time in if you expect to stretch your shirt sleeves, kids.
5) Mental Toughness - EVERY workout you put yourself through should develop your mind to a greater level. EVERY workout. That means you gotta get comfortable being uncomfortable during every workout. This trait should be listed as numero uno as the mind is THE key factor that will motor you to conquer your goals.
Wanna know what often runs through my mind before a workout? Here ya go: "I'm gonna make this workout HURT."
Sounds crazy, but that is my mind set. I push and make sure I KNOW I am doing some serious work and building my MIND. Most people stop their workouts when the body has had enough. Do the extra so your mind is trained to carry the body beyond what was ONCE thought as "challenging" or "tough". Raise the bar to a new standard.
6) Overall Health - This is where you combine the stuff that happens in AND out of the gym. Proper rest. Proper eating / nutrition habits, mobility, stretching, reading / listening to motivational and inspirational books and surrounding yourself with the right people.
My Rule of Thumb: If You Train Hard, You Must Recover Hard.
7) Have FUN - Your training should never be a chore. You should LOVE the training, even the workouts that kick your ass up and down the gym floor, you must learn to LOVE it all. I can't teach you how to fall in love with training & challenges, all I know is that those who LOVE it are those who succeed and will NOT be making lame, chicken shit excuses for why they didn't do ALL the things required to Kick Ass & Take Names In LIFE.
_______________________________

Hope you enjoyed this article on kicking ass & taking names in LIFE & Lifting. MANY talk about it, far and few between LIVE it. YOU must muster the inner strength to LIVE The Code

If you dig this article, please take a second and show the Love by giving this bad boy a share. MUCH respect & Thanks in advance!
Live The Code
--Z--
(Visited 176 times, 4 visits today)