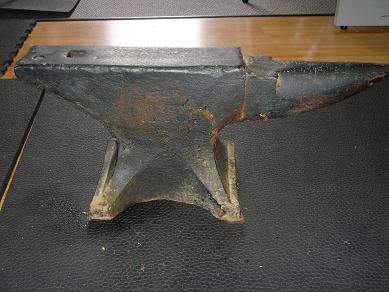 All you need is a barbell, a pull up bar and the desire to eat big and lift big. But, if you're like me, you may have quite the infatuation with the "Golden Era" of bodybuilding and the olden days of strength training.
This is why I am always on the hunt for training tools that have history behind them.
My latest toy is a 125 lb Anvil, which was a popular strongman implement used for gripping.
George Jowett actually grasped a 168 lb Anvil by the horn, and then cleaned & pressed it...with ONE hand!
I will see what movements I can use with this Anvil starting tomorrow. I'm sure some of our athletes at The Underground Strength Gym are going to have their way with it as well. Or, will IT have it's way with them?!
I get a rush of adrenaline every time I use my old York weights and perform exercises that were once called "feats of strength".
Unfortunately, too many people are not strong enough to lift heavy objects because they fear the challenge, sweat and grit that goes into hard training and muscle building.
I am sure you can find something "odd" nearby to lift and get strong with. It's a matter of doing it, don't think, just DO.
In Strength,
Zach Even - Esh
P.S. - Stop messing around, stop making excuses and start doing. Join the Underground movement now.
(Visited 549 times, 5 visits today)