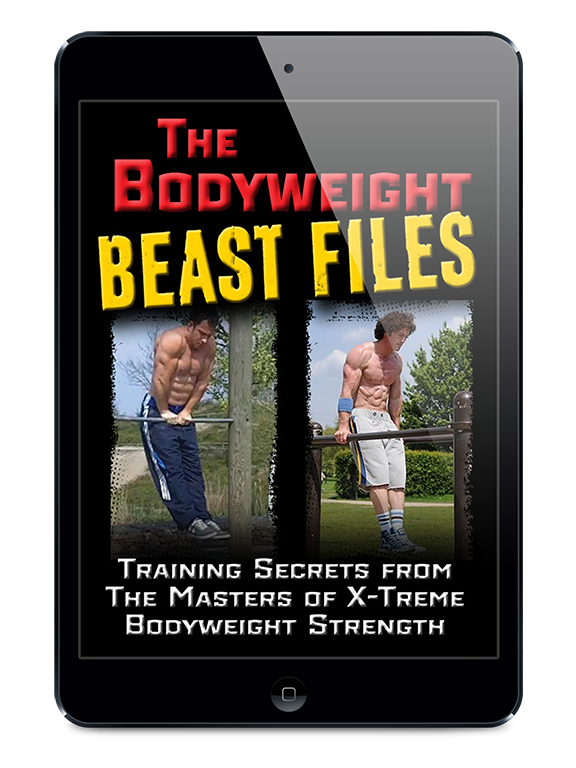 My buddy, Uncle Alwyn Cosgrove sent me some questions regarding Bodyweight Bodybuilding, check it out below and please enjoy....
1) Why did you start dedicating yourself to bodyweight training recently?

The BIGGEST changes came from recurring pains and injuries that I eventually couldn't even work around anymore. I had to address those injuries, they were messing up my life and negatively affecting my family.
I SERIOUSLY had flash backs of our earliest conversations when you were coaching me in business and you asked me what the value of my day is when I am with family or if someone wants to take me out for lunch to talk business.
Your answer was, 'There is NO price tag anyone can put on your time with family." In essence, while I was gung-ho and you told me that I had to realize that the MOST valuable things in life are family and health.
It REALLY hit me when I started having trouble being able to do everything I wanted with my kids, due to my health. My back was aching me, my shoulder was hurting 24-7 and even my feet were hurting me. Without my health, everything else went to s--t. It angered me, and left me with a knot in my stomach because I was hesitant when playing with my kids.
The last injury that was the straw that broke the camel's back was my shoulder. My shoulder was messed up pretty good & it caused pain to the pec where I couldn't even do a push up without massive pain. I thought I tore my pec.
It's amazing that NO matter what area in life you look at, pain and love are the 2 most powerful driving forces that will push people to take massive action. I was used to managing and dealing with aches and pains since I was 14 and started wrestling. We were taught to deal with it, head down, keep charging, no complaining.
But once it affected my family, I began aggressively seeking the help of a few of our close friends and colleagues to help me get better like Dr. Kelly Starrett. I also had to to do what I do best, which is use myself as a guinea pig, so I began implementing my own experiments with regards to getting healthier and looking back I seriously wonder if this time in my life with all these injuries was a blessing in disguise.
2) What about someone who still wants to do some heavy lifting -- can they implement some of the BW routines?

Hells to the YEA! I always tell people, "lifting heavy objects MUST be in my DNA". When I don't go heavy it bothers me emotionally. This is why I created an added program inside of 'Bodyweight Bodybuilding' called 5 x 5 + Bodyweight Bodybuilding.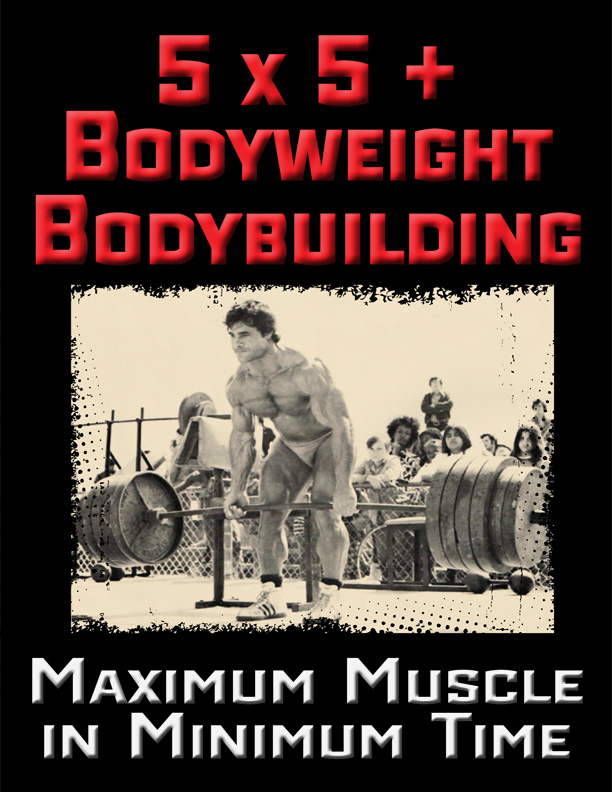 For me, it's the program I "graduated" to after slightly over 3 months of strict Bodyweight Bodybuilding. I like starting with a heavy main lift then following up with predominantly bodyweight exercises, mostly as a circuit, and some of these bodyweight exercises might be loaded as well, using things like:
- weight vests
- ankle weights
- weight belt
- powerlifting chains
I don't think bodyweight training should be limited to the typical methods where the focus is mainly endurance, conditioning and fat loss.
I like using Bodyweight exercises for strength, hypertrophy and speed work as well, just like the guys manipulate their barbell exercises at Westside Barbell, I wanted to do the same with Bodyweight training.
3) I've actually used some bodyweight routines as metabolic work with some of our athletes - instead of traditional cardio. Any thoughts on that?
Traditional cardio is old, boring and much less effective compared to using metabolic bodyweight circuits. I love adding sprints or aggressive, short distanced runs to these circuits. The running ALWAYS changes the game and I started using these many years ago when I trained wrestlers from my garage and the local playgrounds.
For a metabolic workout we'll use movements that involve the same movements from your New Rules of Lifting:
- squats
- lunges
- upper body push and pull
- rotational motions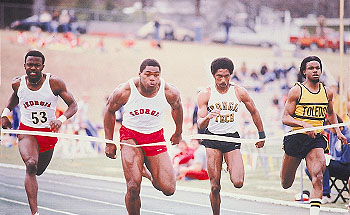 We add sprints / runs / jumps / jumpingrope to the mix as well which intensifies the workout. We go for prescribed time on each exercise, or prescribes reps, sets and / or a time frame.
Herschel Walker was a BIG fan of sprints, calisthenics and jumping rope. Herschel was and still is a BEAST. He also performed bodyweight training with high frequency and high volume.
Most people don't do enough volume with bodyweight training to get results. As always, you have to do the work to get the results.
Yep, check this one out, it's what I call a Hybrid Bodyweight Bodybuilding workout where we blend strength, speed, muscle building and conditioning together.
After a thorough warm up involving soft tissue work and some light calisthenics, you are ready:
1) Run 400 meter AFAP
2A) Handstand Push Ups (or holds) 4 x SubMax reps (1 - 2 reps in tank, last set = max reps)
2B) Mixed Grip Pull Ups 4 x SubMax reps (1 - 2 reps in tank, last set = max reps)
3) Bulgarian Split Squats x 20, 15, 10 reps each leg
4A) Squat Jumps 3 x 5
4B) Nordic Leg Curl 3 x 5
5A) Clapping Push Ups 4 x 4
5B) Weighted Recline Row 4 x 8
5C) Jump Rope 4 x 100 reps
The above workout is challenging and can be modified as necessary for your ability.
If you're a beginner you can reduce sets, advanced can use a suspension trainer for hamstring curls instead of bridges. Advanced lifters can also perform the pull ups with added weight.
Beginners can remove the handstand push up and just perform basic push ups.
The variations are endless and I'm a BIG believer in using bodyweight to pack on muscle, NOT just for circuits or conditioning. It's common for me and my athletes to perform our pull ups with added weight, or squats and lunges using weight vests, etc.
I also love pistol squats using a bench to sit on as my mobility makes it tough to go all the way down. The ability to have progressions and regressions is something I teach in depth at my Underground Strength Coach Cert as well.
5) Your gym is for athletes only. Can these methods be applied to athletes & have you tested them on your athletes?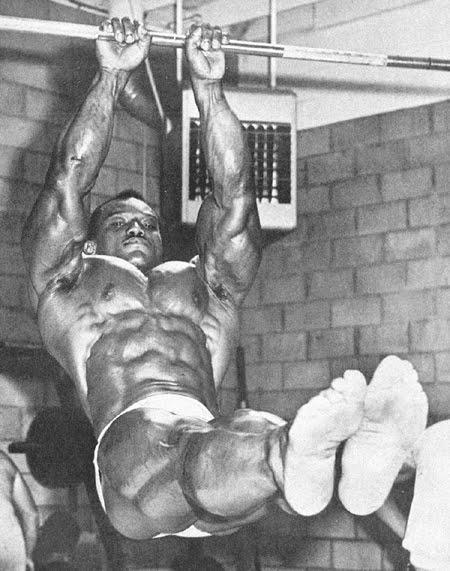 Years ago, when I first began train Football players a light bulb went off. The majority of these guys were big AND strong with the squat and bench. But, they struggled on our warm up: squats, lunges, push ups, etc.
They could bench 315, squat 405 and trap DL 495..... easily. But their ability to maneuver their own body was horrible at best. They skipped the necessary commitment to bodyweight training and were injured on a regular basis.
Until 1of our college Football players, who at 275 was able to climb the rope, perform handstand push ups and basically moved like he weighed 150 lbs, he PROVED to all the big guys that Strong is STRONG. Regardless of size, you gotta be able to move your own body.
So, I decided to FORCE these BIG guys to spend their first 4 weeks without touching a barbell. It was all bodyweight coupled with sleds, sledge hammers, bands and medicine ball training mixed in.
It forced them to tighten up their nutrition and get rid of the excess body fat that was doing NOTHING for them.
For our wrestlers and leaner athletes, we were able to take bodyweight training to a whole new level.
We used bodyweight training for speed and power, added resistance for strength and muscle building and perform density work with push + pull or upper + lower body exercises for strength & power endurance.
We now have athletes who weight over 200 lbs climbing ropes, performing handstand hold & push ups, able to jump, sprint and move like animals. I got rid of the excuses of "I'm too heavy" or "I'm too Big" and began focusing on the fact that we ALL need to be athletic and that means being committed and getting rid of excuses.
Once the mindset is taken care of the results are powerful. Most importantly, our athletes are MUCH healthier and better prepared to compete at a higher level rather than feeling beat up from an overabundance of heavy lifting.
If you've got more questions regarding Bodyweight Bodybuilding, please drop a comment below.
Thanks for reading!
Live The Code 365,
--Z--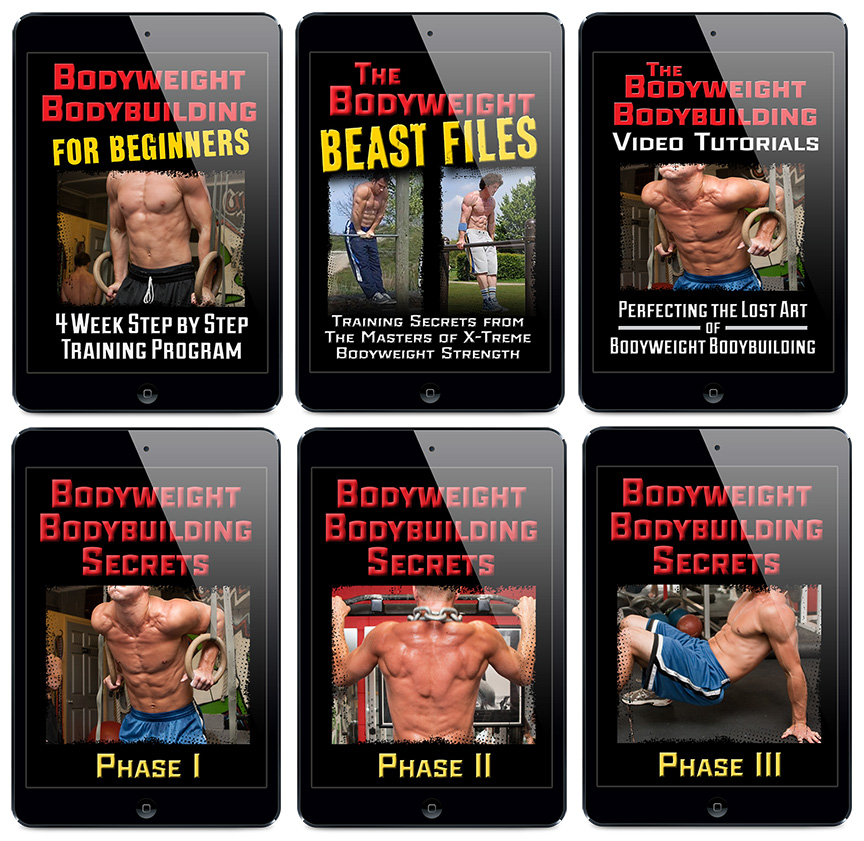 (Visited 1,310 times, 2 visits today)