I primarily use bodyweight training for strength AND power. Here and there, conditioning circuits as well, using faster, more explosive bouts.
I also like to perform bodyweight training for warm ups. High reps get the mind and body working together, the joints get lubricated and all around this keeps you young.
In a nut shell, you just can't go wrong with bodyweight training. Nobody can stop you from doing the basics of squats, push ups, pull ups and sprints.
I mentioned something in a recent e mail and man did it get peeps fired UP.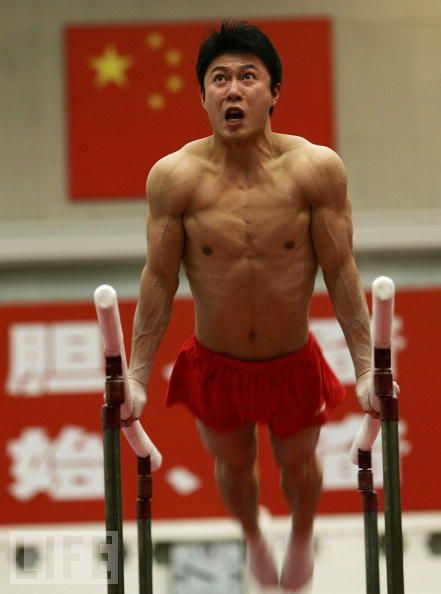 I said that if you can't perform bodyweight movements such as pull ups, handstand push ups, etc:
You are either:
A) Too Weak
B) Too Fat
C) ALL of the above
Of course, some people cried and freaked out and were a few emotions short of dialing 911 on me, but, MANY others gave me a "Hells Yea"!
Bodyweight training forces people to Get TOUGH.
Bodyweight training lets you know if you can move your own body with efficiency or if you are gonna get an ass whoopin'.
Bodyweight training gives you the straight up feedback if you are REALLY strong, capable of not only deadlifting, benching and squatting heavy, but being in control of your own body.
In the video above I was mid way through an upper body workout, I decided to experiment with some push up variations using the sling shot AFTER I was already fatigued from lifting heavy and it felt pretty darn cool. I went on to perform cross over medicine ball push ups, one arm push offs and the brutal close grip push up.
But, you also noticed recline rows on rings coupled with variations of medicine ball push ups.
I crank pull ups constantly.... Yep, I eat calisthenics for breakfast. If my pull ups are feelin' sucky, I KNOW I need to get leaner and adjust my nutrition. I also adjust volume with my pull ups as too many pull ups, done too often start to have a negative effect on me.
My lats get too tight and it's time to replace pull ups with more recline rowing and lat smashing on the foam roller.
Yesterday I cranked a ton of box squats, BUT, after each and every set I hit a different style of pull ups, 5 reps each set. Even on leg day, I make sure the pull ups are taken care of.
Was it Dan Gable who said the following quote? "If it's important you do it EVERY DAY."
Much agreed!
Question for You: What are your thoughts on bodyweight training? 
What is your favorite bodyweight exercise? Favorite bodyweight workout?
Looking forward to seeing your comments!
In Strength,
--Z--
Recommended Resources for Bodyweight Training:
(Visited 1,184 times, 4 visits today)